Interviewed by Duncan Fallowell
Issue 92, Summer 1984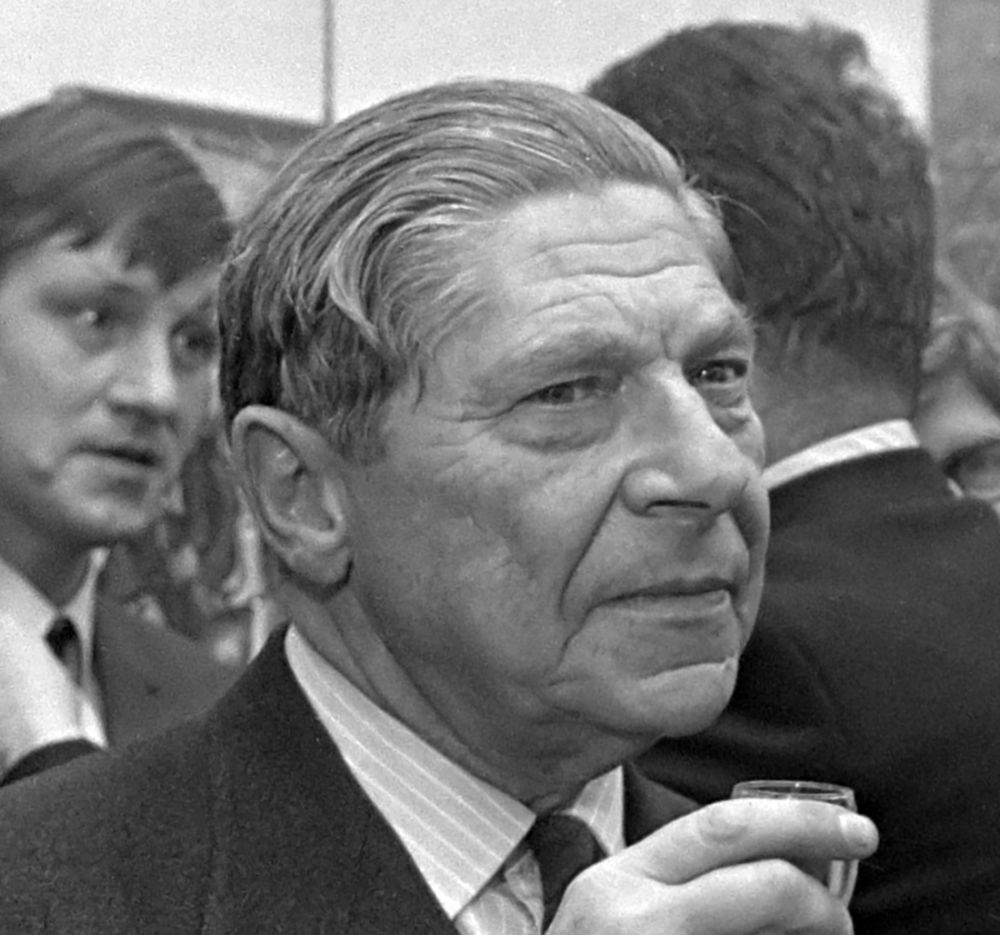 Arthur Koestler, ca. 1996. Photograph by Eric Koch
The Koestler drawing room is predominantly green with deep green walls. It has an Empire flavor, and there are interesting pieces of Egyptian sculpture in it. On the coffee table are Barbara Pym's Quartet in Autumn and The Dancing Wu Li Masters: An Overview of the New Physics.
Koestler is wearing the costume of the old Left—rough materials tending to light rather than dark, in his case to greenish, with nothing matching anything else: checked shirt, wool cardigan, tartan tie, tweed jacket, et cetera.
Sitting very uneasily in a pool of lamplight, Arthur Koestler seemed low. His wife, Cynthia, had opened the front door of their house in London's Montpelier Square. A gentle, soft, sad woman wearing no makeup, she had explained that Mr. Koestler was not at his best; he was recovering from a "viral infection," which is how the Koestlers describe a cold. She is much younger than he and began to work for Koestler in 1949. Cynthia had watched him divorce two previous wives—Dorothy in 1950, Mamaine in 1953—before taking her place officially at his side in 1965. She has the slightly numb Buddhist detachment of one who has spent a lifetime in surrender of her will to another.
From the pool of lamplight Koestler mumbles about not being too well. He casts about in the air a bit, rather abstractedly, then suddenly says, "I used to be a journalist—what is the peg for this interview?"
It is evident that he dislikes being interviewed and, indeed, consistently refuses. "And I'm recovering from a viral infection," he moans as the tape recorder is set up. He dislikes tape recorders because, he says, he rambles when he talks. He dislikes appearing on television and radio, "because my accent is too thick and it embarrasses me." When asked about allowing a photographer to come and take a picture, he cocks his head on one side, frowns, and says, "I'd prefer to avoid it." One feels the list of his dislikes is an extended one.
INTERVIEWER
What do you dislike most of all?
KOESTLER
Stupidity more than anything. Including my own.
INTERVIEWER
You were born in Budapest in 1905. Into what kind of family?
KOESTLER
Typical Central European Jewish middle-middle. My father was Hungarian, my mother Viennese. I reviewed a book once, Last Waltz in Vienna. It was about a family such as mine, before the extermination. It's about the humdrum, day-by-day life before the ceiling fell in.
INTERVIEWER
The ceiling?
KOESTLER
1939, 1942 mostly, Auschwitz.
INTERVIEWER
What did your father do for a living?
KOESTLER
He was an industrialist. He had too much imagination. He financed disastrous inventions like the envelope-opening machine. He said too much time is wasted opening envelopes and big businesses need these machines. So one day a huge machine came into the house. It would have covered half that wall. The inventor came with it. He looked like one of Snow White's seven dwarfs the way he hopped around his machine. It was plugged into the electricity, turned on, there was an enormous clattering and shuddering, then flames started to lick here and there about it and we all got terribly scorched. Another invention he financed was radioactive soap. You must remember the time, 1918-ish, when curative properties were indiscriminately ascribed to radioactivity. The soap was supposed to make you glow with health and vitality, but it didn't catch on.
INTERVIEWER
You were at the university in Vienna in the twenties—did you know Freud?
KOESTLER
I interviewed him in 1938 in London. He died in Hampstead soon after.
INTERVIEWER
Was he important to you?
KOESTLER
When you grew up in Vienna you sucked in the ideas of psychoanalysis like mother's milk. My personal discovery of Jung was much later.
INTERVIEWER
Do you feel like an exile?
KOESTLER
When I go to France or Austria, then I feel that I'm abroad, that I'm British to the core. But when I get back here, then I feel a bit of an exile.
INTERVIEWER
An exile from where?
KOESTLER
Central Europe. No, let's say Europe in general because I spent thirteen years of my life in France.
INTERVIEWER
You were in a concentration camp there for four months—was that a useful experience?
KOESTLER
I was in a Spanish prison before that, in a death cell where I didn't know when my turn to be shot was coming. Afterwards the French camp was easy to bear. It taught me among other things the relativity of freedom. Solitary confinement is rock bottom, it's absolute unfreedom. I was in solitary most of the time.
INTERVIEWER
Was that frightening?
KOESTLER
In fact, I preferred solitary to sharing. It depends on the individual. But it's generally considered rock bottom.
INTERVIEWER
Have you ever felt you were going mad?
KOESTLER
No.
INTERVIEWER
What would be madness for you?
KOESTLER
At the University of Michigan there was an awfully nice English psychiatrist. It was because he was so nice that I first took the psilocybin mushroom there instead of at Harvard, although I knew Timothy Leary before he went into drugs. I had what is called a very bad trip.
INTERVIEWER
What did you dislike about it?
KOESTLER
Well, it was extremely frightening. When I was under, I noticed that the nice English psychiatrist had a scar on his neck—from a mastoid operation perhaps. His face went green and the scar started gaping as a wound and for some reason I thought, "Now at last the Gestapo have got me." Or was it the KGB? It was one of the two. The psychiatrist had a standard lamp and the base of it suddenly developed bird's claws. Then I flipped for a moment into normality and told myself, "You are hallucinating, that's all—if you touch the claws they'll go away." So I touched them. But they didn't go away. Not only a visual but also a tactile hallucination. It was very frightening. So when you ask me what madness is—it is when your perceptions are dramatically deviating from reality. That is not a scientific definition, however. When I came back from this experience of induced schizophrenia, the aftereffects lasted for several months. Timothy Leary went round the bend, of course. I came to the opposite view to Huxley's. These things have no particular spiritual value but they might have clinical value. For example, I think every psychiatrist should have a session with mescaline or LSD in order to know what a psychosis is like, what hallucinations are like. It should be part of the psychiatrist's curriculum.
INTERVIEWER
Why did you choose to go to England in 1940?
KOESTLER
My father was an Anglophile. He had business contacts here, frequently came to England, and told us tales. I had an English "Miss," as it was called—you say "Governess." Then I did journalism for the News Chronicle. I was their war correspondent in Spain and Palestine. And when in the war France collapsed in a most shameful way, I had only America or Britain. America was still neutral. So I came to England and enlisted. I had to join the Glorious Pioneers—"Digging for Victory," as their slogan went.
INTERVIEWER
George Orwell thought that a great insult to you, that you couldn't join the real army.
KOESTLER
It was the only regiment open to foreigners, although the French could go into the Free French Army, and the Poles had their own units too.
INTERVIEWER
You lived in Wales for a while.
KOESTLER
North Wales, three years, just about long enough. Then on and off to America after the war. But unlike many men in circumstances similar to mine, I didn't put down roots there. When I was in America, it became very obvious to me that I am a European.
INTERVIEWER
What do you like about England?
KOESTLER
The question should be reformulated. What did I like about England when I settled here? And what's my feeling now? These are different things.
INTERVIEWER
Are they dramatically different?
KOESTLER
No. It is a continuum. When I settled here, Europe was kaput. England was the only country left. What appealed to me was what Orwell described, those anonymous crowds, gentlemen with walking sticks, old maids bicycling to Holy Communion through the fog and the mist. A nation of darts players, pigeon fanciers. That in 1940 was still very close to the truth.
INTERVIEWER
The British Empire notwithstanding.
KOESTLER
Gentle knobbly faces with bad teeth and so on. Then history made a perverse somersault and it turned out that England was the only country that lost the war. In England you began to have phenomena like skinheads.
INTERVIEWER
You have a farmhouse in Suffolk. Why choose Suffolk?
KOESTLER
We had a house in the Austrian Tyrol for twenty years. Until ten years ago. I loved it. Then the tourists caught up with us and the village was ruined. I chose Suffolk to be near Cambridge. Also, I love the climate of East Anglia. You feel very braced by it and vigorous in the daytime, and at nighttime you sleep like a dormouse. Dry continental climate blowing over from Siberia.
INTERVIEWER
You opposed fascism, then you ditched communism.
KOESTLER
No, I didn't. Communism ditched me by turning into Stalinism.
INTERVIEWER
Do you have faith in any political philosophy?
KOESTLER
Nothing very original or specific now.
INTERVIEWER
Do you vote? Are you excited by the prospect of voting next time?
KOESTLER
I couldn't be more unexcited. I vote to participate, to play the game. That's all. Please don't let's talk about politics.
INTERVIEWER
Am I being too formal? I get the feeling that I'm being a bit wooden.
KOESTLER
You're doing all right, coping with a strange alien and feeling your way.
INTERVIEWER
Who was the saintliest man you ever met?
KOESTLER
I've met a lot of saintly people. I walked beside a saint in India. He was the head of the Boodan movement, which tried to persuade rich landowners to give their land to the poor. But Indian saints are quite different from Western ones. There were no hospitals until the British came, no concern for the poor. In India a saint is absolutely impervious to suffering—physical or economic.
INTERVIEWER
Who was the most exciting man you ever met?
KOESTLER
One was certainly Vladimir Jabotinski, an extremist Zionist leader. He's dead now. He was in Israel for a couple of years but the British didn't like him at all. Enormous leadership and charisma, an ability to make things happen, but beloved as well as followed.
INTERVIEWER
Do you believe in occultism?
KOESTLER
Do you mean hidden wise men in Tibet? No, no.
INTERVIEWER
Did you ever meet Gurdjieff or Aleister Crowley?
KOESTLER
No.
INTERVIEWER
Are you a religious man?
KOESTLER
Not in a denominational way. I'm attracted by mysticism.
INTERVIEWER
The Society for Psychical Research, ESP—that sort of thing?
KOESTLER
I do believe that the evidence for telepathy, for example, is overwhelming and that it is a part of reality that is above science. Science allows us to glimpse fragments of reality. There is another level, for the understanding of which our brains are not programmed. In other words, there are concepts, such as infinity in space and in time, which science cannot fathom. These concepts belong to a level of reality which is above our heads.
INTERVIEWER
Do you suffer from insomnia?
KOESTLER
No. I used to sleep seven hours a day. Now it's closer to nine, which is one of the disappointments of old age—they always promised one would sleep less. I sleep very well and always have, even in prison. [Picks up a magazine clipping.] Look at this. Did you ever see a magazine called the New Musical Express? It turns out there is a pop group called The Police—I don't know why they are called that, presumably to distinguish them from the punks—and they've made an album of my essay "The Ghost in the Machine." I didn't know anything about it until my clipping agency sent me a review of the record.
INTERVIEWER
It was in the hit parade.
KOESTLER
What's that it was in?
INTERVIEWER
The best-seller list for pop records. Didn't you get a copy of the record?
KOESTLER
No. I've had no contact with the group.
INTERVIEWER
But obviously you are pleased.
KOESTLER
A rather difficult book has become the inspiration for a pop group. It came as a great surprise to me. I'm slightly tickled by it.
INTERVIEWER
Do you write very easily?
KOESTLER
No. Very hard.
INTERVIEWER
Was German your first language?
KOESTLER
I was bilingual—Hungarian and German. I believe I'm the only writer who twice changed the language in which he writes, from Hungarian to German at seventeen years old, and from German to English at thirty-five. Since 1940 I have written only in English. But in any language it is a struggle to make a sentence say exactly what you mean.
INTERVIEWER
Is English better suited to your purposes than German?
KOESTLER
Oh yes, much. English has a muscularity with the fat massaged away. German is a very woolly language. French has a so-called Cartesian lucidity, but it's deceptive because it misses so much, a pseudolucidity because . . . no, cross that out, it's getting too complicated.
INTERVIEWER
What imaginative writers are important to you?
KOESTLER
No comment. That's list-making.
INTERVIEWER
What kind of food do you like?
KOESTLER
French.
INTERVIEWER
Are you a good cook?
KOESTLER
I used to be in my bachelor days.
INTERVIEWER
Do you watch television?
KOESTLER
Occasionally. Selectively.
INTERVIEWER
Cinema?
KOESTLER
Less and less. You can't go by car to a movie because of the parking problems. Which means hanging around for taxis—especially afterwards. For me, it's very rare that a movie nowadays is worth all the complications of getting there and back.
INTERVIEWER
Do you have a video machine?
KOESTLER
No.
INTERVIEWER
You should get one. What was the last film which excited you?
KOESTLER
Close Encounters of the Third Kind was the one I continued to remember afterwards.
INTERVIEWER
What are your vices?
KOESTLER
[A very long pause.] Is smoking a vice? I drink the normal amount. Malt whiskey usually. [An even longer pause.] Funny, I can't think of any vices. I'm trying but I can't.
INTERVIEWER
You try to be good. Do you succeed?
KOESTLER
Look at that Viking ship over there made out of balsa. For twenty years now there has been something called the Arthur Koestler Award for Prisoners, awarded to prisoners competing with paintings, model-making, writing, et cetera. It isn't much publicized because there's no point in doing so. That's my do-gooding side.
INTERVIEWER
What are your failures?
KOESTLER
Let's come back to what makes a good man. I don't know what makes a good man. I was active in the campaign for the abolition of capital punishment.
INTERVIEWER
Amnesty International?
KOESTLER
I'm a member, of course, but just in the normal way. I'm vice president of the Voluntary Euthanasia Society.
INTERVIEWER
Who is the president?
KOESTLER
There isn't one.
INTERVIEWER
Did he kill himself?
KOESTLER
No, there just isn't one at the moment.
KOESTLER, quite by surprise, begins to make a very peculiar noise, a wailing falsetto half-yodel. "Hoo-ooo-oo." I look about me but detect no obvious reason for it. Here it goes again. "Hoo-oo-ooooo!" with a sort of impatient upcurl in the tail of it. Eventually Cynthia appears up from her private lair downstairs and stands a touch tautly in the doorway of the drawing room. The wail, presumably, is her summons.
KOESTLER
Can we have some more drinks, angel? Because I want to get on with this. [Two large watered malt whiskeys are eventually produced.]
INTERVIEWER
Do you take holidays?
KOESTLER
I sometimes displace myself to a sunnier climate but I always take the office with me.
INTERVIEWER
Where to?
KOESTLER
The south of France, the Austrian Tyrol. I'm always working, you know. Nine-thirty until one. I have much reading to do and I'm a very slow reader, one of my misfortunes. If I'm reviewing a philosophical book it takes me a week to read it.
INTERVIEWER
What are the pleasures of reviewing?
KOESTLER
You force yourself to read very carefully and it triggers off unexpected trains of thought. Also you find yourself reading books you wouldn't normally read.
INTERVIEWER
You've resisted the temptation to become a guru figure, but do you get an enormous amount of "problem" mail?
KOESTLER
A huge amount. I don't answer the crank letters. The temptation to become the prophet is very great and very dangerous—it has to be resisted.
INTERVIEWER
Going on television once a week and telling people the answer to life—that sort of thing?
KOESTLER
That does happen to people, you know, and it's very bad. My novel The Call Girls has something to do with this. I'm ambivalent about the mail in the morning. It's an awful bind. The fan mail is hell. But no fan mail would be a worse hell.
INTERVIEWER
Are you musical?
KOESTLER
I listen to music a lot, not very discriminatingly. Not at the opera or at concerts, but on the records. It's one of the few remaining joys in life, you know.
INTERVIEWER
Are you going to write about the silicon chip?
KOESTLER
I don't think so.
INTERVIEWER
Do you read newspapers?
KOESTLER
I read the Times and the heavy Sunday papers. I read The New Scientist, plus some technical stuff. Over half my work is reading up, you know.
INTERVIEWER
How long have you lived in this house?
KOESTLER
Since 1952.
INTERVIEWER
You were good friends with Orwell. Was he a happy man?
KOESTLER
That was the last thing he was.
INTERVIEWER
What about yourself?
KOESTLER
I'm a happy man only when work goes well.
INTERVIEWER
Will you keep on writing?
KOESTLER
You know, I would like to die in harness.
INTERVIEWER
What are you working on at the moment?
KOESTLER
Don't want to talk about that. Superstition. Vices . . .
INTERVIEWER
Oh good, you've thought of one.
KOESTLER
I'm a workaholic.
INTERVIEWER
An obsession with not wasting time.
KOESTLER
If I stop working and just try to enjoy myself, I get very neurotic and guilt-ridden. Orwell was the same. Like the man who, if he stops running, becomes afraid. Or the shark which must move to breathe. But I love playing games like Scrabble. That's not wasting time because it's an effort. Like climbing mountains, which I used to do too. Everything which is an effort is virtuous, is work, and is worth doing.
INTERVIEWER
Does your family try to persuade you to work less?
KOESTLER
My family is just my wife, Cynthia, and one dog—it used to be two dogs. Cynthia used to be my secretary, so she's part of the work too. A most stabilizing factor in marriage: shared work. [Stands and walks to bookcase.] Whenever I get depressed, which I often do, I come over here and look at this. My comforter. If ever I wonder what on earth it was all for, here is the evidence. The thirty books I've written plus all the translations. Forty-two different languages including English. Croatian, Ukrainian, Norwegian, Telugu . . . Russian? Oh yes, in samizdat, of course. Naturally, Darkness at Noon is my most popular book in Russia. I must have had something to say. There must be something in it after all.
INTERVIEWER
What makes you doubt there was something in it?
KOESTLER
If a writer loses his doubts then he's finished.
INTERVIEWER
Does there come a point when one has to stop doubting?
KOESTLER
Yes, death. But not until. When a writer loses his uncertainties he loses his humility—then he's finished. He'll just go on writing the same book like an idiot.
INTERVIEWER
Looking at that wall of books, are you searching for an answer?
KOESTLER
Oh yes. There is a British astronomer called Sir Thomas Gold. He tells a story of when he was going round America on a lecture tour explaining the Big Bang theory. There's a very old lady at one of the lectures who says, "Mister, I've got a much better theory about the universe. There's a huge tortoise with a thin covering of earth on its back—that's the universe." And Tommy Gold says, "But what is the tortoise standing on?" And she says, "On a much bigger tortoise, of course. It's no use arguing, Mister. It's tortoises all the way down." That just about sums it up. The cosmological quest—an infinite series of recessions. Ha!