Interviewed by J. D. McClatchy
Issue 108, Fall 1988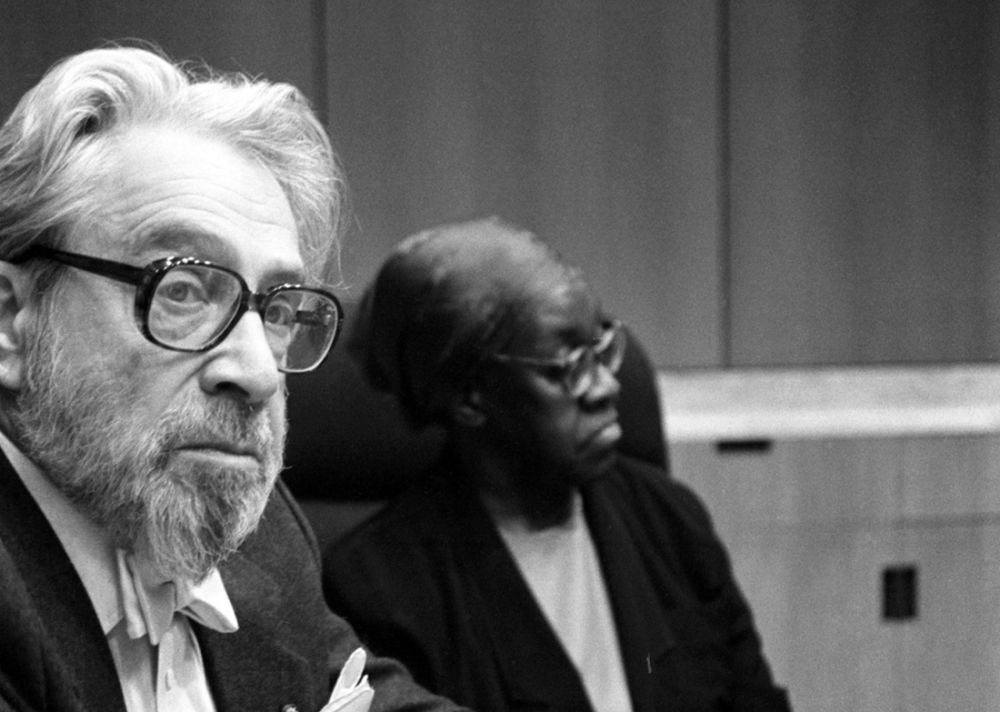 Anthony Hecht and Gwendolyn Brooks, 1987. Photograph by William Stafford
Anthony Hecht is an aristocrat among poets. It's not that his work stands apart from others', but that his poems hold themselves to a high standard, and in their purposes and sympathies is a natural nobility: important matters dealt with in a manner that is contained, dignified, open, full of feeling; life viewed from the vantage of spirit. He even looks the part. With his solid build and sad eyes, his heraldic gray hair and pointed beard, he resembles a benevolent Shakespearean duke. The lofty rhetorical grace of his work also brings to mind another, finer age. But just beneath their elegant surfaces his poems often manifest an unnerving, nearly Jacobean intensity, by means of which he explores the baffled suffering of human history and the helpless isolation of the private life. He has not written as much as some of his contemporaries, but because of their intellectual power and emotional generosity more of his poems are memorable—indeed, now a permanent part of modern literature, and of the imagination of his readers.
He was born in New York City on January 16, 1923, the son of a stockbroker. He graduated from Bard College in 1944, later studied at Kenyon, and took an M.A. from Columbia in 1950; but between those hitches in school he served in the army, from 1943 until 1946, in France, Germany, Czechoslovakia, and eight months of occupation duty in Japan. His first book of poems, A Summoning of Stones, appeared in 1954. His second, The Hard Hours, was not published until 1967, and was awarded the Pulitzer Prize. Two more volumes appeared in the next decade, Millions of Strange Shadows in 1977 and The Venetian Vespers in 1979. With Helen Bacon he has translated Aeschylus's Seven Against Thebes (1973), and with John Hollander he edited Jiggery-Pokery (1967), a collection by several poets of witty double dactyls (a form Hecht invented). A gathering of his essays, Obbligati, was published in 1986. He has received fellowships from the Guggenheim, Ford, and Rockefeller Foundations as well as the Prix de Rome in 1950 and the Bollingen Prize in 1983. He was elected to the American Academy and Institute of Arts and Letters in 1970, and the next year was named a Chancellor of the Academy of American Poets. He was elected to the American Academy of Arts and Sciences in 1975, and has received honorary degrees from Bard and the University of Rochester. He has taught at Bard, Smith, for eighteen years at Rochester, and since 1985 has been professor of English at Georgetown University. From 1982 until 1984 he served as consultant in poetry at the Library of Congress.
He lives with his second wife, Helen (the author of several renowned cookbooks), and their teenage son Evan in a handsome, white-painted brick house in a comfortable section of Washington, near the Japanese embassy. Settled into oversized wicker chairs, we spoke on an enclosed porch just off the living room, with its grand piano and a wall of prints by Samuel Palmer, Braque, Rouault, and Matisse. The poet works upstairs. There is a reading room there, with bookcases of poetry and literary criticism dwindling into nonfiction, and across the hallway Hecht's study. On his desk is a bronze bust of himself in 1954, the work of Gilbert Franklin. Nearby are photographs of Marianne Moore, Joseph Brodsky, John Crowe Ransom, Mona Van Duyn standing at Keats's grave, and his wife and son. There are a lot of records and cassettes here too, an O.E.D., shelves of Shakespeare, an encyclopedia and bibles, books on travel, theology and art history. While he was showing me around, I was struck again by qualities I remembered from his poetry: an elaborate courtesy that is never stuffy, a formality that can break into broad humor or streetwise slang. Most striking of all is his voice: a plummy, resonant baritone that, to my ear, sounds like no one else so much as the actor Claude Rains.
INTERVIEWER
I remember being at a reading of yours some time back, and overhearing two people sitting behind me. "He's English, isn't he?" the one said to her neighbor. "No," the other replied, "he was born in Germany and then was forced to flee to England before the war." Obviously those two had been listening carefully—to your tones of voice, and to the subject of some of your poems. It's just the facts they got all wrong.
ANTHONY HECHT
I suppose my voice must sound affected in some way, though there is no "natural" diction or pronunciation into which I might relapse. I've heard my voice recorded, and by now I feel it sounds just like me. Doubtless it's a mask of some sort; a fear or shame of something, very likely of being Jewish, a matter I am no longer in the least ashamed of, though once it was a painful embarrassment. When my voice took on its present character I just can't say. But in high school—the Horace Mann School for Boys, in Riverdale, New York—I played the role of John Worthing in The Importance of Being Earnest, and I worked hard at my speech for that play. I may add that Julian Beck, of the Living Theater, played Lady Bracknell in that production.
INTERVIEWER
Did you have any other famous schoolmates?
HECHT
Yes, Jack Kerouac was in my class. He won a football scholarship to Columbia, and broke his leg in freshman practice, which kept him out of the army later on, so that he joined the merchant marine, a service that gave him time to really read fiction for the first time. He was a gentle and kind fellow as I remember him, but at school it didn't seem as if we had much in common. Later, however, when the first American Prix de Rome in literature was to be awarded by the American Academy of Arts and Letters, Kerouac and I were apparently the leading contenders, each with his particular champion in the Academy. In my case it was Allen Tate, in Jack's it was Mark Van Doren. The committee finally settled on me as the recipient, and when Jack learned (that very evening, very likely) how the vote went, he called my parents' home to congratulate me. That was a noble and generous thing to do. I was abroad at the time, but he was, my parents wrote me, genial and sincere and a little high.
INTERVIEWER
So your manner of speech goes back to school days?
HECHT
At the very least. And I'm the more convinced that it served as a mask because in the old days, when I used to drink a lot, everyone remarked that my speech became more precise and fastidious the more I drank. I used to be pleased by this observation. I suppose I felt it meant I was giving nothing away.
INTERVIEWER
Did you ever, back when, say to yourself: A poet—that's what I want to be?
HECHT
Oh, I said that quite early. I think I fell in love with poetry in my freshman year in college. My father was a businessman, and I knew I didn't want to be that, not because I knew anything about business, or his life—except that it had been miserable—but I was not in love with business, and I was with poetry. So I said, one weekend when I came home from school, that I was going to be a poet. It was an act of defiance, but I didn't think it would be taken very seriously. I thought they'd just humor me and say, By the time he grows up he'll change his mind, and so forth. But they were really terrified. So terrified that they decided they would persuade me to change my mind, and do so at once. They enlisted the help of Dr. Seuss, Theodore Geisel, who was a friend of theirs. He was invited to dinner the next time I came home from college. He lived in New York then, and was making political cartoons for PM, the newspaper, and also doing Quick, Henry, the Flit ads. He came to dinner, and I had no reason to suspect he was there for any sinister purpose until, at the end of dinner, we rose to leave the dining room and Ted put his arm around my shoulder and said, "Tony, what do you want to be when you grow up?" And I knew right away that something was up. So I said, "I'm going to be a poet." And he said, "Fine, and I have some advice for you. I think the first thing you should do is to read the life of Joseph Pulitzer." Well, I didn't know anything about Pulitzer except that he was a newspaper publisher. But I knew instantly that Ted was trying to discourage me from becoming a poet, so I assumed there must be something in Pulitzer's life that was as threatening as it could possibly be. Whereupon I resolved never to read the life of Joseph Pulitzer, and I never have.
INTERVIEWER
Was it in college, then, that you began writing poems?
HECHT
God knows when it all began, but long before then. The first thing for which I felt I had any natural aptitude was music. I had a quite good ear (not perfect but relative pitch), and a quite good auditory memory. I was able to recall a good deal of intricate classical music after a single hearing, and to pick out fugues and canons by ear on the piano.
INTERVIEWER
Was this a help to you as a poet?
HECHT
I thought so at the time I first began to write, though I am no longer so sure. At the very least, however, it gave me a strong sense of form. But as far as I can recall, the first things I wrote were doggerel verse.
INTERVIEWER
What prompted that? Surely not Bach or Mozart?
HECHT
No. I found that I had committed to memory not only a lot of classical music but the tunes and words of songs by Cole Porter and Noel Coward; and I greatly enjoyed the highly formal patterns of those lyrics, as well, of course, as their wit and charm. In fact, the wit and charm seemed to have a lot to do with the formal patterns.
INTERVIEWER
Did you try to compose songs yourself?
HECHT
No, not really. I never supposed I had any creative gifts as regards music; only that I was keenly attentive to it. But I found that I could also recall words if they appeared in a patterned order, and my interest in poems began there.
INTERVIEWER
What was it that diverted you, if that's the right word, into "serious" poetry?
HECHT
Well, of course I knew that it existed. I was forced to read a great deal of it at school. Being afflicted with the particular kind of auditory memory that I have, I still retain ineradicably, to this day, long passages of Whittier's "Snow-Bound" and Bryant's "Thanatopsis," which I was required to memorize at school. I often wished that it had been Milton and Shakespeare rather than Whittier and Bryant that had been so permanently lodged in my head. But when, in due course, I came to try to write poems in iambic pentameter, my yardstick for measuring the length of line in my own ear was the first line of "Thanatopsis": "To him who in the love of Nature holds . . ." I would measure out my own lines against that one, not because I liked it especially, but because it was a certified, Bureau of Weights and Measures Standard Iambic Pentameter Line.
INTERVIEWER
There's a melancholy that, it seems to me, cuts two ways in your poems. One is the melancholy tone of your meditations on historical violence—not just seriousness, but a bitter helplessness. The other way cuts closer to home. It's what I see in poems of an autobiographical cast—"Apprehensions," say, or "A Hill"—where bits of your early life are used to reveal a dark, abiding sadness. Is that, in fact, the way you remember your childhood?
HECHT
Yes, it is the way I remember childhood. This is something I must be cautious about, because my childhood was comparatively privileged. And it's possible that part of the motive behind the writing of the, as you call them, poems of meditation on historical violence, was a little homilitic warning to myself against cheap feelings of self-pity. One poem in which the two aspects are brought into immediate contact is "Behold the Lilies of the Field." But the fact is that while my childhood was privileged, it was profoundly insecure, partly due to a child's uninformed and ungoverned fantasies about the consequences of the depression. But for many other reasons as well. The word symbiosis has enjoyed a certain vogue recently, and as a child I would have had no idea what it meant, and in all likelihood had never heard of it. But some instinct in which I had complete trust told me that the interrelationships and interdependencies of my immediate family were draining and dangerous to me. I was not free to be myself—though of course I hadn't the faintest notion of what I would be if I were free. I wanted to be an adult, not for the pleasures of adulthood (whatever they were—the only one that appealed to me in those days was the right to stay up late) but to be at last exempted from the routine and humiliating scrutiny of my elders (including my teachers), by whom I was inevitably weighed and found wanting. And a child who is told he is not good at anything is likely sooner or later to give in to a mood of defeat. And this was pretty much the situation in which I found myself; parental dissatisfaction was a kind of tyranny, developed to encourage the symbiotic relationship, though I scarcely could have known this at the time.
INTERVIEWER
You mean you were not encouraged in any undertaking?
HECHT
I was encouraged to be mediocre. When I was quite young, I developed a fierce interest in music and started to teach myself the piano; my mother then lost all interest in music, and quit playing. When my brother and I started to write poetry, she stopped reading poetry abruptly, and firmly declared she "couldn't understand" anything written by either of us. At one point my parents exhibited such despondency and doubt about my ability to do anything whatsoever that they spent a large sum of money to have me tested at the Pratt Institute. The test took several days, and I hated it because it was just one more ordeal of scrutiny and evaluation that was likely to humiliate me. Finally it was over, and then the results came in. I was told nothing, and was tormented between a desire to know and a fear of knowing. At last, aware that a lot of money had been invested in this test, I forced myself to ask my mother about it, and was told in a tone of mild regret and resignation that the aptitude tests indicated that I had no aptitudes whatever. As the evidence continued to pile up on all sides it became increasingly difficult to attain any confidence in myself; and I wanted alternately to be dead or to be "old," which meant to me, in either case, no longer under the scrutiny of authorities I was powerless to combat. So the "sadness" you speak of in the poems is the matured and mellowed residue of what in childhood had been a poisonous brew of fear, hatred, self-loathing, impotence, and deep discouragement.
INTERVIEWER
I wonder if those were the same feelings you had in the Army?
HECHT
No. The army experience, while hateful, was entirely different. Like many another's, my undergraduate years were interrupted by the war, and I left what were unquestionably the happiest years of my life up to that time to enter infantry basic training. I had been able to join a special program, ASTP—the Army Specialized Training Program—by taking special courses during my last year in college, mostly math, in preparation for what was to be specialized, i.e., non-infantry, duty, though infantry basic was required first. I brought with me into the service, along with my toilet articles and the few things we were instructed to bring, a little set of paperbacks: Shakespeare plays and an anthology of English and American poetry. They were talismans of a sort; they symbolized sanity and joy; they were the lovely inventions of admirable minds, and they were moreover meant to remind me of the happy place where I first encountered them. They were not meant to serve as pseudo-Victorian "consolations" for anticipated hours of distress. The distress was certainly expected, but literature, in my experience, does not console, and isn't meant to; and I seemed to have believed that even then. Those texts were instead goals of a sort; realms of coherence and happiness. At the critical moment it turned out that they failed me completely. Anyone who's been through infantry basic in wartime will understand that there is little in the way of leisure or energy for the reading of literature. Accordingly, it is not surprising that along about the third week, when I found myself unexpectedly gifted with an off-duty afternoon, dug my books out of my footlocker, and started to read some texts I all but knew by heart; they had that day all the vitality and impact of a random page of the Oswego telephone directory. I read and reread, with mounting terror, those lyrics and speeches that had enthralled me only a month before—and it was as if I had been lobotomized. My mind was gone, or completely numbed. I tried twice during the following weeks, with the same heartbreaking results. I put the books away, and never looked at them again during the entire time I spent in the army.
INTERVIEWER
That sounds like a very distressing experience.
HECHT
It was traumatic. The only way I was able to keep up my spirits during basic was the hope, based on ASTP, that once basic was over (thirteen weeks of the summer in Alabama) I would be sent to some college or university for training in "intelligence" work. And this did happen; I was sent to Carleton College, in Northfield, Minnesota, to study German language and history, and European geography. The program was to take twenty-eight weeks. In the twenty-fourth week the entire nationwide program was cancelled by an act of Congress. The ostensible reason was that the program was "undemocratic," favoring either those who had college educations where they learned foreign languages, or the children of immigrants who learned it at home. The real reason (which, of course, could not be uttered in public) was that military debacles made the need for more "cannon fodder" imperative. They needed more infantry men, and "intelligence" was a superfluous luxury at that point. My experience in the army suggests to me that intelligence is always a superfluous luxury for them. Anyway, being sent back to the infantry was crushing to the morale, and seemed to increase, if possible, the emotional and mental torpor (a protective reaction, of course) that had made it impossible for me to read. I stayed in that numbed state until long after I was discharged, having seen over half my company killed or wounded in action.
INTERVIEWER
And what happened after your discharge?
HECHT
I was consistently drunk for well over two weeks. My parents were particularly forbearing and indulgent about this. They kept me in full supply of booze. I think I drank day and night, and I fell asleep most nights on the floor of their New York apartment. The drink must have served as a sort of narcotic for everything unmentionable that had happened or that I saw during those years.
INTERVIEWER
Did any of this repressed "unmentionable" material ever find its way to the surface in any of your work?
HECHT
Yes. In "Vespers," for example, there's a soldier who has the top of his head blown off. That happened to a friend of mine, a member of my company. I saw it.
INTERVIEWER
And did you quit drinking after those weeks?
HECHT
Certainly not. I have drunk, probably too much, ever since then, and to this day I get jumpy and restless in the evening if I have nothing to drink.
INTERVIEWER
Has it been a "problem"?
HECHT
Not in The Lost Weekend sense, if that's what you mean. I have not felt the need to resort to cunning devices and secret caches of booze. I have never joined AA, or felt I needed to. But still, I had after a while acquired a reputation for drinking. I was amused by a letter from Allen Tate, in which he congratulated me on winning the Rome Prize (he had been my chief advocate on the committee that made the choice) and warned me not to drink too much at the Academy in Rome, lest I disgrace the American Academy and Institute of Arts and Letters (which awarded the grant) and so offend the Academy in Rome as to persuade them never to admit another writer. You see, this was the first writing fellowship ever conferred. What amused me was that, as I saw it, Tate drank much more than I did in those days.
INTERVIEWER
Did you ever try drugs?
HECHT
I've smoked pot a few times, and that was long ago. I've been very timid about drugs. Once, at a New Year's Eve party, Jack Kerouac offered to share a stick of pot with me; at that time I had never taken anything at all of that sort, and I thought of anyone who did as a "dope fiend" out of Victorian melodrama. I liked Jack a lot, and I was flattered by his offer to share his joint with me, but I excused myself on the grounds that what I really wanted was some more booze. Actually, I had already drunk so much that the pot would probably have had no effect; and in addition, it rarely has any effect the first time it is taken.
INTERVIEWER
What brought you to John Crowe Ransom?
HECHT
For the credits I earned at Carleton, Bard was able to award me my B.A. in absentia, but while I was overseas in Europe I met a fellow soldier named Robie Macauley, who was a Kenyon graduate. It was he who told me about his college, and about some of the students and faculty at Kenyon. The faculty, besides Ransom, included Randall Jarrell, and the students included Robert Lowell and Peter Taylor. Robie was very eloquent about them all, as well as about the school. When I was discharged, I got hold of some of Ransom's work, and read it for the first time. It astonished and bewildered me. I had read no modern poetry (I don't think I even knew Hardy's work) that so defiantly employed archaisms, elaborate inversions of word order, and a diction and idiom so alien to modern speech. I also bought Lowell's first, limited edition volume called Land of Unlikeness, and I read Peter Taylor's stories in the Kenyon Review. I was blessedly entitled to the GI Bill, which would send me back to college. I already had my B.A., but after years of communicating in the coarse, monosyllabic illiteracies that are standard military procedure and parlance, I scarcely felt ready for graduate school. So I elected to go to Kenyon as a special student on the strength of what I had heard and read. Ransom was in certain ways a dangerous influence, precisely because his poetry was so idiosyncratic. One can't, for example, imitate Hopkins or Cummings without betraying oneself as a derivative talent. And a few of my early poems ("Samuel Sewall," for instance) are painfully obvious acts of homage or dutiful aping. Ransom, who was generous, and valuable to me, had to be erased, or at least diminished as a model. And this was done by adopting other models, including Yeats, Frost, Eliot, and Stevens. Each of these erased his predecessor, but I learned valuably from all of them.
INTERVIEWER
But there is a considerable difference between the page and the office; between looking over, say, Yeats's shoulder and having Mr. Ransom look over yours. Those are two very different kinds of teaching.
HECHT
Yes, but they turn out to be the same in the long run. I mean, they produce the same effect. Students almost invariably, and with touching naïveté, want clear, straightforward answers that are quickly applicable; they want their own confusions promptly resolved. They approach a living mentor in the reverent and pious hope that his wisdom and their own patience and humility will produce clarification in comparatively short order. This, however, almost never happens, except as regards the most elementary order of questions. Whatever I learned from Mr. Ransom didn't sift through until many years after I'd studied with him. And a great deal of what I learned came from a patient discovery that I disagreed with him. In fact, I think I have probably learned as much this way as any other. A good teacher (who need not be present, or even alive) is one who provokes you to serious, long-term thought. And I would not have dared rashly or hastily to find fault with any of Mr. Ransom's ideas; it required years of wide reading and steady thinking before I was able to "conclude" anything. Yeats, whom, of course, I never met, and in whose critical opinions I was not at all interested, served for me not merely as an astonishing model, but as a sort of Zen master, since he was in a position to abide my most pressing questions in total silence. Early poems of mine tried hard to imitate Yeats in his most stately and dated diction, and this may have been what then struck me as his most "poetic" aspect. There was, after all, something dated and archaic about Ransom's diction, too. But as time passed what I came most to admire, and to learn from, in Yeats was his "dialectical imagination," his profound conviction that everything involves its opposite. Saying these things in this bald way is not edifying, and if some teacher had said to me, even insistently, All things are involved with their opposites, I would dutifully have copied it down, and remembered it, and thought about it off and on for a long time. But I probably wouldn't have learned anything from it until, in Keats's words, I had "tried it on my pulses." In much the same way, freshman philosophy courses used to illustrate a syllogism in the first figure with: All men are mortal; Plato is a man; therefore, Plato is mortal. Everyone took notes, copied the syllogism, learned to distinguish the first figure from others. But it was likely to be the exceedingly rare freshman who actually believed that he was mortal. What is involved here, of course, has something to do with maturity, and I was slow to mature.
INTERVIEWER
Going back to the list of influences, there are two names I want to ask you about. One that you didn't mention— Auden. And one that you did—Robert Lowell. You say you bought Land of Unlikeness. How did it strike you?
HECHT
To take Lowell first: I bought and read Land of Unlikeness before I had ever met Lowell, and the first thing that impressed me, curiously, was the frequency of hyphens. This was somehow conspicuous because of the exotic typeface used in the limited edition of that book. But the hyphens were simply one of the signs of a harshly compact diction that characterized this early work, and part of its enormous, ferocious power. I envied that power; or, more accurately, I envied the seeming self-confidence that gave rise to it. The self-confidence was based on religious premises that were at once orthodox and heterodox. From the vantage of a newly-espoused Roman Catholicism, Lowell could, with all the vehemence of an Old Testament prophet, condemn not only whatever he found fault with in his own and this nation's Puritan heritage, but our participation in World War II. It was a sweeping repudiation of almost everything but the mysteries of the Church. As time went on, I came to see that what had enchanted Lowell was not the faith but the power it lent him. And he was someone who was always interested in power. I must admit that I regard all such people with considerable distrust, though Lowell himself was always kind and considerate to me. But I had no illusions about him, and would never have wanted to become his close friend, because I was certain he would take advantage of that friendship, as he certainly did with many others. Perhaps all fields, except the very humblest, can be divided among those who crave power and those who don't. Among poets, for example, I would say that Elizabeth Bishop did not, nor do James Merrill or John Ashbery. Neither did James Wright. But the self-promoters and log-rollers are in the vast majority. As for Auden, there was a tiny bit of the snob in him (he was awfully pleased to work with Stravinsky), but he had the decency to be ashamed of this weakness, and spent a lot of thought and energy trying to repair this character fault. He was, I think, quite simply one of the best human beings I have ever known, and what made him so good was that he had to work at it, and he gave it enormous thought. He was also one of the best-educated people I had ever met. I met him in Ischia, to which I had come purely as an economy, and without any knowledge that he was there. When he learned (from others) that I wrote poems, he generously asked to see some, and gave me the most careful and tactful of comments on them. During this period he was serving as the sole judge for the Yale Series of Younger Poets, and he once asked me if I would help him read his way through the piles of stuff that had been sent from the States. We divided the stack in half, but neither of us found anything of any real merit whatever. Auden found this especially odd because, he said, he knew that at least one poet of real ability had submitted his work; so he had to assume the poem had been eliminated by the stateside screeners. So he decided to write to this poet, and ask him to submit his manuscript to him directly. I assume that this was done; in any case, the winner for that year was John Ashbery.
INTERVIEWER
I should think you and Auden shared a good many predilections: the formal strategies, the ironic moralism, the long historical view and eye for contemporary manners. But I'm curious: what sort of suggestions did he make about your poems? Did they have to do with a poem's conception, or with smaller matters of adjustment? Can you recall?
HECHT
They were all small matters, details. This was part of his tact, but also a way of emphasizing the importance of details. All his comments of this sort were offered as suggestions, and every suggestion he made I believe I adopted. They all seemed to me eminently reasonable and valuable, though none of them astonished me. What he did was very much the sort of thing poets who are friends often do for one another, and I myself have done it for friends of mine who are poets and who have sent me manuscript poems in the mail for comment. I make suggestions (unless, of course, the poem seems perfectly satisfactory as it stands), and the poet is free to adopt my suggestions or ignore them as he, or she, chooses. This is so common a practice that I could not if I tried remember how often I have done it, or for how many poets, or which ones. But to return to the shared predilections, Auden was a poet I had admired and learned from before I had ever met him, and I had adopted, consciously, some of his poetic modes and methods: for example, the essay poem, which presents a general topic and wanders through it in no specified order but in a casual amble, as one might make a series of visual discoveries by wandering around a well-planned garden. My metaphor here was quite obviously chosen with my own attempts at this mode in mind; I wrote two such poems, both about gardens, one of them about the Brooklyn Botanical Garden and the other about the gardens of the Villa D'Este. But Auden did not confine himself to anything like a narrow genre of this sort. His essay poems would include works as diverse as the poem in memory of Sigmund Freud and "In Praise of Limestone." In any case, if I share any other literary characteristics with Auden, the chances are very great that I acquired them through studying his work.
INTERVIEWER
What are your memories of him on Ischia?
HECHT
He kept to an inflexible schedule of work and play. He rose early, wrote and read before breakfast, which was likely to be no more than coffee. (I was told all this.) Continued work till about three PM, pausing for a light lunch. The rest of the day was for relaxation and amusement. He used to say that he was never able to work beyond mid-afternoon, but only came to understand the reason for this when he had become a convinced Christian, because he then realized that three p.m. is the canonical hour of the crucifixion. He was no less punctual about cocktails and dinner, and went home to bed, even being known to leave his own birthday parties at a fixed time in order to be up and at work at his scheduled time of, I think it was, six. He credited his parents with instilling in him this useful discipline. He liked quizzing people, and playing what might be called "parlor games," in which everyone takes part and reveals something about himself. He once defined purgatory as a place where you had to stay in the intimate company of the person you most detested until you had come to love them in a completely merciful and disinterested way. Each of us (a small group of his friends and acquaintances) was invited to identify such a person. I can't remember who I came up with; those were days when my powers of detestation were comparatively unpracticed. And I don't think it's right for me to name Auden's candidate. There was another game of this sort that also had its religious aspect. He was fond of maintaining that art should be amusing, accessible, and without pretentions to "ultimate statements," to solemn pomposities. All such art he found a bore, and he used to taunt us by saying that anyone who claimed he really enjoyed Beethoven's late quartets was simply putting on airs. He carried this argument to extremes, I may add, to the point of insisting that art and its subject ought to be nearly frivolous. It was a strong argument for camp taste, but what was interesting about it was its theological foundation. The game invited participants to imagine that they knew they were to die in a state of grace in six months with complete assurance of a heavenly estate after death. This meant that they were freed from all anxieties, and had no need for penitential thoughts or actions, nor spiritual clysters or edification. There was no need to be, as the phrase goes, "uplifted." His argument was that a lot of people foolishly confuse being "uplifted" with aesthetic enjoyment, when in fact they're only hankering after a cheap and artifically induced elation, which they associate with rectitude and purity and upon which they congratulate themselves. So, given these remarkable conditions, we were all asked to say what novel or novels we would read; what lyric poems; which paintings we would like to look at; and what music we'd like to hear. Remember that the central point is that there was no need to do anything "improving," only to enjoy yourself—which Auden insisted was all art was meant to do. I remember his choices. He wanted to read the novels of Ronald Firbank, the lyrics of Tennyson, look at the paintings of Caravaggio, and listen to, this last pains me, the overtures of Rossini. But I must add that my fondness for Bach pained him.
INTERVIEWER
Did you keep up your friendship in later years?
HECHT
Alas, no. I saw him only occasionally in later years. I was once asked to the home of Reinhold Niebuhr to celebrate one of Auden's birthdays; this was a very sedate occasion. And he invited me to come to visit him when he was living in the East Village, but I never did.
INTERVIEWER
Let's get back to your early work. Beneath the surface of rational control, and rhetorical aplomb, there is a good deal of nastiness there—suffering, physical pain, mental anguish. Was there some kind of symbiotic relationship between the calm, deliberate technique and those roiling feelings?
HECHT
Of course. The first serious poem I ever tried to write was a disaster, and it was bad because I tried to express unmediated feelings about one of my father's collapses. The poem was bad for every possible reason: I didn't really know what my feelings were, to begin with, except, of course, that they were strong feelings; I hadn't written much poetry, and wasn't very good at it; and I had neither found, nor even looked for, what Eliot called an objective correlative for my feelings. I was just trying to indicate that I had some strong feelings without telling the reader what prompted them. But in due course I went to study with Mr. Ransom, and both his own practice as a poet and the remarks he made in class as well as in his essays were very salutatory and useful to me. I can no longer remember whether I read or heard him declare that a young man in the toils and thralls of love is particularly unfit to write a love poem, and that he must distance himself from his esctasy before he can command enough self-possession and artistic disinterestedness to be able to write about it. But this made enormously good sense to me. It explained to me why my early work was so bad; it excused me from the task of setting down raw and unconsidered emotion; and it suggested a strategy by which to proceed. That is, instead of writing about what left me almost wordless with confused feelings, I could write about situations that no longer disturbed me, from which I had emerged either scathed or unscathed, and I could also write about what had happened to others. Best of all, I could write about what happened to me if I disguised myself as someone else. And as soon as I realized that I no longer depended on the "authentication" of my own feelings or biography, but could write, as all novelists and playwrights do, through the identities of persons either real or invented, I was freed from the tyranny of self-absorption. This didn't mean, of course, that I instantly began to write dandy poems. But I was freed to experiment with other voices than my own, and encouraged to empathize with the experience of others. And slowly my work did in fact begin to improve.
INTERVIEWER
Then the suffering, pain, and anguish I mentioned may or may not be your own?
HECHT
Just so. It is at least mine insofar as I can identify with it, and it may be a good deal more personal than that in ways I have no intention of making public. In his lectures, "The Varieties of Religious Experience," William James describes humans in terms of various temperamental types. Of these, the first he speaks of is the "healthy-minded" soul (he puts Whitman in this class), which describes people who by religious conviction or by metabolic blessedness are invariably cheerful and optimistic. Emerson had such a temperament, as did all those very American people who can say, along with Will Rogers, that they never met a man they didn't like. But James goes on to oppose the "healthy-minded" to "the sick soul," and I'm afraid that I would have to identify myself with this second group.
INTERVIEWER
Then let me ask the question more directly. There are several and, it seems, tortured references in The Hard Hours. Just how personal are they?
HECHT
Quite personal indeed, though it would take a lot of time to trace all of them and track down each detail. But by the time that book was published I had served in combat as an infantry rifleman, and had been among the first troops to capture one of the German concentration and extermination camps, namely Flossenburg. I had seen a lot of people killed. I had emerged shaken from an almost consistently unhappy marriage of some five years' duration, during which two sons were born. My former wife then settled in Europe, married a European, and took my sons with her. My grief at the departure of my boys was paralyzing; I was hospitalized for three months for profound depression. But apart from specific events, it may be that some genetic or metabolic disposition assigns me to the "sick soul" category of William James. I find myself at home with such a mind as Dostoyevsky's or Kafka's, and have even found myself in argument with two scholarly friends who believe that King Lear has an affirmative ending.
INTERVIEWER
But aside from habitual temperament or chemical predisposition, there have been intervals of special stress, am I right?
HECHT
Of course. The hospitalization for depression was the most severe, I imagine. The ostensible excuse was that it was safest to administer drugs, thorazine in my case, under hospital conditions. Many of the other patients were undergoing electric shock. After about two and a half months, I was allowed to go out on brief daytime passes, but had to readmit myself each evening. My children were by then long gone. It was during this period that Lowell was especially kind to me and sympathetic. I was deeply moved and very grateful to him for his understanding. But after all, we seemed to share a common affliction, and not merely with one another, but with an astonishing number of American poets. It seemed almost a professional deformity. It's almost a litany to name them: Roethke, Berryman, James Wright, Plath, Sexton, Eliot, Pound, Carruth, Ginsberg, Mona Van Duyn, Delmore Schwartz . . . this is not an exhaustive list. I have a theory, too complicated to rattle off here, as to why this has come about (historically, the symptoms began in the eighteenth century), but this is not the occasion for such speculations.
INTERVIEWER
I assume from what you've already said that you weren't able to make immediate poetic use of your experience in the hospital.
HECHT
No, I wasn't, but it came in handy when I was composing "The Venetian Vespers," which has a few nuthouse details in it.
INTERVIEWER
You're like Elizabeth Bishop in letting quite a few years pass between books.
HECHT
Thanks for the flattering comparison. In her case, critics have suggested that a fastidious perfectionism might account for her "literary parsimony." I have no idea what the real cause may have been in her case, and I'm only dimly conscious in my own case. Allen Tate used to say that he thought every poem he wrote was possibly his last. I've felt that way myself over the years, always hoping that with maturity or habit, some wellspring would be tapped and turn into a dependable and abundant flow. Alas, it hasn't happened. I always enjoy the exhilaration of actually writing, and the relief and self-admiring satisfaction of finishing. This last may even become unduly prolonged. But sooner or later even the poem I'm most proud of lies lifeless on the page before me, completely inert and without merit; and I have no idea where another will come from, or when. Doubtless there are deep reasons for this, and causes over which I have never gotten much control. My father was in certain ways a shackled and enfeebled man. He tried three times in his life to commit suicide because he had lost not only every cent that he had, but the fortunes of friendly investors as well. My brother, who is nearly three years younger than I, and also a poet, has been dealt with much more cruelly by life than I have. He has suffered from epilepsy from birth, and has lived pretty much as a recluse. These are the two people who, in my childhood, would have been my natural rivals; and since each was handicapped, I felt I had to pull my punches. But it was more than that. I remember feeling from very early on that any success of mine was ipso facto painful to both of them. My father was ashamed of his failures and resented my successes, and I was completely aware of this. No doubt I chose poetry as a vocation in the first place because in at least one sense it may be regarded as uncompetitive. But in another sense, of course, it's not. I recall Lowell writing to Roethke, and saying: "I remember Edwin Muir arguing with me that there is no rivalry in poetry. Well, there is." Anyway, when you feel that the work you do best and enjoy most causes anguish for others (and especially for those others who, under different circumstances, would be your natural rivals), you are understandably hampered; and I have never been able to free myself of this self-imposed constraint and feeling of guilt about such accomplishments as have been mine. That's a pretty long-winded answer, and may not be the whole truth, but at least it's part of it.
INTERVIEWER
How do you tell when a book—or for that matter, a poem—is finished?
HECHT
Better start with the poem. There are two famous schools of thought about this, one represented by Yeats, who said something like, A poem comes right with a click, like a box snapping closed; and the other by Paul Valéry, who declared that poems are never finished, only abandoned. I have nothing novel or useful to add to the controversy. To the degree that a poem strives for formal harmonies—by which I mean not only meter and rhyme, but the careful and deliberate resolution of all its parts, themes, metaphoric structures—the poet is in a position to gauge, to a certain degree, the extent of his success, at least in regard to his self-assigned task of braiding his loose ends into a coherent pattern. And he is able to guess how much tinkering still needs to be done. In verse of a looser kind a keener instinct is needed, and this is what so vividly distinguishes a truly remarkable poet like William Carlos Williams from his disciples. As for the book, for better or worse, I incline often to think of it as composed musically. That is to say, I like to demonstrate variety when possible by juxtaposition of items of different form, length, technique, and so forth. My general feeling, however, is that poets, with a few exceptions, sweat blood over these matters and they are noticed neither by reviewers nor by readers, and all the painful calibrations and measurements are for nothing. Sometimes, of course, a prolific poet, like Yeats or Frost or Stevens, will produce a book that has a beautiful and self-evident consistency, coming as it does out of a major preoccupation with a theme, or even with a form, like dramatic monologue. The nearest I have come to such achievement has been in the writing of some poems that I consider "long."
INTERVIEWER
That sounds as if you prefer the long poem.
HECHT
My own long poem, "The Venetian Vespers," is no more than a trifle, a verse epigram, compared with something as genuinely large and ambitious in scope as, say, James Merrill's Dantean trilogy, The Changing Light at Sandover, or such book-length works as Alfred Corn's equally Dantean Notes From a Child of Paradise, or Frederick Turner's The New World. I mention these as distinct from, say, Olson's or Pound's stuff because the latter two produced work of a loose and shapeless kind—strung together, of course, by themes and musical devices, but without the shapeliness of major formal considerations. I prefer the work that is decidedly more architectural, in which parts balance one another, and in which everything is essential, so that if something is removed or misplaced, the whole thing collapses, as would be the case with a large building. This is one of the reasons St. Mark's basilica plays a prominent role in my poem.
INTERVIEWER
What is it about the metaphor of "architectural" structure that makes it preferable in your mind to a "musical" one?
HECHT
Well, I've never heard Pound's opera, and I've no idea what it's like, but a lot of people who talk glibly about musical structures have very feeble notions of music, and are convinced that a few scattered echoes and repetitions, a few recapitulations of thematic materials, are evidence, as far as the poem is concerned, of a brilliantly integrated fugal patterning. After all, it was Pound who told Yeats that the Cantos would be structured like a fugue; yet not even the earliest groups of them can be said to be fugal without seriously weakening our sense of the word. They are in fact more Wagnerian in structure than Bach-like. Normally, in any case, the word musical is applied indiscriminately to Swinburne, Hopkins, Poe and Dylan Thomas, and in these cases it has little to do with anything so severe and skeletal as structure.
INTERVIEWER
What, then, do you mean by "structure" in connection with a long poem, and what is its use?
HECHT
I remember long ago seeing a large spread in Life about William Faulkner. Lots of excellent photographs, and at least one of his study. He had covered one entire wall with aligned rows of typing paper on which he had outlined the various parts of the novel he was working on. The whole thing, in all its diversity and complexity, lay mapped out before him on the wall, and he was able to address any part of it at his convenience, always conscious of its relation to and place in the whole design. I can't tell you what freedom from anxiety this provides. You go to work at whatever you can, or wish to, work on, and at the end of the day you can go to bed in peace, knowing where and how you can start up again. But when you have come near finishing a short poem you can only continue to tinker with it, and fret about where the next poem will come from.
INTERVIEWER
Have any readers taken notice of your formal concerns in this matter?
HECHT
I was greatly gratified when a Cornell student commented on the ghostly paradigm of Hamlet behind "Vespers."
INTERVIEWER
Do you revise a lot?
HECHT
Yes, though a lot of so-called revision seems to go on in the head before a single word has been set down on paper. I write slowly and painstakingly. Those who don't like what I write feel it is not worth even my own pains, much less theirs. A few years ago I found myself at a preprandial sherry party in the poetry office of the Library of Congress where some seven or eight fellow poets were assembled for a special occasion, and I was more shocked than I can easily convey to find that I was the only poet in the room who did not compose on a typewriter. Of course now, with word processors, revising is a cinch, but they're too expensive for me. I seem still to belong to the oaten-reed or goose-quill stage of development.
INTERVIEWER
When you revise, what sort of weakness do you look for? Or do you instead look for something that's missing?
HECHT
Both. Prosodic matters aside, it often seems to come down to attaining a language that is supple or flexible enough to rise to climactic occasions, but also to be able to do drone's work without the appearance of it.
INTERVIEWER
Do you show your work to friends before publishing it?
HECHT
Yes, I do. My wife is one of my best and most astute critics, and while she is cautious about my feelings, she always knows when something's wrong. Most often I have shown or sent my work to fellow poets—who, in turn, have often asked me to comment on new work of theirs—but there have been other friends, academic colleagues, whose views I trust. Sometimes there are poems in which I have enough confidence to know they're all right. I don't object to showing such poems to friends as well, though in these cases I am not looking for suggestions, but simply for approval. There is no problem about conveying the distinction between these. And one can simply ignore advice that seems wrong or off the point. It is worth adding that I have enough confidence in my editor, Harry Ford, to feel that he would not let me make a complete fool of myself, and nothing would work its way into book form that had not at least some merit.
INTERVIEWER
Your study upstairs is divided into two rooms, one for books and the other with a desk. Is there some deep purpose in that arrangement—your thinking, for instance, of reading and writing as very different jobs?
HECHT
No, it's a purely practical solution to a problem with space. There wouldn't be room for the right-sized desk in the room with all the bookcases.
INTERVIEWER
Do you go to that desk every day?
HECHT
Yes, I do. But it's not always to do what I ought to be doing, which is to write either poetry or prose. Let's just say there is always paperwork to do.
INTERVIEWER
I noticed your O.E.D. up there. Have you always used it?
HECHT
No. After I'd finished translating Aeschylus I became an Oxford author and found from a little note they sent me that I was entitled to a huge discount on Oxford books. That became my great temptation to get the O.E.D. I wouldn't have been able to afford it otherwise. I love the book. I read in it all the time, and have learned a great deal from it. I don't sit on it the way Auden did, but I have to say with shame that I went through all my undergraduate years without having heard of it. No teacher ever referred to it. But after I got out of the army, I studied with Empson at the Kenyon Summer School, and he made constant reference to the O.E.D., and, as you probably know, in his Structure of Complex Words he has a chapter devoted to how the O.E.D. can be improved. After Empson I became fascinated by the book, but it was only later that I was able to buy my own copy.
INTERVIEWER
Your poems include a lot of words like mucid or pavonine, not in the average man's working vocabulary. Do you count on a reader's knowing their etymology?
HECHT
No, but I count on his taking the trouble to look them up. On the other hand, I normally put them into the mouth of a person who is characterized as one who uses an exotic language. The narrator of "The Venetian Vespers," for example, is someone who out of a kind of pathological drive learnt a lot of fancy language. So that was an excuse for my elaborations.
INTERVIEWER
There must obviously be new books of poems you look forward to. How do you read your contemporaries? Just to take delight, or to learn?
HECHT
Certainly for delight. The real test is that when you pick up a book you haven't read yet by Bishop or Merrill, you're confident that every poem, one after the next, is not going to disappoint. Each will have its merit and excitement and invention, and that kind of confidence is satisfying.
INTERVIEWER
Isn't that really the feeling one has about the classics?
HECHT
Yes. But then there's also that edgy, two-pronged feeling—one of envy, and also hope that you can learn something, or even pilfer something. It may give you an idea, start you off on something of your own.
INTERVIEWER
Can you give me an example of something you learned from reading, say, a Bishop poem?
HECHT
Hmmm. I'm sure I could, but these are probably the things one suppresses out of psychological necessity. There's a codicil to this: You're always impressed by the work of others because someone else thought of it and you didn't. Your own ideas never quite seem as original to you as the ideas of somebody else. So I always read the work of others with astonishment, and read my own with a certain initial pleasure that quickly stales because now it's mine and it doesn't seem so bright after all.
INTERVIEWER
I wonder if your oldest poems may have receded so far in your mind that they would seem fresh again on rereading.
HECHT
I wish that might happen, but I don't think it does. The awful thing I have to confess is that when I write something I'm really pleased with, I really am pleased, and read it over and over and over again. There's a terrible narcissism involved in the immediate satisfaction of finishing a poem and that means I drain it of all the pleasure at the start.
INTERVIEWER
What are the poems of yours that still give you that kind of pleasure you take in poems by others?
HECHT
It's almost invariably the latest. I like a poem called "The Cost"—or I like it more than other people like it. And I like the narrative poems in Vespers.
INTERVIEWER
Do you keep a notebook to jot down phrases and ideas?
HECHT
Yes. But I've had a very unhappy experience with notebooks. The impulse to write a poem had better be followed up pretty soon, because I find that something put away for years in a notebook lacks any kind of force. Obviously those little notes are the seeds of enormous potential, and one senses it, but if the seed is put away to dry in a drawer for a long time it emerges without all the inference it ought to carry. So I've found the notebooks, in that sense, not helpful to me. The seed may be anything—a phrase, a subject—but if I don't pursue it immediately, the chances are its appeal will be lost to me if I return to it after a long interval.
INTERVIEWER
Yet a poem like "The Venetian Vespers" seems like a poem that might have been in mind for a long while.
HECHT
Except in fact it was not. There were a lot of notes taken for it, but they were almost all of descriptive matter—that is to say, what clouds look like when they travel through the sky or what lamplight looks like reflected in rainwater. Things of that sort.
INTERVIEWER
You continually make notes of that sort.
HECHT
I do.
INTERVIEWER
The way Constable might sketch a cloud study.
HECHT
Exactly.
INTERVIEWER
Are they always descriptive notes, or are they sometimes bits of conversation?
HECHT
I've almost never made notes of conversations. I would if I were a writer of fiction or a dramatist, but I'm not.
INTERVIEWER
Did you ever want to write a novel?
HECHT
No . . . well, yes. I started a novel once. But I abandoned it, and was wise to do so. It would have been rotten. It was about the war. And, in fact, Macmillan, which published my first book, originally said they would publish it only on the condition that I gave them the novel, too. They were at least intelligent in expecting the novel to sell better than the poetry. I'd written the books in tandem, but at a certain point I realized I didn't know what I was doing as a novelist, whereas I had a vague sense that I knew what I was doing when I was writing poems.
INTERVIEWER
It was Auden who warned that "technique in itself cannot make a good poem, but the lack of it can spoil one." It's the technique that critics often point to first in your poems, but is it the first thing you think about when you start a poem? Do you have a form, or at least a shape, in mind before you begin?
HECHT
Let me try to answer this by reference to another poet, Frost, who was also concerned with "technique." You remember his apothegm about writing poetry without meter being like playing tennis with the net down. He also said something in a well-known essay about "the figure a poem makes. It begins in delight and ends in wisdom. The figure is the same as for love. . . . It begins in delight, it inclines to the impulse, it assumes direction with the first line laid down, it runs a course of lucky events, and ends with a clarification of life—not necessarily a great clarification, such as sects and cults are founded on, but in a momentary stay against confusion. It has denouement. It has an outcome that though unforeseen was predestined from the first image of the original mood—and indeed from the very mood. It is but a trick poem and no poem at all if the best of it was thought of first and saved for the last." There is an awful lot stated here, and still more implied. Chief among the statements, I suppose, is the mystery of the "predestination" of the poem, and how its course and direction must be unknown to the poet until he discovers it in the process of writing. How is the poet to be kept from knowing what he's doing? Easy enough if he's a stupid poet, of course, but suppose he's reasonably bright? The answer, it seems to me, is technique. If the poet sets himself some technical strictures to observe, he will find that they require him to reconsider much of what he thought at first impulse was the direction that he was going to take. Technique checks his headlong instincts and invites second thoughts; not only invites them, but by its limitations requires them. In his comments on his translation of Villon, Galway Kinnell has written, "I decided against using meter and rhyme . . . . What is more expressive of a poet than his images? Yet in rhyming translations we can't even be sure the images are the poet's . . . . And I wonder, do rhyme and meter mean for us what they meant for Villon? It may be that in our day these formal devices have become a dead hand, which it is just as well not to lay on any poetry." I think Kinnell is wrong here, both in his theory of translation and of poetry; and I'm not speaking about the anachronistic fallacy of trying to make Villon observe modern poetic conventions. One of the pleasures of reading formal poetry surely consists in seeing how well the poet is able to work within his limitations of meter and rhyme. We applaud his success because we sense its difficulty, just as we appreciate the success of an athlete by comprehending the limits, the tennis net, he must work with and transcend.
INTERVIEWER
Have you any further thoughts on this question of "technique"?
HECHT
Well, as a matter of fact I have. One of the most striking features of the modernist and postmodernist poetic scene is the abundance of "theorists," of poets who offer a new "poetics" in what amounts to a doctrinal form. Pound is a hectoring didact on the topic; Charles Olson and Robert Creeley have decided ideas about what constitutes the "poetic line," the right kind of line for verse; and William Carlos Williams got into the act as well. I happen to think Williams is a wonderful poet in spite of rather than because of his theories. Poems, first and last, must stand on their own feet, whether the feet are "variable" or not, and theories will never succeed in protecting a bad poem. I find myself consenting fully to Byron when he wrote to Thomas Moore, "Hunt's letter is probably the exact piece of vulgar coxcombery you might expect from his situation. He is a good man, with some poetical elements in his chaos; but spoilt by Christ-Church Hospital and a Sunday newspaper, to say nothing of the Surry Jail, which conceited him into a martyr. But he is a good man. When I saw 'Rimini' in manuscript I told him that I deemed it very good poetry at bottom, disfigured only by a strange style. His answer was that his style was a system, or upon system, or some such cant; and, when a man talks of system, his case is hopeless: so I said no more to him, and very little to anyone else."
INTERVIEWER
You aren't implying that it's wrong to think about these matters in a rational and disciplined way, are you?
HECHT
Not at all. It is, for many, an interesting topic, and one that poets need to be aware of. But, at least occasionally, the theories are offered to bolster what amounts to faulty performance, and even tin ears. Thomas Jefferson himself, who was gifted in many fields, had something to say on this topic, which I have always thought characteristic of his mind. He wrote, "Everyone knows the difference between verse and prose in his native language." Such a statement comes with a touching rightness from the imagination that also declared, "We hold these truths to be self-evident . . ." A lovely eighteenth-century clarity, the kind that prized a Palladian architecture. But the world of our time has put Jefferson's faith and taste to shame in almost every conceivable way. There are, alas (and I have behind me forty years of teaching to substantiate this), plenty of Americans (and some of them poets) who cannot tell the difference between poetry and prose. And I'm not thinking now of the more "experimental" kinds of modern poems as being the cause of the confusion. What I'm saying is that I have found over the years that students can't tell Shakespeare's verse from his prose, and this is because they can't "hear" metrical patterns at all. They are, in this regard, "tone deaf," or, perhaps more accurately, rhythmically deficient. No one, however painfully his soul might yearn for it, would ever dream of trying to become a Metropolitan basso if he knew he were truly tone deaf. But the ambitions of those who fancy themselves as poets are not in the least constrained by any parallel considerations. And so you find soi-disant poets issuing manifestos declaring that metrical considerations are now irrelevant.
INTERVIEWER
You spoke a little while ago about "comprehending the limits." But "limits" hardly seems the word to describe the kind of baroque architecture that your early poems—say, "The Gardens of the Villa d'Este"—have on display.
HECHT
Certainly the lozenge-shaped stanza of that poem, as well as of "La Condition Botanique," is spacious and designed for amplitude. Both poems are digressive, not quite as insanely and wildly digressive as Byron in Don Juan, or Sterne in Tristram Shandy, but a sort of passeggiata, an amble after the fashion of some of Auden's essay poems. From my point of view at the time of their writing, there were two related purposes for them to fulfill. I was trying to expand the "limits" of a poem so small or so "conventional" that its end was clearly implicit in its beginning. The weasel word here is clearly, because the end of any poem must be implicit in its beginning. But it must not be absolutely foreseeable, at least by the reader, and possibly, as Frost has argued, not by the poet either. In any case, I wanted to take a long enough walk along convoluted passages in both poems to divert myself and my reader enough so that we might not know quite where we were going as we occupied ourselves along the way. Not unlike Prufrock's invitation to move circuitously through an unknown neighborhood; in his case it is compared to a "tedious argument of insidious intent to lead you to an overwhelming question." In my case, the hope was not to be tedious or insidious, and to have no precise question in mind at the start; the hope was to be taken by surprise. And this is the way with baroque art; one of the special pleasures it confers is surprise. This is as true of Bach as of Borromini. And yet, of course, to surprise the reader does not mean that the whole is unpremeditated. The only unpremeditated art I know of was performed by Shelley's skylark and the practitioners of automatic writing.
INTERVIEWER
It seems to me that in the poems in The Hard Hours, you use those formal "limits" both to define and prompt the different voices that sound and overlap in them. The verse units become characters in the poem's drama. I'm thinking above all of the astonishing "Rites and Ceremonies."
HECHT
You put the matter flatteringly, and I was certainly trying for the effect you describe. But in this, of course, I am doing no more than what Lowell did in, say, "The Quaker Graveyard," by incorporating Milton and Thoreau and scripture and Melville into his poem, and what Frost did when sneaking a line or so of Herrick or Waller into a poem, or what Milton himself did so strikingly in "Lycidas." It means that as I am writing, certain texts that have meant much to me by their power or beauty are summoned by the theme or thoughts that preoccupy me, and when this happens I sometimes try to work a relevant phrase or passage into the fabric of my own poem as seamlessly as possible, so that the knowing reader will spot it, but another reader will not be intimidated by obscure allusions, like some of those in the Cantos, for example. The borrowed voices, I should like to hope, lend a sort of ancestral authority to what I am trying to say, but they also represent a kind of homage on my part. And so, if I have determined to employ a borrowed voice in this way, without quotation marks, without calling undue attention to the borrowing, I may find myself compelled (but pleased) to adopt the formal limitations of the poet from whom I am borrowing, and use them as if they were my own invention. An obvious example from "Rites and Ceremonies" is the appropriation of the "form," as well as several lines, of George Herbert's "Denial."
INTERVIEWER
These adopted voices, then, are not merely a matter of formal limits but of verbal music.
HECHT
Exactly. Any good poet, of whatever kind, formalist or free-verser, creates his own music, which in due course we come to identify with his style. If he is a formalist, his musical capabilities can be enriched and complicated by the rhythms of his individual speech, his diction, his patterns of thought, which are uniquely his own, but which he has superimposed upon a formal pattern that is a part of our literary inheritance. A great number of Emily Dickinson's poems are written in tetrameter quatrains, which she is said to have borrowed from the hymnodists of the eighteenth and nineteenth centuries, especially Isaac Watts. But what distinguishes her poetry is that, first of all, she never sounds like Watts, and secondly, her poems don't all sound like one another. As Frost said, "The possibilities for tune from the dramatic tones of meaning struck across the rigidity of a limited meter are endless." But this is still to speak only of what may be called received or conventional forms—the tetrameter quatrain, the sonnet, the heroic couplet. In the case of Herbert, we have something quite new and different. Except for a few poems, he invented most of his own forms, his utterance in this sense is nearly unique, and his music singular. Something of the sort can also be said for a number of seventeenth-century lyricists; it was a great age of formal invention, of setting new "limits."
INTERVIEWER
So there are two kinds of limits, those the poet makes for himself, and those he borrows?
HECHT
Yes. A conventional form can predispose the expectations of a reader, and this need not be a handicap; it can prompt inventive opportunities. Shakespeare set some of the Petrarchan love conventions on their heads by inverting them in his sonnets; for sonnets traditionally had love for their subject. A reader, seeing a sonnet before him, thought he knew exactly what he was in for, and of course, it's the poet's job to surprise him. The same is true of the limerick. It's probably, given the length of the form, impossible to write a "tragic" limerick, or even a very moving one. But, nevertheless, our expectations are quite rigid when we are told we are going to hear one. The name of the form itself is supposed to derive from the county in Ireland of that name, and so a part of our predisposed expectations has to do with a tradition of light doggerel verse natively belonging to our own language. So we can be unusually pleased to hear: "Il y avait un jeune homme de Dijon / Qui n'aimait pas de tout la religion; / Il disait, 'Quant à moi, / Je déteste tous les trois: / Et le Père, et le Fils, et le Pigeon.' " The charm of this—not overwhelming, of course, but certainly present—lies in the unexpected appropriation of a limited formal music to a language we had never associated with it.
INTERVIEWER
The Venetian Vespers has a cast of characters in its various poems that a novelist might envy: the blowsy alcoholic housewife Shirley in "The Short End," the timid chambermaid in "The Grapes," the narrator of the title poem. May I ask you—I realize it's a broad question—how these characters occur to you, how they grow into poems?
HECHT
"The Venetian Vespers" began without a story, merely with the city, and with a speaker I could not clearly identify at the beginning. But I knew I wanted to make some kind of correspondence or equation between the speaker and the setting. The city, for me, was full of grandeur and decay; the decay evidenced in that it was overtly parasitic, surviving off tourism (the glass is all made at Murano, which is rather distant), and it was the parasitic and defeated aspect of Venice I wanted to capture in my narrator. In this sense, the poem obviously owes much to Mann's Death in Venice, and involves at least some of the same clusters of images: the hearse-like sheen of the black gondolas, the curious sea-smells not altogether wholesome. It was these themes or images that led me, by way of Hamlet, curiously, to my speaker. As you know, a number of critics, Caroline Spurgeon perhaps chief among them, have observed that Hamlet is particularly rich in images of disease. And in casting about for the sort of narrator I wanted, I remembered someone I had once known in Italy, a deeply troubled expatriate American. The story in the poem is quite accurately his story as he told it to me, but it is also, as you can tell from the father/uncle/son/mother constellation, Hamlet's story in a way as well. All these things seemed to fold together in a suitable way. I may add that the story about the soldier who cherished Emily Post, and the manner of his death, come straight from my own war experiences.
INTERVIEWER
And the other poems in the book?
HECHT
Well, having written that, for me, quite long poem, I wanted to balance the book with another long poem, and whereas "Vespers" had a man at its center and was set in Europe, I wanted the companion piece to be set in this country and have a woman as its chief figure. I also set a challenge to myself. I wanted to take an initially unprepossessing woman with whom neither I nor my imagined reader would have much in common, and try to win real sympathy for her by the time the poem was over. I may say, too, that the poem was written during the period when I had just given up smoking; I smoked heavily, three packs of unfiltered Philip Morris a day for thirty-five years. Some of the horror of the poem reflects what I had come to see as suicidal behavior. By this point in my career I was rather annoyed by the usual assumption of readers that every poem was direct and personal and expressed my own experience and views; and this all by itself encouraged me to write about women. As for the chambermaid in the Swiss hotel, that derived from some visits to the Tyrol, both Swiss and Austrian. There's something about those narrow valleys and high mountains that gives one a feeling of being permanently hemmed in—for life. This can be regarded as a good thing or a bad one, depending on your view. To some, I suppose, it lends a welcome feeling of security, while to others it is terribly constricting and limiting. I had heard of local dwellers who had never ventured over into the next valley, being quite content with things as they were. This sort of blinkered privacy seemed to me to go hand in hand with a world in which the sort of "upward mobility" Americans seem axiomatically to strive for and to expect is either totally absent, or is only present as a caprice of Fate—as when a barmaid becomes a movie starlet. And it was this strange, cloistered sense of hopelessness and defeat I wanted to convey. I had also remembered being in an Algerian bar in Paris shortly after World War II, and hearing the bartender bantering with a patron, saying that their former belly dancer was now married to a Swiss millionaire.
INTERVIEWER
It's sometimes said there is now a "return to formalism," which would in any case be a natural reaction to the by now exhausted energies of the minimalist or demotic styles that have prevailed in American poetry over the last couple of decades—a time, by the way, when your own work would have been looked at askance. What do you make of this turn in things?
HECHT
I'm not sure I quite agree with those who point to this vacillation of style. The so-called formalists, which is to say, those poets who admire what form contributes to a poem, have been there all along, if one can include in one's view such diverse poets as Ransom, Winters, Graves, Tate, Lowell, Wilbur, Bishop, Roethke, Stevens, Moore, Auden, Empson, Berryman, Thomas, Nemerov, Merrill, Hollander, Walcott, and some of the younger poets such as Alfred Corn, Brad Leithauser, Norman Williams, Dana Gioia, Gjertrud Schnackenberg, Sydney Lea, Amy Clampitt, and yourself. The list is by no means exhaustive. But such poets as these regard themselves as affiliated with a wide spectrum of English and American poetry, and seem to wish to exhibit in their own work what has delighted them in the work of others. On the other hand, there are those poets who admire no one but, say, William Carlos Williams. He is, beyond question, a wonderful poet, and one not greatly honored in his early years. But the work of those who regard themselves as his heirs can often be toneless, boneless and boring. Williams had enormous energy in his work, and a spoken idiom that was both his own and a native American demotic. But there are those who seem to think that jus' talkin' is poetry, and that their devotion to Williams sanctifies their practice. Obviously, I will do well to name no names. But these two strands of what once was called Paleface and Indian have gone on in American poetry for some time, and have gone on side by side, not in shifting waves. Perhaps it can be argued that it is ever so slightly more respectable today to write formal verse than it was when everyone was getting emancipated in the sixties, and when the inalienable rights of Americans were deemed to include Free Love, Free Verse, and the Pursuit of Sloppiness. But that was more than simply a literary fashion, and it has now gone its way, like much else. Yet it can sometimes be argued that both trends exhibit themselves in the career of a single poet. I'd be prepared to advance the thesis that Anne Sexton's first two books were her best ones; and I would not be alone in thinking so. At the same time, something happened to her formal practice as a poet as she continued to write. She abandoned the formal constraints she had first observed, and her writing became less and less disciplined, as did some things about her psychic life as well. She became plainly self-indulgent, and I think this affected both her poems and her life.
INTERVIEWER
But the common complaint heard nowadays is not about the extremes, whether the précieuses or the latter-day hipsters. The complaint is about the burgeoning middle-class of poets, the workshop population who seem slickly competent but aimless.
HECHT
Alas, there is always bad poetry being written; and bad poetry is bad whether it tries to be formal or decorous or workmanlike or not. There are few more revelatory experiences than going back over the old files of the very best of the innovative little magazines of the twenties and thirties— journals like transition or Hound and Horn. These magazines unquestionably published the best of what was then being written. They also sometimes published work that seemed avant-garde but was plain hollow, and has not stood up under the scrutiny of time. There will always be hacks, who will turn out whatever they think the market desires. And their work will be like the "junk" Wilbur has written so well about.
INTERVIEWER
It seems in retrospect that you started out to make a career in a calm time. What do you think of today's huge roving bands of poets, the skirmishes and the booty?
HECHT
I suppose I feel elderly enough not to care much anymore about such matters. There are always poets who rush to the fray, feeling they are bravely innovative, at the very forefront of the avant-garde, embattled, gleefully contemptuous. Such a one, for example, was Leigh Hunt, who, to the degree that he had any influence at all, had a bad influence on Keats. But the time I started can scarcely be called "calm." It was the era of the clarion manifestos of Archibald MacLeish and Van Wyck Brooks; the first wrote "The Irresponsibles," and the second "The Opinions of Oliver Alston," both declaring that poetry had to be "up-beat," "life-affirming," "pro-democracy," and a lot of things that were largely connected with the war effort. It goes without saying that they roundly condemned the, as they called it, defeatist poetry of T. S. Eliot. And almost immediately after the war there was the great Ezra Pound/Pisan Cantos controversy, led by that soapbox orator, Robert Hillyer; even Howard Mumford Jones joined in, asserting that literature should be "a guide and aide to wisdom," though how it guides and aids was not made clear. On the contrary, it seems to me that, at the time I began, the literary battles were both more vigorous and better defined than they are now. As for all the gangs of mutually admiring, spaced-out rebels, they seem to me on the whole both smug and boring.
INTERVIEWER
And when you started out writing, the term "well-wrought poem" wasn't the term of contempt it's become in some quarters. Did you ever feel the need some poets experience to change tactics, to abandon the high style?
HECHT
No, I didn't. Let's put it this way: obviously a poet needs to do anything he can to encourage his own breadth of imagination and his own fluency. If you are best encouraged by pushing those obstacles out of the way, then that's the thing for you to do. In the case of Lowell or James Wright, that did work for them. It doesn't automatically follow as an axiom that a well-made poem is going to be standardized.
INTERVIEWER
"The well-made poem" is not really a writer's term, but a reader's term—and often an excuse to avoid reading poems that might challenge them in ways they're not up to. And instead of changes in writing styles, you may have seen changes in reading habits over the years. People are no longer used to reading a certain sort of poem.
HECHT
Quite right. And the point is also that one doesn't stop liking John Donne because he doesn't write in free verse. There's an enormous amount of richness in Donne. Now Donne was one of my first literary enthusiasms, and I would still like to be able to write a poem as powerful, as energetic, as dense and full of intelligence, of passion as many Donne has written. If one could do that—and this was my initial ambition when I started writing poems seriously—I would be content doing that indefinitely, without ever making any concessions to loose prosody.
INTERVIEWER
I wonder if it's not also a matter of younger poets simply not having read John Donne, where older poets were better schooled.
HECHT
Very likely. Or he's certainly not their hero. One of the curious things is that the heroes of many younger contemporary poets are their almost immediate predecessors.
INTERVIEWER
Do you feel your own audience shrinking?
HECHT
Oh, yes, sure. On the other hand, there comes a point when you cease trying to appeal to a mass audience.
INTERVIEWER
How do you imagine your audience?
HECHT
My audience, ideally, is those poets whose work I admire. That wouldn't sell many books!
INTERVIEWER
Is that enough to keep you happy?
HECHT
Not enough to keep a publisher happy, certainly. But I've never imagined myself as a poetic rock star, and poets can't hope to find the sort of audiences that seem like the automatic property of fiction writers. For better or worse, we have different constituencies. And I must take solace in Samuel Johnson's observation that the applause of a single human being is of great consequence, though it makes some difference who the human being is.