Interviewed by Shusha Guppy
Issue 131, Summer 1994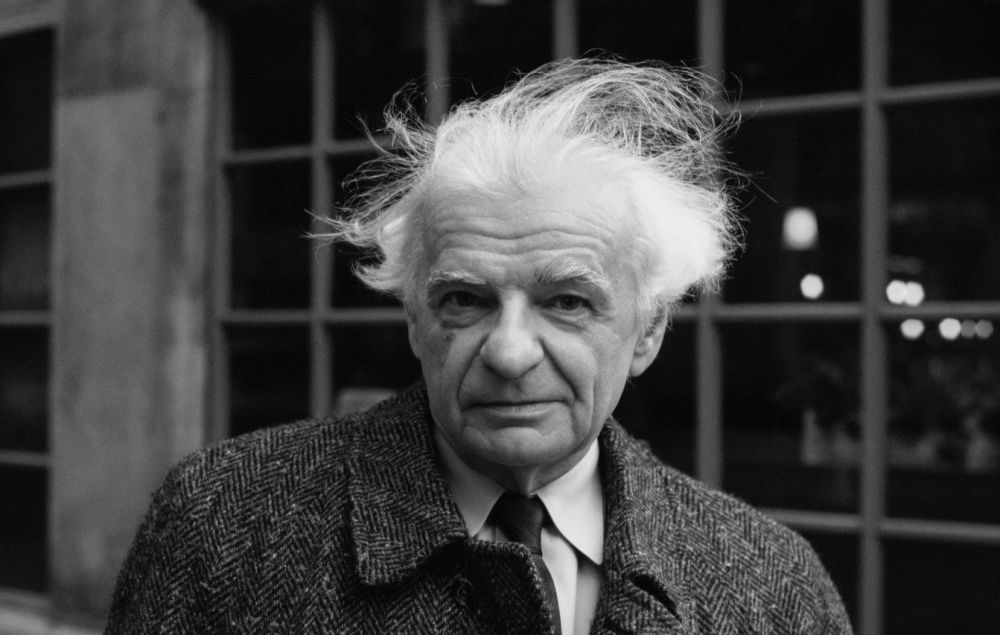 Yves Bonnefoy works in a tiny apartment in Montmartre, a few steps from where he lives. His windows at the back look over a small garden, one of the few remaining parts of Montemartre that has not been built upon—a huge maple tree shades the building and the rose-covered walls. The apartment is jam-packed with books and tables, the largest of which is the poet's desk, so crowded that it hides him almost completely from view. A small, worm-eaten statue of Sainte Barbe, "early seventeenth-century", a Giacometti lithograph of his wife Annette, an oil painting depicting Verlaine, Rimbaud, and Mathilde Mauté (Verlaine's wife), and photographs of Rimbaud and Baudelaire somehow find space on the walls and in niches among the floor-to-ceiling bookshelves. "I cross the road every morning to try and work here quietly," he explains.
Yves Bonnefoy was born on June 24, 1923 in Tours. He studied mathematics, the history of science, and philosophy at the University of Poitiers and the Sorbonne. Later he worked for three years at the National Center for Scientific Research before devoting himself completely to writing and lecturing.
Bonnefoy's first book of poems, On the Motion and Immobility of Douve, was published in 1953 and won him immediate recognition as a new, major voice. Three other books appeared at irregular intervals and were collected in one volume under the title of Poèmes. In 1987 he published In the Shadow's Light, followed by Début et fin de la neige in 1991. Today he is acknowledged as the most outstanding and influential poet in France today.
Since 1954 Bonnefoy has also produced many works of literary and art criticism—Rimbaud, Un rêve fait à Mantoue, Rome 1630, Entretiens sur la poésie (Dialogues on Poetry). His translations of Shakespeare's plays are considered the best to date, and two years ago he published his translation of some fifty poems by Yeats.
Over the past thirty years Bonnefoy has been a regular visitor to universities in the United States as professor of literature and lecturer, while holding occasional teaching posts at French universities as well. Since 1981 he has been the professor of comparative poetics at the Collège de France. He is the director of the collection Idées et Recherches at Flammarion, and the editor of Mythologies, now published in English by the University of Chicago Press. He is married to American painter Lucy Vines, and they have one daughter, Mathilde.
Last fall the Bibliothèque Nationale honored the poet with a large comprehensive exhibition of his manuscripts, first editions, and pictures.
With characteristic generosity Yves Bonnefoy devoted many hours to the following interview, which took place in June of 1992 in his study. A year later another session, this time with a particular emphasis on his books written in collaborations with painters and on his writing about art, took place at the Château de Tours.
INTERVIEWER
You were born on midsummer night in Tours, where the most beautiful French is said to be spoken, in a region that was the birthplace of Ronsard, one of French poetry's founding fathers. Did you ever live there?
YVES BONNEFOY
Yes, up to the age of twenty; then I hardly ever returned, except to visit my mother who lived there until her death. Lately I have had reasons to renew my visits.
INTERVIEWER
Your father was a railway man and your mother a schoolteacher. Were they interested in culture? Because the equivalent milieu in England is not.
BONNEFOY
Not especially. My father's parents were innkeepers near the valley of the Lot River. Theirs was a little place near the railway station, with a few rooms they let. My grandmother cooked, and my grandfather looked after the clients. He also cut hair and made jackets. One day some priests were passing through the village, and they asked if anybody had a little boy whom they could take and educate well, and who would perhaps accept later to become a priest. My grandfather gave them my father, whom they took with them to the seminary at Rocamadour.
After a couple of years my father, who did not like studying, ran away. His father was angry and said to him that if he didn't want to study he should look after himself. So he left home and became an apprentice to a blacksmith relative. After his quite long military service he went to work in the workshop of the railways, building locomotives. He worked hard, especially during World War I, and was rather poor. I don't think he had any time for culture.
My mother's father was a schoolteacher. He did aspire to culture; he had built a little pinewood desk at which he wrote all sorts of books that he bound himself—a treatise on history, and one on morals—just for the pleasure of writing. Perhaps he had the illusion that he was a writer and one day would be published. I have kept some of his manuscripts. They contain a great variety of things, for example drawings of plants and flowers, and a study of geometrical perspective. He was not religious, yet he wrote a small book on religious instruction and sacred history, "Love of One's Neighbor," which I suppose was his way of accepting the priest who was his neighbor.
He wanted his two daughters to be schoolteachers. My aunt was rather intellectual and accepted, but my mother became seriously ill at fifteen, which interrupted her studies. So she decided to be a nurse, which was very frowned upon in those days. She worked as a nurse during the war, after having married my father and later became an institutrice—a primary school teacher.
My father died when I was thirteen. By then my grandfather was also dead, but the latter was certainly an important influence in my life—this old man who had books, who thought, read, and wrote, created an example and a reference for me. Today a child of such a milieu would perhaps not have the same access to culture and to cultivated society as I did; the education system was very good and efficient then—we had excellent state primary schools where we learned things, while today, especially in poor neighborhoods, it's all rowdiness and heckling. My grandfather himself owed his career to the fact that school had become compulsory in his time, as his mother was an unmarried shepherdess who looked after pigs in the local oakwoods, and would have been unable to do anything for her son. But he got a prize because he received the best grades on his exams of the students in all the schools of the region, and then a grant to a teacher's training college, and then became a teacher. One could say that he was "a son of the Rights of Man," as Rimbaud said, which proclaims that all men have a right to education, therefore to primary school. After the school certificate I myself entered a competition and obtained a grant to continue studying at the Lycée Descartes in Tours. Today there are too many students in the classrooms, but then we learned Latin and read books.
INTERVIEWER
What did you do after the lycée?
BONNEFOY
I entered one of those special classes that prepare pupils for the entrance exam of the grandes écoles, scientific or literary. I chose the scientific alternative, while simultaneously doing a degree in mathematics at the University of Poitiers. Then I realized that the grandes écoles destined you for the sort of profession—engineering, mining, mathematics teaching—which I had no wish to pursue, for I already had an idea of what I did want to do with my life—to write. So I came up to Paris, supposedly to finish my degree in mathematics, but in fact to find the surrealist milieu. At the lycée in Tours I had learned about surrealism and read André Breton.
INTERVIEWER
When you decided to be a writer did you intend to be a poet?
BONNEFOY
I still have a little anthology of poems that my aunt gave me, perhaps for my seventh birthday, in which she has inscribed "to my godson—future poet." There was no mystery: even before I learned to read and write I knew it was in order to write poetry. Why? Perhaps because of a feeling that I could not practice the professions I saw around me.
INTERVIEWER
During adolescence did you read much poetry? Or write any?
BONNEFOY
I started reading poetry in primary school—Victor Hugo, the romantics, and the Parnassians—they were part of the curriculum. In my grandfather's library there were some anthologies of nineteenth-century poetry. Alfred de Vigny impressed me most; indeed I won a competition by reciting Vigny's "Moses" with an enthusiasm that touched the examiner. In fact this poem and "La Maison du Berger" are among the most beautiful poems in the French language, unfairly neglected today.
INTERVIEWER
What about the Parnassians? Which ones impressed you?
BONNEFOY
I was not much taken by their poems, but I liked Leconte de Lisle's translation of Homer, especially his Iliad, which brought me the classical world. I have often felt a great difference between myself and the next generation, those who were twenty in 1950, although it is only a few years, because I had read in my grandfather's library books that were later less accessible. The next generation was reading Michaux, Prévert, Éluard—twentieth-century authors. I'm glad to have read the Greek classics, and French ones too—writers like Racine and Corneille.
INTERVIEWER
When did you read Baudelaire and Rimbaud—poets whose influence on your own work is strongly felt?
BONNEFOY
When you have only a few books, anthologies are in the forefront. When I was fourteen or fifteen I read Towards a Lyrical Alchemy, in which I found poems by Baudelaire, Nerval, Sainte-Beuve—the beautiful poems of early modernity. Later I read Valéry for a while. I was not the only one to be taken by Valéry—it was a phenomenon of the era. When I arrived in Paris in November of 1943 I rushed to hear Valéry's lectures at the Collège de France. We were not many in the auditorium, and I did not know anyone. Later I discovered that Cioran and Roland Barthes were there too. We were all fascinated by Valéry, though he was not an interesting lecturer—perhaps because he was already rather worn out, ill, or perhaps because he was not interested in other poets' works, though they're rather useful if one has accepted the responsibility of twenty-six hours of teaching per year! One can't speak that long about oneself, even if one is le témoin du moi [the witness to oneself], which he wanted to be. Still, I admired him, and I still love some of his poems, especially "Le Cimetière marin", which is beautiful. Then I rebelled and wrote an incendiary essay about him, "Paul Valéry the Apostate"—meaning apostasy against poetry. It has been reprinted in my book of essays L'Improbable.
Cioran did the same thing a few years later when he was asked to write a preface for the American publication of The Collected Works of Paul Valéry, edited by Jackson Mathews. As he wrote he felt his anger growing, and the text was so vitriolic that of course the publishers rejected it.
INTERVIEWER
Borges wrote that the famous lines from "Le Cimetière marin" ("La mer, la mer toujours recommencée! / Ô récompense après une pensée") are absolutely meaningless—for why should a thought need a recompense—that it was a bluff.
BONNEFOY
It was a bluff, perhaps, but also a confession: Valéry was a very physical, sensual man, and he felt that thought deprived him of the best part of existence. The poem ends with: "Le vent se lève! . . . Il faut tenter de vivre! / L'air immense ouvre et referme mon livre, / La vague en poudre ose jaillir des rocs! / Envolez-vous, pages tout éblouies!" (The wind is rising! . . . We must try to live! / The immense air opens and shuts my book, / A wave dares burst in powder over the rocks! / Pages, whirl away in a dazzling riot!) Which shows that wind, water, sunshine, are more important to him than "the book," even if the latter calls him every day. One has to understand that, for it is legitimate, whatever Borges may think of it.
INTERVIEWER
So you came to Paris at the end of 1943 to meet Breton, though surrealism was over—Antonin Artaud, and many others had left since the 1920s, while Louis Aragon and Paul Éluard had gone in 1931 and 1939 respectively to join the Communist Party. Robert Desnos was about to die, so who was there?
BONNEFOY
In 1944 Breton and a few other surrealists were still in America where they had spent the war years. Victor Brauner, one of the movement's painters was in Paris, and he introduced me to Breton when he came back from the United States in 1946. But you know "how beautiful was the Republic under the Empire!"—que la République était belle sous l'Empire)—as they say. After the war I was disappointed that Breton had no longer any grand projects, nor perhaps real convictions. He was content to preside twice a week over an assembly of two dozen very young admirers. I was among them, but I didn't like it—these long café conversations that lead nowhere.
In fact Breton had a guilty conscience for having left France while she languished under the Occupation, unlike certain surrealists who joined the Resistance and took risks. But he was wrong, because the young who had read the poems of the Resistance felt sympathy for their emotions but thought them insufficiently adventurous as poetry. They felt that the great alchemical, daring experiment of poetry could not be reduced to the immediate concerns of society. In other words they were waiting for the arrival of a poet who had preserved the freedom of poetic writing, and they were ready to see Breton take the lead in a new experimental venture. Instead he returned anxious, locked himself in with a new group of admirers, and even almost ceased to write. For twenty years until his death he wrote nothing poetically important. Yet he was still young—only fifty!
INTERVIEWER
Among this new group of young disciples, were there any who have continued as poets? Who produce valuable work?
BONNEFOY
I would say Georges Hénin, who was the leader of surrealism in Egypt, who is now dead. I liked him very much; he was a free spirit. No one else of real prominence. Breton himself was courteous but cold, rather pompous. I attended the meetings less and less. Breton used to say, "Cher ami, we don't see you often." After a year we had to sign a new manifesto, and I didn't. The manifesto was called Rupture inaugurale, and indeed a rupture it was for me. But I was wrong not to try and see Breton again, which I learned later he would have welcomed and who is still, in my view, one of the masters of this century's poetry. In fact, being locked up in his role as the leader of surrealism made him suffer. I was wrong, through shyness, and arrogance.
INTERVIEWER
So you arrived in Paris under the Occupation. How did you earn a living?
BONNEFOY
I matriculated at the Sorbonne in the school of sciences and the school of law to get degrees. It was a pretext for being in Paris, and I didn't finish my courses. I continued studying mathematics for two or three years, following my own path rather than the set curriculum. In truth I stopped my university studies, and my family was worried. There was a "crammer," which prepared pupils for the baccalauréat, and they offered me a job teaching mathematics. It was on the condition that I also taught natural sciences, about which I knew little. So I would study blood circulation or the morphology of insects the night before and the next day I would pour out my "knowledge" into the pupils—it worked!
The place was a dingy apartment with just a corridor between the classrooms. In 1944 I could have been called up for what was known as "compulsory labor" in Germany. I planned to escape and hide in a farm if they came for me, as many young men did. Fortunately the war ended before I was called.
INTERVIEWER
For a while you were also taken by Éluard's poetry. He was the favorite poet of my generation too—up to the 1960s. We thought he was the poet of love, and celebrated his women. Reading him recently, I was much less moved. Were you influenced by him?
BONNEFOY
In 1942 Éluard's Selected Poems was published. It was his best book because the selection was made by himself, and beautifully. It influenced me in the sense that it tempered the influences of Baudelaire and Valéry. Éluard's limpid images helped me to imagine a simpler, more fluid, more luminous poetry. But you are right, he has not aged well. His poetry has come down in my esteem as well, because of its facility.
INTERVIEWER
I know you don't like Aragon—no one likes his politics—but his war poems, don't you find them powerful and moving?
BONNEFOY
Oh yes, of course, we were all moved by a few lines like, "Je reste roi de mes douleurs." But the poems dedicated to his wife Else Triolet seemed to me terribly insincere and declamatory, exhibiting the worst aspects of some romantic poetry. In fact his work, a mixture of unconditional Stalinism and an imitation of popular sentimentality, was reactionary.
In politics I was rather a Trotskyite, which only meant that I had read Towards a Free Revolutionary Art, the manifesto Trotsky had written with Breton during the latter's journey to Mexico. It stood for revolution on the one hand, and on the other the freest, most nocturnal poetic experimentation. Hence the title of a little magazine I edited with friends, La Révolution la nuit. It had only two issues, and we did not dare to ask Breton to contribute.
INTERVIEWER
When did you start your study of philosophy? I ask this because philosophy is important for the understanding of your oeuvre in its entirety—it underpins all aspects of your work.
BONNEFOY
While I was at the lycée I followed the course of philosophy as well as sciences for the second half of my baccalauréat. I was interested in epistemology, logic, and the history of ideas. Later I read the works of Bachelard—not his meditations on poetry, but his theoretical books on physics and scientific methodology. I had also started reading Kierkegaard and quite by chance Chestov. When I arrived in Paris a very cultivated man who had a marvelous library—philosophy, ethnology, the Sophists, the great Indian and Chinese thinkers—gave me free access to it. Thanks to his generosity I discovered what the university does not give one; at the university one is given a book that is supposed to be the best preparation for the exam, it does not give one an idea of the immense variety of the past exploration of the subject. While reading through my friend's library I discovered the Greeks, and read Jean Wahl's Les Études Kierkegaardiennes.
At the time I was teaching at the "crammer" and was very poor. I lived in a little hotel on Quai Saint-Michel, near Notre Dame, trying to work and understand things. My sister worked in the secretary's office of the Sorbonne, and one day she found me a little job there. It meant that I could go to any lecture I wanted, take as many leaves as I wished, and apply for research grants that allowed me to travel. For example I applied for and was granted a scholarship to travel in Italy for a few months and study Piero della Francesca. Two other traveling grants took me to Holland—I was interested in the Dutch engraver Hercules Seghers—and to London in 1950.
At the same time I attended Jean Wahl's and Jean Hyppolite's philosophy courses. I liked Jean Wahl very much, the man and the oeuvre. I did a degree in philosophy with him, and wrote a little thesis on Baudelaire and Kierkegaard. Meanwhile I had also published some poetry, which interested him, as he wrote poetry himself, both in French and in English.
INTERVIEWER
Meanwhile you published individual poems in various reviews, then in 1953, you published your first book of poems, On the Motion and Immobility of Douve. How did it come about? Was it hard to find a publisher?
BONNEFOY
Fortunately not, for I was hardly ready to look for one. It seemed to me that the sort of poetry I wanted to write could appeal only to a few people, and that the simplest way was to publish it myself. But there was a bookshop in rue de l'Odéon that belonged to Adrienne Monnier, who had been a friend of writers since World War I—Valéry, Claudel, Breton, and many more. On the opposite side of the street was Sylvia Beach's English bookshop Shakespeare and Company, and the two women had championed English and German writers as well—Hemingway, Walter Benjamin, and of course James Joyce, whose Ulysses was first published by Sylvia Beach in the original English and by Monnier in French translation.
Adrienne Monnier and her salesman Maurice Saillet had the kindness to be interested in my beginnings. So when in 1946 I published my poem "Traité du pianiste" at my own expense, they put it on the table of recommended books—next to Ulysses! Three years later Adrienne Monnier was put in charge of a poetry collection at Mercure de France, and she asked me to contribute a book. It became Du Mouvement et de l'immobilité de Douve. By the time it was published in 1953, Adrienne had closed her book shop, and soon after, she killed herself.
INTERVIEWER
You had immediate recognition and were suddenly in the middle of the current of contemporary poetry. Your subsequent books enjoyed the same attention and appreciation. At the same time you began to write critical essays on poetry and art. In this you joined a great tradition of poet-critics, including Baudelaire. What inclined you towards criticism?
BONNEFOY
I wanted to understand what was poetry, and how one should write so that it could respond once again to the demands of the century. This line of thought had already engaged surrealism—which was in fact more theory than practice—and that is why I had been attracted to it. But to reflect upon poetry meant having to think about the great poets, Baudelaire, Mallarmé, Rimbaud, those who had founded modernism in France. It was also tackling the question of creativity in general, hence my interest in painters. The next step was thinking of great philosophers, and of the important moments of religious experience.
INTERVIEWER
Bachelard does a sort of personal meditation on the booklets he receives, and it becomes his own poetic work.
BONNEFOY
Exactly. That is why I have a sympathy for him that one can only have for someone engaged upon some sort of poetic creation. Here you're making a distinction between writing verse and poetry. Exactly. The loss of immediacy, of unity. For poetry can only be a partial approach, which substitutes for the object a simple image and for (our feelings) a verbal expression—thereby losing the intimate experience. On the other hand there is nothing before language, for there is no consciousness, and therefore no world, without a system of signs. In fact, it is the speaking-being that has created this universe, even if language excludes him from it. This means that we are deprived through words of an authentic intimacy with what we are, or with what the Other is. We need poetry, not to regain this intimacy, which is impossible, but to remember that we miss it and to prove to ourselves the value of those moments when we are able to encounter other people, or trees, or anything, beyond words, in silence.
INTERVIEWER
Let us move on to poetic form. In an essay on translation you have written that free verse is the only form capable of expressing what you wish to write, and that the old formal prosody is no longer viable. Unfortunately, while free verse has liberated certain poetic geniuses from metric constraints, it has also opened the floodgates to a great deal of nonsense, even charlatanism. Don't you still feel that some formal discipline is necessary?
BONNEFOY
I discussed the problem of free verse in the context of traditional French prosody. It is true that today regular meter is no longer practicable. This is doubtless because the French language does not have stressed syllables, so that our prosody is based on the number of syllables. This means that our regular meters are conventional forms, whose raison d'être was to allow poets to demonstrate a certain unity of thought, of feeling. This unity has now disappeared from society, since religion no longer controls people's minds. Regular verse disappeared around the time when Nietzsche wrote, "God is dead." Valéry was perhaps the only great poet to use it in the twentieth century. In France, we look at it as an anachronism. Yet we haven't lost anything, for on the one hand no one had waited for liberation from the constraints of prosody to write bad poetry; on the other hand free verse is not the rejection of prosodic laws, indeed the reverse! These laws have always existed, and real poets have always obeyed them. What characterized regular prosody was the obligation to submit to certain conventional rules that in no way enhanced our capacity of listening to those more profound laws. In fact, rhymes, alliterations, assonances, all the materials of poetic form can be employed today as they were before—perhaps even better. I completely agree with you that poetry is also a formal use of language. Indeed, only form allows us to hear the tone of the words, and it is precisely because verse is sonorous reality that words in it are no longer subject to the sole authority of conceptual thought. This enables us to perceive reality otherwise than through language. Form in poetry silences the conceptual meaning of words; it is therefore the condition of the direct gaze upon the world.
INTERVIEWER
Do you think that poetry today has become too opaque, too incomprehensible?
BONNEFOY
There have always been obscure, hermetic poets—Nerval, Maurice Scève, even Dante—as well as others whose obscurity is hidden beneath a clear surface. People have always questioned the texts of even the most easily read poets—Homer and Virgil—in order to discover, through allegory, perhaps, their hidden meanings.
On the other hand the obscurity of a contemporary poet is not necessarily a defect that one would need to discard; in certain cases it is a matter of consciousness about what poetic discourse is in a society like ours. You see, in antiquity, in the Middle Ages, in Europe until the French Revolution, there was a body of beliefs, of religious representation, rituals, and moral values that were accepted by everyone. This allowed poets to refer to them and be understood without having to explain their thoughts in a didactic fashion, that is against the natural, spontaneous movement of poetic writing. Since the eighteenth century this system of references, this unity of thought, has been dismantled. John Donne had already had the premonition that henceforth there would be as many worldviews as there are individuals. When one wants to be profoundly oneself, which is the case in a poem, one puts oneself on a plane that is at least partly incommunicable to others. It is better to accept this than to pretend otherwise.
For example I have used the word safre, which means sandstone in the idiom of a particular region of southern France that is unknown to nearly all my readers, but which is part of a very important moment in my life. This is a way of recalling that when writing one is not trying to explain the meaning of one's own words to oneself.
Having said that, the very function of poetry is to be as universal as possible, and that demands that we rectify, simplify, enlarge our lived experience, so that our words have properties that make them on the whole comprehensible and lived anew—the reader must understand that what is obscure in the poem proves that words should not be reduced to a game of concepts, which in turn would engender ideology, death. It is not a question of understanding a poem concept by concept, for that would mean tearing it away from its basis, which is not thought but experience.
When at sixteen I first read certain poems of Rimbaud and Pierre Jean Jouve, I understood nothing. Yet I was completely won over, held. I relived those words, and thanks to them learned to think and to live differently, more intensely; it was as if a light shone through them. I regained my trust in words.
You may object to certain poems whose obscurity you think covers a void of experience. Well, they will be forgotten!
INTERVIEWER
How does a poem come to you? Is it something that is given, that comes from the outside? Or is it something that you provoke within? Is there a grit that produces the pearl, or is it you who produce the grit that produces the pearl?
BONNEFOY
Nothing has ever been given to me. I do not know a situation in which a poem has been dictated by an "inspiration," that it has been preceded by the feeling or the thought it's going to express. What is usual for me is the desire to find myself once again within a specifically poetic idiom. For this to happen it is necessary that words come to my mind free from the conceptual network that is present and active in ordinary speech. Can this happen? Yes, when the relation one might perceive between words defies analysis, as in what the surrealists called "the image"—thus "Villages of Weariness" or "The crow wise be reborn redder than ever," two lines by Éluard that can't be reduced by the play of metonymies or metaphors. At the same time these word associations, which are the beginning of poetic labor, must not be gratuitous, unrelated to personal reality. I have to expect them from my unconscious speech, which luckily appears as soon as one summons it by putting pen to paper, bringing verbal fragments that are at once enigmatic and rich with my past, my unknown present, and my future.
So I jot down these sentences. I listen to them. I see them making signs to each other, and thanks to them I begin to understand needs, memories, fantasies which are within me. This is the beginning of the poem, which will eventually become a whole book, since it will concern all that I am. I have always started in this way, in the middle of the unknown, only to discover later that I was speaking from the point that would have been the simple observation of my daily actions and thoughts. This is a labor that requires a great deal of time, years perhaps. Often the title comes at the end, like a retroactive statement.
INTERVIEWER
You decide that you're going to write a poem and you jot down the sounds and words. Do the words come first and the idea afterward?
BONNEFOY
Yes. What shapes the poem, what makes it what it is . . . that depends on causes which are within me already, and have been for a long time, although I am not yet aware of them. I will understand them only once the work is finished.
I must point out that I can postpone the decision to start writing for years. It's when I'm at peace with the thoughts and the images that are generated by the previous book. I will not start writing again except when I notice that the last book is no longer sufficient to express or order my relationship with the world. Hence the title of one of my books, Ce qui fut sans lumière (literally "what was without light," but published in English as In the Shadow's Light). To some extent it means "here it is, what was not illuminated in the last poem is now confronted and clarified."
INTERVIEWER
A number of writers use something as a stimulant. Is there anything that stimulates your writing? For example, a special room in your house?
BONNEFOY
I would simply say the light. The light of the day, of the sky. Light is a perceptible unity. When there is more light around you, you are more alert to the world's situations, to its different aspects, to the mystery of time.
INTERVIEWER
Does this mean that you go to places where there is more light, like the south of France? Do you pursue light?
BONNEFOY
I would like to. It is true that I like those regions of the world where light is more intense. I love Provence also, if not above all, for its light. Unfortunately, Paris is less luminous than America; the light there is better for painters.
INTERVIEWER
Is that why you have written some of your most beautiful poems here, on the East Coast, in New England?
BONNEFOY
Yes. Because of the light, because of the snow. The snow is a form of light. I wrote my last book of poetry, Beginning and End of Snow, with the memories and images of autumns and winters in New England.
INTERVIEWER
And do you write longhand or do you use the new word processors?
BONNEFOY
No word processors! I use a little typewriter; at the same time, often on the same page, I write by hand. The old typewriter makes the paper more present, still a part of oneself. What appears on the screen of a word processor is a mist; it's somewhere else.
INTERVIEWER
Let us move on to another aspect of your poetry, your translations of Shakespeare and Yeats. When did you learn English?
BONNEFOY
I studied English at the lycée, but in a limited and bookish way. After I finished my baccalauréat I was interested in the philosophy of science and I tried to read Bertrand Russell. Then I became fascinated by Italian art and architecture, and I began to read English art-historians—John Pope-Hennessy on Paolo Uccello, Kenneth Clark on Piero della Francesca, and others. They were the discoveries of a short stay in London in 1950, made possible by a grant. I had also started to read Donne, Marvell, and Eliot. Then in 1954 Pierre Jean Jouve, to whom I had sent my first book of poems, introduced me to Pierre Leyris, our great translator of Melville, Hopkins, Eliot, Emily Brontë. He was starting a vast bilingual collection of Shakespeare with a team of translators, and he invited me to take part in the project. I accepted enthusiastically, and he gave me a few scenes from Julius Caesar to have a go at. Pleased with what I had done, he gave me the whole play, plus Hamlet, Henry IV, The Winter's Tale, and the poems. I was delighted. I submerged myself in English critical editions and lexicons, not wishing to see any existing French translation. So when I went to America in 1958 I knew Elizabethan English better than the contemporary idiom—you were lucky if I didn't use multitudinous or incarnadine instead of many or red.
INTERVIEWER
Was that reading of the critical editions the beginning of your interest in Anglo-American literary criticism?
BONNEFOY
Not really. There was another reason for that. At the beginning of the fifties I had gone back to my study of philosophy, and I planned to write a doctoral dissertation. My tutor was Jean Wahl, who was very kind to me and wanted to help me. As he had lived in the United States during the war and knew American criticism, he suggested that I put my thesis aside for a while. He found me a job as a researcher at the National Center for Scientific Research for a preliminary study of New Criticism and the philosophy of literary creativity in the English language. I spent three years at the NCSR reading I. A. Richards, R. P. Blackmur, Kenneth Burke, etcetera . . . I then produced a paper on the relationship between French and English criticism, which Encounter magazine published in 1958, just before my first trip to America. I was invited to take part in a seminar at Harvard, and when I arrived in Cambridge, I discovered to my amazement that I was considered a respectable specialist—thanks to a little column in The Times Literary Supplement about my Encounter article! It seemed a misunderstanding, but it enabled me to form some lasting friendships. Since then I have been back frequently.
INTERVIEWER
There was a long gap between your Shakespeare plays and your translation of Yeats's shorter poems published three years ago. Why Yeats?
BONNEFOY
Because I consider him to be one of the greatest poets of the West. It is not that I don't like Eliot. Indeed I'm deeply attached to The Waste Land and the poem about the Magi. I like Eliot's ability to live so personally, so touchingly, the great metaphysical problems of our century, the inner exile, the alienation between man and woman. But Yeats, with his desires, furies, intuitions, prophetic emphases, myths, intense oddities, and his superb verse (in my view unrivalled since Shakespeare) enthralls me even more.
INTERVIEWER
Eliot touched the existential malaise of our age, but it was the way he used the language as much as what he said that set the tone and opened out onto new horizons. He was influenced by French poets—Jules Laforgue and Guillaume Apollinaire particularly. Do you see their imprint on his poetry from this side?
BONNEFOY
Not really. Eliot was religious, even pious, Protestant and Puritan, and Laforgue was almost the opposite—atheist, extremely sensual, full of tenderness yet cynical, concerned with opening his writing to the whispers of the unconscious, especially in his great prose work Moralités légendaires, one of the most beautiful books of our literature.
What Eliot liked in Laforgue was the presence of the quotidian within a lyrical poem, which is natural for an English poet who is used to Shakespeare and Donne. He could not have found this fusion of the poetic and the trivial in Racine, Mallarmé, or Baudelaire. Perhaps Eliot liked Apollinaire because he is more accessible than the ones I have just mentioned—although a great poet. Often—perhaps too often—French poetry is an experiment not on the situations of life, but on language, which it wishes to change in order to renew the world. It works on the verbal instrument. This is true not only of our poets but also of many prose writers. French writers question their language while using it in order to understand or describe reality. Thus they create a sort of limited association within society.
INTERVIEWER
Gide says in the preface to his Anthology of French Poetry that there is an English poetry, but no French poetry, only French poets.
BONNEFOY
Literature and poetry are not synonymous. But there is a strong tie between French poets since Villon and Chrétien de Troyes down to the present. When I myself write essays on Baudelaire, Nerval, Mallarmé, Laforgue, it is not just to speak about them with their readers, but also to speak with them. I have a feeling that a discussion is taking place about the object and method of poetry, and that I have the right to take part in it.
INTERVIEWER
Perhaps that is why one hears the sentence, "I don't like French poetry," from some people who know the language and read French prose.
BONNEFOY
One can believe that French poetry is for the intellect rather than for the emotions, the heart. But that is just an appearance. It is not a question of reveling in a hermetic language exclusive to a few insiders, but of breaking down stereotypes which no longer give an authentic representation of reality, only a superficial one, and therefore do not allow real exchanges. Of course, as you say, it opens the door to imposters, who simulate the real work in order to intimidate the reader.
INTERVIEWER
Poetry is particularly difficult to translate. Robert Frost said that poetry is what gets lost in translation. Do you agree?
BONNEFOY
I would be the first to say that poetry is untranslatable. But the desire to translate a poem is already participation in it, and perhaps one can recreate something similar in one's own language. What is essential is not to pursue certain mirages, such as trying to preserve in French the rhymes and prosody of the original poem. I took great liberties with Yeats in this respect. On the other hand Yeats is so universal that it is easy to relive a part of his emotions, even if the situations that produced them are not familiar. How many of his poems one feels in the depths of one's being—"The Second Coming," "Sailing to Byzantium," "Coole Park," and "Coole and Ballylee."
INTERVIEWER
You are a part of the tradition of French poet-critics from Diderot to Baudelaire and have written that painters have a more immediate perception of reality than poets, who have to break through the barrier of words first. Isn't music even more immediate?
BONNEFOY
That is very true. Music is very important to me. It is an essential part of poetic writing, since in poetry the words are also sounds, with accents and rhythms. But I have hardly written about music, because I don't know the technical aspects of the musician's work and language. I have, however, written an essay on listening to the sonorities and sounds in Baudelaire's poetry.
INTERVIEWER
Will you continue to teach and to write? How do you manage doing both?
BONNEFOY
For the past twelve years the Collège de France has been a constant source of stimulation, for I have to teach a new course every year; as a a result I have come to study and, I hope, better understand Shakespeare, Baudelaire, Mallarmé, and a few other writers and artists. By the same token it could have been in conflict with writing poetry. I don't know if it has hampered it—I would say not. But it is writing verse that always calls me back again. I need to have a long period free, during which I can listen to the voices that come from the deepest unconscious—which know more than we do about life and death.
INTERVIEWER
Your energy and variety of output are astonishing. One hesitates to talk about death, but it is a subject you tackle in your poetry. Is it because poetry, like love, is a way of transcending death?
BONNEFOY
Death is what conceptual language represents negatively, like a hole, a void, but poetic speech can invert this, make it positive. I agree with you. Since thanks to poetry the world is closer, and its unity more perceptible, we feel more part of that unity—like the leaf of a tree, even if it falls off the branch, in an instant that is eternal. So what is death? But I have to add that all this is true only in theory. Poetry would be just that—transcending death—if it were not inaccessible; we can only try to approach it. That is why one should not call oneself a poet. It would be pretentious. It would mean that one has resolved the problems poetry presents. Poet is a word one can use when speaking of others, if one admires them sufficiently. If someone asks me what I do, I say I'm a critic, or a historian.