Interviewed by Sam Vaughan
Issue 139, Summer 1996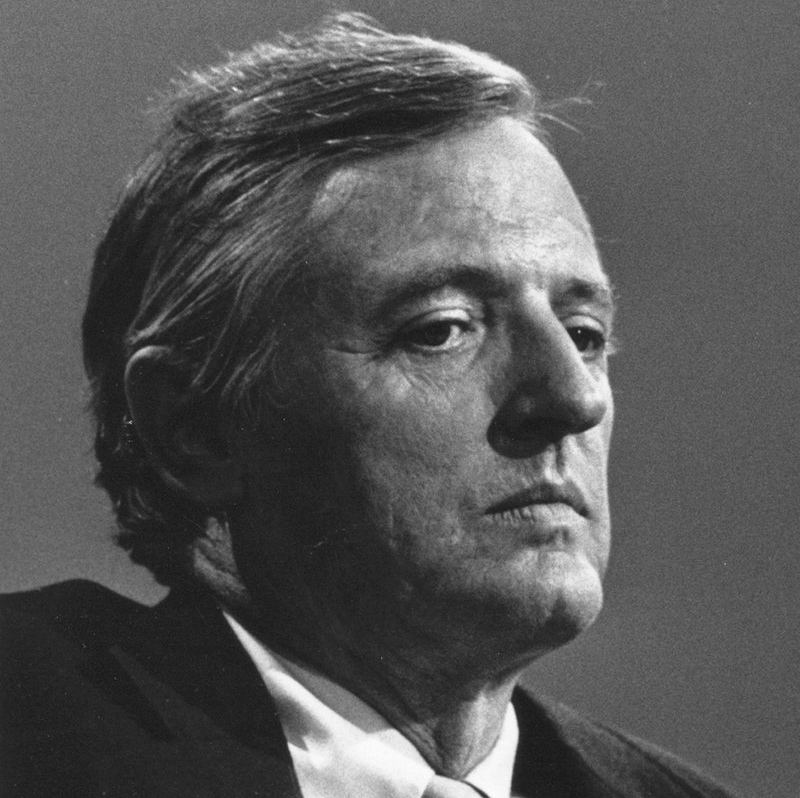 William Frank Buckley Jr.
William Frank Buckley Jr.—founder, editor, and now editor at large of the National Review, and author, lecturer, and host of public television's Firing Line, the longest-running serious TV talk show—was born in New York City on November 24, 1925. His early schooling was in England and France. He graduated from the Millbrook School in NewYork, studied at the University of Mexico, and took a B.A. with honors at Yale in 1950, where he debated, was Class Day Orator, and chairman of the Yale Daily News.
Drafted into the army as an infantry private in 1944, he was discharged as a 2nd Lieutenant in 1946. From 1947–1951, Buckley taught Spanish at Yale and in 1952 became associate editor of the American Mercury. Then he resigned to do freelance writing. In 1955, he started his own magazine and is generally held to be responsible for assembling a coherent, responsible, modern conservative movement in the United States. In 1962 he began a syndicated weekly column, which continues; in 1965 he ran for mayor of New York; and in 1966 he began hosting his weekly television show.
He was a lecturer at the New School, a member of a presidential advisory commission on the USIA, and in 1973 Buckley was appointed by President Nixon as a public delegate to the United Nations.
He has received twenty-nine honorary degrees and sixteen awards in journalism, literature, and television (an Emmy). His latest, the Presidential Medal of Freedom, was awarded in 1991.
From his first book, God and Man at Yale, in 1951, to his most recent, the novel Brothers No More (1995), he has written thirty-six books and contributed to nine others, including volumes on intellectuals, Catholicism, and the Beatles. It was at fifty that he first turned to fiction, producing Saving the Queen (1976) and in 1980 won the American Book Award for Best Mystery (Stained Glass). After ten novels featuring his hero, CIA agent Blackford Oakes, his most recent historical novel, Brothers No More, takes a new tack.
Any attempt to catch William F. Buckley Jr. in one place at one time must fail to catch the essence of a man in motion. This "interview" is the result of a series of exchanges over a period of time. The settings were as varied as Buckley's interests and attachments.
The family's main house, in Stamford, Connecticut, is a large, comfortable old establishment with a stucco exterior, painted a surprising pink, surrounded by flower and herb gardens, tended carefully by Mrs. Buckley, and it is a house filled with flowered cushions. Books and framed photographs are everywhere. Part of the talks took place in the music room, which houses a harpsichord, bookshelves, a projection screen television set, and audio equipment. A Bösendorfer piano is visible within the house, used over the years for concerts by Buckley's friends like Rosalyn Tureck, the virtuoso harpsichordist; Dick Wellstood, the jazz pianist; and Buckley himself. Outside the big glass windows, beyond a sloping lawn, is the Long Island Sound, one of Buckley's favorite sailing grounds.
Buckley's office is in the capacious garage, and overflows with papers, computer equipment, books. Over the garage is a small apartment where the Buckleys' son, Christopher, a novelist, humorist, and editor, has done some of his own writing.
The principal setting for our talks was in the Buckley's pied à terre, off Park Avenue in Manhattan, an elegant place, with most of the conversations conducted in the Red Room. This serves as Pat Buckley's city office—she is a formidable fund-raiser for good causes, most of them in the arts—and as library, small sitting room, bar, etcetera. Outside in the foyer is a harpsichord at which arriving visitors are likely to find the master of the house practicing or playing for his own enjoyment.
It is a true Buckley place, handsome but not staid, warmly hospitable. Evidence of their enthusiasms are everywhere: again, photographs, books, as well as paintings, many by the Spanish artist Raymond de Botton, picked out by small spotlights; a candlelit dining room; and a long salon for entertaining, with the aid of the Buckleys' largely Hispanic staff. Much of the daily small talk in the house is in Spanish, with English almost a second language.
Other exchanges took place by telephone, from his car, letters, faxes, and e-mail, some from the Buckley's winter place near Gstaad, Switzerland, where they spend February and part of March each year; and once from the Concorde on the way to Sri Lanka, on which plane he was leading a round-the-world tour group and which had recently suffered "the humiliating loss of one-third of its tail after takeoff from Sydney."
Despite his peripatetic existence, Buckley, an unfailingly gracious man, with a wry smile and a quick laugh, gives full attention to questions, as if he had all the time in the world.
INTERVIEWER
What sort of things had you been writing before the novels? You tend to group your previous books into categories, yes?
WILLIAM F. BUCKLEY JR.
The most obvious category, I suppose, is the collections of columns, articles, and essays, four or five of those before my first novel. There were two or three offbeat books—a book on the United Nations and the term I served there, a book on running for mayor of New York, a book on crossing the Atlantic, which has the ocean as mise-en-scène, and then a sort of autobiographical book on a week in my life, Cruising Speed. So when you suggested that I write a novel, I had at that point published twelve or fifteen nonfiction books.
INTERVIEWER
I remember saying you might like to try a novel one day. The name Forsythe came up, and I thought your reference was to the Forsyte Saga, which was then on television . . . as well as in the literature. You said, no, like Frederick Forsyth.
BUCKLEY
Well, my memory of it was that I had just read Forsyth's The Day of the Jackal and admired it hugely. That the reader should know exactly how it ended and nevertheless still pant his way with excitement through three hundred pages—I thought that was really a splendid accomplishment. I remember saying something along the lines of, If I were to write a book of fiction, I'd like to have a whack at something of that nature.
INTERVIEWER
So you liked the challenge of writing about an occurrence in contemporary history where the reader knew the outcome and . . .
BUCKLEY
Yes, although I proceeded not to do so. That is, Saving the Queen did not have a predictable and well-known outcome, though some of the succeeding novels did. However, I have this problem—perhaps some people would think my problem is greater than this—which is that I have never succeeded in prestructuring a book. I've never started a novel knowing what the end is going to be. When I get about halfway through—and I go into this only because I assume it's of some technical interest to other writers—I then need to stop and force myself to figure out how the Gordian knot is going to be severed, because at this point there are a lot of characters and dramatic questions that need to be consummated. Some people feel that a book comes out better written that way—if the author himself doesn't know what's going to be in Chapter Two when he writes Chapter One, Chapter Two might then be more freshly minted and read that way. I'm skeptical. It seems to me that a thoroughly competent operator would sit down and think of what's going to be in Chapter One through Chapter Forty, and simply move ahead. What I do at the end of an afternoon's work is write two or three lines on what I think is the direction of the narrative, and where we might logically go the next day.
INTERVIEWER
If you stop yourself halfway through—almost as Ellery Queen used to stop three quarters of the way through and say, Now that you have all the clues necessary for a solution, what is the solution?—is there a tendency then to load too much resolution into the end of a book?
BUCKLEY
I think that's a danger. It's what I hope I've avoided, in part because I'm very easily bored, and therefore if I can keep myself awake from chapter to chapter, I assume I can keep other people awake. That is why I don't reserve all the dynamite for the end. This may be the moment to say that in all of my novels—to the extent that I have a rule—my rule is to devote a very long chapter, close to the beginning, to the development of a single character. In book one it's Blackford Oakes, which is natural. In book two, Stained Glass, it was Erika, a Soviet agent. I lifted her as though Vladimir Nabokov had a daughter, not his son, Dimitri. I confided my invention to Nabokov, which perhaps precipitated his death. He didn't live to read the book, but he was very enthusiastic, as you remember, about the first book, and his widow liked Stained Glass. In any event, I've always felt that the extensive development of one character gives the book a kind of beef that it doesn't otherwise have. That's the only regimen to which I willingly subscribe and towards which I naturally drift.
INTERVIEWER
One of the questions about your novels is how much is true, and how much is invented.
BUCKLEY
Well, I poach on history to the extent that I can. For instance, when I was in the CIA it was reported to me that the evidence was overwhelming that the destruction of Constantin Oumansky's airplane—he was the Soviet ambassador to Mexico—was an act of terrorism, executed by Stalin. Stalin was killing people capriciously anyway in those days, so it was inherently believable. On the other hand, as I remember, Oumansky lived for a few hours after the plane came down, so the explosion wasn't very efficient. Thus there's a school of thought that sees it as a genuine accident. But for a novel I don't trouble myself about matters of that kind. That is to say, if something was in fact a coincidence, but might have been an act of treachery, I don't hesitate to decide which is more convenient for the purpose of the narrative. The books are, after all, introduced as works of fiction. Everybody knows that Charles de Gaulle is going to survive the OAS, and everybody knows that Kennedy is not going to survive the twenty-second of November 1963, and everybody knows that the Berlin Wall is going to rise. Even so, I attempt to create suspense around such episodes. And manifestly succeed. The books get heavy criticism, positive and negative, but no one says, Why read a book in which you know what's going to happen?
INTERVIEWER
Still, it's a nice challenge of art to put yourself up against history.
BUCKLEY
Sure. And I owe that idea to Forsyth.
INTERVIEWER
In the patterns you've developed, one of them is the unspoken premise that this is the way it might have been behind that great event that we all know about.
BUCKLEY
That's right. I found myself attracted to this idea of exploring historical data and visiting my own imagination on them. The very successful book on the death of Kennedy written by Don DeLillo, Libra, does, of course, that. In a sense overcomplicated and ineffectively ambitious in some of its sections, it's a magnificent piece of work, in my judgment. As long as the reader isn't persuaded that you are trying, via fiction, an act of historical revisionism, I don't think you meet any hard resistance.
INTERVIEWER
So the reader will go with you in a combination of invention and known history, but won't accept so cheerfully an editorial.
BUCKLEY
Yes. Of course, I think it probably depends also on how contentious the theme is. For about twenty-five years, dozens of books were published to the effect that Roosevelt was responsible for Pearl Harbor. Never mind whether he was, in a sense, or was not, I think that if during that period a novel pressing his guilt had been written, there would have been a certain amount of polemical resentment. If one were to write today a novel about a senator from Massachusetts and a young woman in Chappaquiddick, and how he drowned her or deserted her or whatever, readers would tend, under those circumstances, to think of it as more an effort to make the case against Teddy Kennedy, rather than as a work of fiction.
INTERVIEWER
There seems to be a period that has to elapse before you can safely . . .
BUCKLEY
I think so. At this point I think you can speculate about the death of JFK and not get into trouble. Like Sacco and Vanzetti.
INTERVIEWER
You consciously stayed away from that event for a long time.
BUCKLEY
Until novel number eight—Mongoose, R.I.P. flatly says that although Oswald took the initiative in suggesting that he intended to try to assassinate the president, Castro, without acting specifically as an accomplice, urged him to proceed.
INTERVIEWER
To go back for a moment to the one character you choose to develop at length—do you decide, as you're writing your way into the novel, which character you will give a full history, or do you decide that before you write?
BUCKLEY
I sometimes don't know who the character is going to be until I've launched the book, but I'm consciously looking for a target of opportunity. For instance, in Stained Glass, I decided that the Soviet woman spy—who is acting as a translator and interpreter for Count Wintergrin, the protagonist—was the logical person to have a complex background. So I made up the daughter of Nabokov and went through her whole childhood and love life and her apostasy from the West.
INTERVIEWER
The Cold War is an essential handicap?
BUCKLEY
I hate to use the word in this context, but I must—these are novels that celebrate the Cold War. I don't think that's a paradox that affronts, any more than, say, a novelist who celebrates a world war. But my novels celebrate the Cold War, and therefore the passions awakened by this titanic struggle are really a narrative obligation. The fact of the matter is that in our time—in my adult lifetime—somewhere between fifty and sixty million people were killed other than as a result of war or pestilence, and in most cases—the great exception being the victims of Hitler—were the victims of the Communists. Now that struggle is sometimes made to look like a microcosmic difference, say some slight difference of opinion between Alger Hiss and Whittaker Chambers. In fact, it was a typhoon that roared across the land—across bureaucracies, academia, laboratories, chancelleries. One week after Gorbachev was here in New York, I found myself using the past tense about the Cold War, which shows you how easily co-opted I am. But the Cold War is the great political drama of the twentieth century, and there is extraordinarily little literature about it written in the novel form. There are great exposés—The God That Failed, The Gulag Archipelago. But if you think about the American scene, there isn't really an abundant literature, is there?
INTERVIEWER
Why do you think this is so?
BUCKLEY
I think that there's a sort of feeling that much of the conflict has been an alien experience. Of course, there are those New York intellectuals who are exceptions. I remember one middle-aged man who came to National Review a couple of weeks ago and said that when he was growing up he thought the two political parties in the United States were the Communist Party and the Trotskyist! That was all his mother and father ever talked about. Irving Kristol will tell you that the fights at the City College of New York were always on this or that modality of communism. But on the whole it has not been a national experience. When you think of Updike or Bellow or Walker Percy, and the tangentiality of their involvement in the Cold War, there isn't really a hot concern for it. It must be because our novelists disdain such arguments as grubby, or because they think that it's an ideological quarrel with no genuine intellectual interest for the mature person. But of course it has been the great struggle of our time. For that reason I think of my novels as entertainment but also as designed to illustrate important problems in that setting. It means a lot to me to say this: when I set out to explore the scene, I was determined to avoid one thing, and that was the kind of ambiguity for which Graham Greene and to a certain extent Le Carré became famous. There you will find that the agent of the West is, in the first place, almost necessarily unappealing physically. He drinks too much, he screws too much and he's always being cuckolded. Then, at some dramatic moment there is the conversation or the moment of reflection in which the reader is asked to contemplate the difficulty in asserting that there is a qualitative difference between Them and Us. This I wanted to avoid. So I was searching, really, for a little bit of the purity of Herman Melville's Billy Budd in Blackford Oakes. Billy Budd has no sense of humor, and without a sense of humor you can't be genuinely American. Therefore, Blackford Oakes couldn't be Billy Budd. Furthermore, I made him almost spectacularly good-looking in defiant reaction to these semidisfigured characters that Greene and Le Carré and Len Deighton specialize in. I got a little tired of that after novel three or four, so I don't belabor the point as much.
INTERVIEWER
Your reference to Graham Greene. Does he matter to you?
BUCKLEY
Graham Greene always struck me as being at war with himself. He had impulses that he sometimes examined with a compulsive sense to dissect them, as though only an autopsy would do to dissect their nature. He was a Christian more or less malgré soi. He was a Christian because he couldn't quite prevent it. And therefore he spent most of his time belittling Christianity and Christians. He hated the United States, and his hatred was in part, I suppose, a reaction similar to that of some finely calibrated people to American vulgarity. But with him it was so compulsive it drove him almost to like people who were professional enemies of the United States. And since the most conspicuous critic of the United States in this part of the world during the last twenty-five years has been Fidel Castro, he ended up being, God help us, pro-Castro. He once gave the answer—it might have been in The Paris Review, I forget—to the question, What is the word you least like in English? America. And he set out to prove it. Given the refinement of his mind, it's always been a mystery to me that he should have been so besotted in his opposition to that towards which he naturally inclined—Christianity and all that Christianity bespeaks—in order to identify himself with those he saw as the little men. Okay, but when the little men were such people as Fidel Castro or Daniel Ortega? It all defies analysis.
INTERVIEWER
Who else among the people practicing this kind of fiction do you pay attention to?
BUCKLEY
Well, I'm not a systematic reader. I read a little bit of everything. I've never studied the achievement of any particular author seeking to inform myself comprehensively of his technique or of his point. I occasionally run into stuff that deeply impresses me. For instance, Updike's The Coup, which I reviewed for New York magazine. It astonishes me that it is so little recognized. It's the brilliant put-down of Marxist Third World nativism. It truly is. And hilarious. It's a successor to Black Mischief, but done in that distinctively Gothic style of Updike's—very different from the opéra bouffe with which Evelyn Waugh went at that subject fifty years ago. And then I think that Walker Percy's Love in the Ruins is another 1984. An exquisite extrapolation of what life might be like if we didn't dominate technology, and yielded to totalitarian imperatives. He combined in it humor with a deep and often conscious explanation of human psychology via this vinous character—the doctor—who dominates the novel so convincingly.
INTERVIEWER
Somehow, for some unannounced reason, we are talking about Christian novelists. I'm struck by this only because the much remarked phenomenon of the 1950s, 1960s, and 1970s has been—certainly in America—the Jewish novel, or the novelist who writes from a background in Jewry.
BUCKLEY
That reminds me that along about 1951 or 1952—whenever it was that Graham Greene wrote The End of the Affair—one critic said, if Mr. Greene continues . . . if he writes one more book like this, he must thereafter be evaluated as a Catholic novelist. He didn't say Christian novelist. And indeed Greene's succeeding book was a rather sharp departure. It occurs to me that the point you really make is more nearly about Christians who write novels, not Christian novelists. G. K. Chesterton, Hilaire Belloc, and Wright Morris were Christian novelists. But Updike is a Christian who writes novels. A reading of his work wouldn't permit you to decoct from it, with any sense of certainty, that the author was a professing Christian. I don't think from Love in the Ruins you could guess Walker Percy was a Catholic.
INTERVIEWER
I was thinking about your own deep religious faith.
BUCKLEY
Well, yes. I'm a professing Christian, and every now and then I take pains to let the reader in on the fact that so is Blackford Oakes. On the other hand, it would be hard, I think, to pronounce my books as Christian novels unless you were to go so far as to say that any novel that acknowledges epistemological self-assurance to the point of permitting us to say, They're wrong and you're right, has got to be traced to that sense of certitude that is distinctively Christian.
INTERVIEWER
Yes, you're certainly not preaching in the novels. Blackford Oakes occasionally prays, which is just as natural to him as breathing, but his Christianity doesn't color everything. I was just wondering whether the Christians who write novels have become an underground sect, as Christians were at the outset.
BUCKLEY
I think to a significant extent they have. Raymond Williams—the late British novelist—was the last novelist I can think of offhand who was a flat-out Christian novelist. Am I wrong?
INTERVIEWER
Frederick Buechner has been plying his trade as a Christian novelist. George Garrett. His big novels are set in the Elizabethan era, but they're written with Christianity very much alive and at issue. And, at times, include spies. I wonder if spying and religion are in some way natural literary bedmates?
BUCKLEY
Well, isn't it safe to say that people who pursued the Communist objective—certainly early on—were motivated by ideological convictions that were almost religious in nature? Religious in the sense that they called for sacrifice and for the acceptance of historicism. That became less and less so as fewer and fewer people of moral intelligence actually believed in Leninism and communism. What they then believed in was Russian expansionism, and they became mere agents of the Soviet Union.
INTERVIEWER
So it began with religious fervor, which supplanted what traditional religion might have been for some.
BUCKLEY
I think so. These days it would be hard to find somebody in his twenties comparable to Whittaker Chambers in his twenties. This doesn't mean that there aren't still communists—Angela Davis is a very noisy communist, but she's shallow. There isn't really a sense of life in the catacombs, the kind of thing you had in the twenties and thirties, when people like Malcolm Muggeridge (until his early epiphany) were, temporarily, in thrall to the idea of the collectivist state.
INTERVIEWER
Do you think that in a time when the visible attachment of many people to formal religious institutions has been waning there has been a corresponding attraction to other causes?
BUCKLEY
Yes, I do. And for that reason it is not easy to command a large public. Most writers want a large public, and tend for that reason not to write religious novels. And explicitly religious—God, it's been so long since I've read one—an explicitly religious novel would be looked on merely as a period piece.
INTERVIEWER
How do you handle the technical stuff in the novel? Do you do your own research?
BUCKLEY
I am very unmechanical. I remember once, halfway through writing Stained Glass, I had to fly back to New York from Switzerland to do two or three episodes of Firing Line to catch up. I called my electrician in Stamford and I didn't have a lot of time; so I just said, Could you please tell me how to execute somebody with electricity? Well, he was sort of dumbfounded.
INTERVIEWER
He doesn't make house calls of that kind?
BUCKLEY
That's right. And he hadn't really given it much thought, he sort of muttered a couple of utterly unusable things like, Put him in a bathtub and have him fix electricity. So I mentioned this in a letter to a historian at the University of San Jose. He wrote back and said, I must introduce you to my friend, Alfred Aya. Aya turned out to be a bachelor, aged then about fifty-five, who worked for the telephone company. As my friend described him, at heart a physicist—and more. When he was six years old and traveled with his parents, he would inevitably disappear for four or five minutes in the hotel, and from that moment on anybody who pushed up on the elevator went down, and anybody who pushed down went up. Aya loves challenges. So I wrote him a letter and said, Look, I've got this problem. He gave me the idea of executing him via this device, what I call a Chromoscope, which was entirely plausible. Later, he gave me all the information I needed to write satellite scenes in the later novel that dealt with the U-2, including how to make the thing appear to be coming down, and how to destroy it, etcetera. I remember when I came to the nuclear missile question—at this point we communicate with each other via e-mail because he's an e-mail nut, as am I—so I shot him a message via computer. Here's the problem—there's one nuclear weapon left in Cuba, and I have to know what it looks like. I must know what is needed to fire it, what is needed to redirect it to a target other than the one prescribed for it. And twenty-four hours later, I had a twenty-nine thousand word reply from him. Absolutely astonishing. Which made me, temporarily, one of the world's foremost authorities on how to handle a single nuclear bomb.
INTERVIEWER
Does he give you any credit for helping him work off aggressions?
BUCKLEY
He's absolutely delighted to help.
INTERVIEWER
What else is your system of research, since there is so much fact?
BUCKLEY
Wherever there is something concerning which I have a factual doubt, I put in a double parenthesis, which is a code to the librarian at National Review, who moonlights on my books, to check that, so she often will find five or six or seven hundred of those in the course of a novel. And she then copes.
INTERVIEWER
Are you aware of the category they now call the technothriller, like the novels of Tom Clancy and so on?
BUCKLEY
Well, I know Tom Clancy.
INTERVIEWER
I wonder whether these writers who make a fetish out of hardware have influenced you?
BUCKLEY
No, except that I admire it when it's done skillfully. For instance, Frederick Forsyth, in the book mentioned earlier, describes the assembly of the rifle with which he's going to attempt the assassination; I like the neatness with which he names the various parts. I have a book called What's What, in which you can look up shoe and find out exactly what you call this part of one, or that, etcetera.
INTERVIEWER
Now, famously, you write everywhere. You write in New York at National Review; you write in New York in your home; you write in Connecticut in your home; you write in the car; you write in planes; you presumably write in hotels. Is it only writing novels that is done in Switzerland?
BUCKLEY
In order not to break the rhythm, I almost always write a chapter on the airplane from Switzerland to here when I come back for my television work. Working on a novel, I like to write every day so as not to break it up. There are two nights when I cannot do it. Those are the nights when I am preparing for the television the following day. But I try not to miss more than two nights.
INTERVIEWER
Do you think when a novelist begins a novel, he has to live the novel, that you have to begin to become one or more of the characters, and you don't want to be interrupted playing those roles any more than an actor wants to be interrupted?
BUCKLEY
Oh, I am feverishly opposed to that idea. I've seen people wreck their lives trying to do it. I know the MacDowell Colony and Bread Loaf and such are pretty successful, but I also know that some people seclude themselves to write and become alcoholics precisely because they have nothing else to do. I have a close friend who has that problem, because when he sets out to write a novel, he wants to clear the decks. Nothing would drive me battier than to do just a novel over the course of an entire month. I have only x ergs of purely creative energy, and when I'm out of those, what in the hell do I do then?
When one sets out to write a book, I do believe one should attack it two or three hours a day, every day, without fail. You mustn't interrupt it to do a week's lecture tour or whatever. On the other hand, don't ever devote the entire day to doing just that, or the chances are you'll get bored with it, or simply run out of energy. But I'm glad you asked me that question, because I feel so strongly about it. I'd like to see more novels not written by people who have all the time in the world to write them.
INTERVIEWER
As an editor I spend half of my life trying to persuade people who think they should write books that they don't have to give up careers and certainly not family in order to write a book. They do have to find time—they have to make time—but they don't necessarily have to jump ship.
BUCKLEY
It seems so marvelous when you realize that and can say, Look, fifteen hundred words a day, and you've got a book in six weeks.
INTERVIEWER
Now, when you wrote your first novel, I found it a surprise—an agreeable surprise—because I somehow thought it would be in homage to writers you liked.
BUCKLEY
Imitative? I don't have the skill to imitate. For instance, I admire people who can come up with a touch of a foreign accent. I just don't know how. There may be a school somewhere—Cornell?—that teaches you how to do that. And if I thought I could go somewhere for a half-day and learn how to make a character sound like a Spaniard, I would. My son has that skill, marvelously developed. I can't do it. I can't in speaking either. I sometimes call somebody and don't want to be recognized. But I don't know how to do it. And I don't know how to write like anybody else.
INTERVIEWER
At the start, I didn't think you'd write a page-turner. I thought, as I've said, that you would write a clever novel, an intelligent novel, maybe ideologically weighted. What I didn't see coming was the novel that moves ahead. I wonder if that comes at least in part from the fact that you write quickly?
BUCKLEY
Well, perhaps in part. But mostly it's my terribly overdeveloped faculty against boredom. I was introduced into the White House Fellows annual lunch affair by a man who had done some research on my books, and he picked up a line I had forgotten. Mr. Buckley, he said, has written that he gets bored winding his watch. True, I was greatly relieved when they developed the quartz. I never just brush my teeth, I'm reading and brushing my teeth at the same time. So, if something bores me, then it's certainly going to bore somebody else.
I live a hectic life. Someone once asked me if I ever could lay aside my Christian scruples so as to have a mistress, and I said, I really don't have the time.
INTERVIEWER
You once said to me that you are not particularly reflective or thoughtful. How can you write a novel with as many parts and qualities, as many components, as many subplots and themes as you do, and still say that you're not thoughtful, not reflective?
BUCKLEY
Well, what that takes is hard concentration. I don't think that people who are very busy are for that reason diluting the attention that they give to what they are doing when they are doing it. For instance, Churchill in his wonderful essay on painting said when he's painting that's all he's thinking about. When I'm painting, that's all I'm thinking about. I happen to be a lousy painter, I should admit instantly, but I enjoy it and I concentrate on it. Sometimes, going up in the lift with, say, Doris Brynner, a ski-mate, who's a wonderful listener, I'll say, Now I've got to the point where I've got this problem, and this girl has to come out alive. On the other hand, she's going to be in the Lubyanka—that kind of thing, and just saying it helps. I only really think when I'm writing or talking. I suppose it's a gift of extemporaneity. But also, added to that method, I think is the usual one. When you reach a knotty problem in your novel, you sometimes have to sit back in your chair and think, What am I going to do next? I don't want to give the impression that I simply keep using my fingers.
INTERVIEWER
Reviewers have noticed, and it has always intrigued me, that you write your enemies so well that it sometimes seems as if you characterize them better than our guys—the good guys. Your portraits of Castro, of Che Guevara, of Khrushchev, Beria, and so on, are all close, pores and all . . .
BUCKLEY
Nobody can possibly like the Beria that I depicted.
INTERVIEWER
No, I don't mean it's necessary to like them, but you give them so much color. Blackford sometimes pales—and I suspect this is your intention—by comparison to the roster of heavies.
BUCKLEY
Well, exposure to these historical characters is almost always limited. In the first book in which Khrushchev appears, he makes, I think, two appearances. Therefore you take the essence of Khrushchev and give it to the reader, and the reader is grateful, because it is the essence of what we know or can imagine about him. If you had to write four hundred and fifty pages about Khrushchev, you'd run the danger of etiolation. I think I've read enough about these characters to have some idea of what they're like. I depended heavily on Carlos Franke when I wrote about Castro and Che Guevara. Guevara was a very magnetic human being. Cruel, and entirely obsessed, but nevertheless attractive. Fidel Castro is more attractive to ten thousand people than he is to ten people, whereas Che Guevara was the other way around. I think I captured Castro well, but I'm equally pleased with the portraits I've drawn of Americans, the Dulles brothers and Dean Acheson.
INTERVIEWER
Let's speak for a moment of the amount you write and the presumed speed at which you write, novels and everything else. Do you have any models or inspirations who helped you to this sustained burst of intellectual and creative activity?
BUCKLEY
I'm not sure I'm all that fast or all that productive. Take for example, Trollope. He'd rise at five-thirty, do his toilette and have his breakfast, all by six. He would then begin writing, and he had a note pad that had been indexed to indicate intervals of 250 words. He would force himself to write two hundred and fifty words per fifteen minutes. Now, if at the end of fifteen minutes he hadn't reached one of those little marks on his page, he would write faster. And if he passed the goal in fifteen minutes he would write more slowly! And he wrote that way for three hours—three thousand words a day.
INTERVIEWER
Do you approve?
BUCKLEY
If you were told to write a cantata every Sunday, and you got what Bach got out of it, how could you disapprove of it?
INTERVIEWER
Do you keep to a particular standard with your work?
BUCKLEY
It's true about everybody, that some stuff is better than other stuff. But I don't release anything that isn't, roughly speaking—I say roughly speaking—as good as it can be. If I reread, say, my column, a third time, I probably would make a couple of changes. I'm aware of people who create both, so to speak, the "quality stuff" and the "nonquality stuff," who think nothing of writing two or three pulp novels per year. Bernard DeVoto was that way. I can't do that, and I don't do that. I'm not sure I could. What I write—especially the books—needs a lot of work. So I always resent critics who find themselves saying, Mr. Buckley's novels look as though they were written with one eye on the in-flight movie.
INTERVIEWER
Nobody's been clever enough to say that.
BUCKLEY
R. Z. Sheppard in Time magazine did. Who, by the way, has often praised my books. So it would be odd, I think, for someone who has reached age seventy, which I have, to write as much as I do without being able to discipline himself.
INTERVIEWER
Although you don't measure it out like Trollope, nevertheless you know you have so many days and weeks in February and March in which to write a novel.
BUCKLEY
Well, I'm much slower than Trollope . . . and never mind the differences in quality. If Trollope had given himself, say, six hours instead of three, would his novels have been that much better? I don't know that anybody could reach that conclusion. But then he took three hours to write three thousand words, which is very fast writing when using a pencil, but not fast at all when you're using a word processor.
INTERVIEWER
It should change the statistics.
BUCKLEY
When I sit down to start writing every day in Switzerland, which is usually about a quarter to five to about seven-fifteen—two and a half hours—it's inconceivable to me that I would write less than fifteen hundred words during that time. That's much slower than Trollope, even though I have faster tools. So, although I write fast, I'm not a phenomenally fast writer.
Speechwriters get told by the president that he's going to declare war the next day and to please draft an appropriate speech. And they do it. Or Tom Wicker—I've seen him write ten thousand words following one day's trial proceedings, and all that stuff will appear in The New York Times. Now it's not belletrism, but it's good journalistic craftsmanship.
INTERVIEWER
There's no automatic merit in being fast or slow. Whatever works, works. Georges Simenon, who was a phenomenon of production, always got himself in shape to write each novel. I hate to mention this in your presence, but he usually wrote his novels in seven or eight days. He had a physical beforehand, I think perhaps particularly for blood pressure, and then went into a kind of trance and wrote the novel, and then was ordered by his doctor to go off and take a vacation.
BUCKLEY
I'll go you one better. Rotzan Isagner, who does not go to sleep until he has finished the book.
INTERVIEWER
Your workroom in Switzerland. What is that like?
BUCKLEY
Well, it's a converted children's playroom. I have my desk and my reference library at one end; there's the harpsichord and gramophone, and there's a Ping-Pong table on which all the paints are . . .
INTERVIEWER
Do you play music while you're writing? Do you write to Scarlatti, or to Bach, or . . .
BUCKLEY
Do I play? Oh, my goodness! Heavens, yes! I thought you meant, did I play myself? Occasionally, I get up and—you know, in a moment of boredom or whatever—hit a few notes. But the answer is, yes, I have the record player on most of the time. Also, in Switzerland one of the better socialized institutions—but I love it—is that you can, for a few francs per month, attach to your telephone a little music-box device that gives you six channels, one of them a good music channel.
INTERVIEWER
Is there any link between what you're writing and what you're listening to?
BUCKLEY
No, none whatever.
INTERVIEWER
So you could play Fats Waller one time and Beethoven another?
BUCKLEY
I don't play jazz when I write. I don't know why but I just plain don't. But I do when I paint.
INTERVIEWER
What about revising?
BUCKLEY
Of all the work I do, it's the work I look forward to most—rewriting. I genuinely, genuinely enjoy that, especially with the invention of the word processor, which makes it mechanically so neat.
INTERVIEWER
So partly it's the technological joy of working with these instruments?
BUCKLEY
Yes.
INTERVIEWER
You've said more than once that you find writing is hard work.
BUCKLEY
But how would the reader know? Writing, if it's done at all, has got to yield net satisfaction. But that satisfaction is long after the foreplay. I'm not saying that I wish I were otherwise engaged professionally. I'm simply saying that writing is terribly hard work. But it doesn't follow at all that because it's hard work, it's odd that it's done so quickly. I think that's quite natural. If writing is pain, which it is to me, it should follow that the more painful the exercise is, the more quickly you want to get on with it. The obvious analogy, I suppose, would be an execution. For years they've been trying to figure out how to execute a person more quickly, so that he feels less protracted pain. That's a reductio ad absurdum. In any event, if your living depends on writing a piece of journalism every day, and you find writing painful work, you're obviously much better off developing the facility to execute it in an hour rather than ten hours.
INTERVIEWER
You're a computer maven, you've been through all the known stages of man with regard to writing and its instruments. You presumably started writing by hand or, as some people would insist, with a quill pen, yes?
BUCKLEY
Well, I did in this sense—until I was writing every day for the Yale Daily News, as its editor, I would write by hand and then type, so the typewritten copy would be draft number two. It happens that my handwriting is sort of malformed. In fact, my father, when I was fifteen years old, sent me a typewriter with the instructions learn to use it and never write to him in longhand again. So I learned the touch-type system, and by the time I was twenty-three it wouldn't occur to me to write anything by hand. In fact, I was so unhappy doing so that I would ask my professors' permission, on the honor system, to type an exam instead of writing it. And with one exception, they all said sure. I'd take one of those blue books into the next room and type away.
INTERVIEWER
About vocabulary: you get criticized, or satirized, for your use of arcane words. Are you conscious of reining in your vocabulary when you're writing a novel?
BUCKLEY
No, I don't think I am. In the novels, there's less obvious analysis than in nonfiction work. I'm attached to the conviction that sometimes the word that you want has an in-built rhythm that's useful. And there are some words that are onomatopoeic, and when they are, they too can be very useful. Let me give you a concrete example. This morning, I wrote about Arafat's speech, and the coverage of the speech, which consumed most of the television news last night. This had to do with the question did he or did he not live up to the demands of the State Department that he denounce violence absolutely, agree to abide by the relevant resolutions of the United Nations Security Council, and acknowledge the existence of Israel. Now, all the commentators said he skirted the subject, that his language was sometimes ambiguous. I concluded that he had more nearly consummated his inherent pledge—"however anfractuous the language." Now the word came to me not only as a useful word but also as a necessary word. I first ran into that word in a review by Dwight MacDonald of Norman Mailer's book on the Pentagon, The Armies of the Night, and I didn't know what it meant; I couldn't figure it out by internal inspection, so I looked it up. And that's exactly the word to describe Arafat's discussion of Israel's existence. There is an example of where one could use ambiguous, but that extra syllable makes it sound just a little bit more "windy."
I remember once in a debate with Gore Vidal at which David Susskind was deriding me in San Francisco, 1964, I used the word irenic, which didn't disturb Vidal, of course. So after it was over, Susskind said, What's irenic? I said, Well, you know, sort of serene, sort of peaceful. He said, Well, why didn't you say serene or peaceful? And I said, Because the other word is a better fit. At this point believe it or not, Vidal, who was on Susskind's side a hundred percent during the exchange, said, You know the trouble with you, David, is that you don't learn anything, ever.
INTERVIEWER
Irenic is a nice word.
BUCKLEY
And again onomatopoeic. So, in defending the use of these words, I begin by asking the question: why were they invented? They must have been invented because there was, as the economist put it, "a felt need" for them. That is to say, there came a moment at which a writer felt that the existing inventory didn't quite do what he wanted it to do. These words were originally used because somebody with a sensitive ear felt the need for them. Do you therefore, because it's very seldom that one hears an A-flat diminished tenth, say to yourself, I won't use that chord, notwithstanding the pleasure it gives to people whose ears are educated enough to hear that little difference? People don't say to a musician, please don't use any unusual chords.
INTERVIEWER
Anfractuous is a more vigorous, almost violent word.
BUCKLEY
Yes, it suggests a little hint of the serpentine, a little bit of the impenetrable going around and around. So therefore why not use it? Years ago, the review of God and Man at Yale, again by Time magazine, referred to my "apopemptic" book on leaving Yale. So, of course I looked it up, because I didn't know what it meant, and it's different from valedictorian, because an apopemptic speech, if memory serves, is usually what the ruler gives to the pilgrims en route somewhere. His sort of final message and advice. So the writer at Time, whoever he was in 1951, was making a very shrewd difference between valedictory—I'm leaving Yale—and giving Yale my parting advice; in effect, Time set me up as if I were the ruler of Yale, giving my subjects my advice. Very nice. So occasionally I use apopemptic, and when I use it, it's strictly when I want that tiny little difference in inflection, which is worth making.
INTERVIEWER
You once said you use the words you know.
BUCKLEY
A good point. Everybody knows words that other people don't know. Reading The Coup, I found twenty-six words in it I didn't know. I listed them in a column, and there were great hoots in my office because everybody knew quite a lot of them. So we went around the table—there were, you know, eight or ten editors, including James Burnham—and by the time we got all the way around, all twenty-six, there was, as I say, much jollity over that.
INTERVIEWER
So words are put into your vocabulary by other writers?
BUCKLEY
Yes. I'm offended by people who suggest—and some have—that I spend my evenings with dictionaries. I'm reminded that in his wonderful review of Webster's Third, Dwight MacDonald referred to words that belong in the zoo-pages of the dictionary. There are certain words that I couldn't bring myself to use, not because they aren't instrumentally useful, but because they just look too inventionistic. How they got there, one never quite knows. A lot of them are sort of medical.
INTERVIEWER
So, for those who might have thought your use of language elitist, you have quite the reverse view. You trust your reader to either know it, or look it up, or go over it like a smooth ski jump.
BUCKLEY
The reader can say, I don't care, it's not worth my time. But there's no reason why he should deprive other people grateful for that tenth augmented chord, which gives them pleasure. Did you know that forty percent of the words used by Shakespeare were used by him only once? I've never read a satisfactory explanation of the seventeenth-century capacity to understand the stuff we hear with some sense of strain. Shakespeare used a total of twenty-eight thousand words, most of them were within reach of the audience. And when you consider that books by Cardinal Newman were serialized as recently as a hundred years ago. The Apologia was serialized and upped the circulation of a London daily. Imagine serializing The Apologia today. Or take the difference between a Lincoln-Douglas debate and a Kennedy-Nixon debate . . . Lincoln, in that rich, biblical vocabulary of his, was not at all self-conscious about using a wide vocabulary.
I've never seen a test, though I'd like to see it done, that would scan say three or four pages of the current issue of The New York Times and three or four pages of a hundred years ago of, say, the Tribune, and find out what the so-called Fog Index reveals.
INTERVIEWER
The Fog Index?
BUCKLEY
The Fog Index is the average number of syllables per word and the average number of words per sentence.
INTERVIEWER
In writing fiction, your vocabulary is nevertheless somewhat constrained by the fact that you are limited to the words that your characters would use?
BUCKLEY
Absolutely. Except that one of my characters is a Ph.D., and I remember on one occasion she used the word syllepsis. Christopher Lehmann-Haupt wrote, "Mr. Buckley's character doesn't even know how correctly to use the word syllepsis; she really meant . . ." Anyway, he gave me a wonderful opportunity, since a second printing was coming out right away, to go back and rewrite the dialogue to have her say, "Syllepsis—a word the correct meaning of which is not even acknowledged by the New York Times critics."
INTERVIEWER
To shift a bit, in a conversation with Louis Auchincloss, you asked why people take less satisfaction from novels than they used to.
BUCKLEY
Well, I mentioned television as the principal time-consumer, and it just plain is. It's been established statistically that the average American has the television set turned on between thirty-five and thirty-nine hours per week.
INTERVIEWER
If people derive fewer rewards from novels than they used to, does this reflect something about the novels themselves, rather than the competition for time?
BUCKLEY
Well, it certainly can. It can also suggest that the passive intelligence is less resourceful than it used to be. My favorite book at age nine was called The Magic of Oz. If you could correctly pronounce a string of consonants, you could turn yourself into a giraffe. I can't imagine a nine year old today being engrossed—being diverted, let alone being engrossed—by that because he would want to see it happening on the screen.
INTERVIEWER
He'd want to see dancing consonants.
BUCKLEY
That's right.
INTERVIEWER
People have traditionally turned to novels, at least some, for a way to get a grip on the world, a way to see the order in the chaos. Have we gone past that period? Is it that many novels are not so avidly consumed because they provide small delights, rather than provide epiphanies, or grand epiphanies?
BUCKLEY
I think reading the many contemporary novels you get some of that feeling of, Where in the hell have I been that it was worthwhile going to?
INTERVIEWER
People often think you are writing about yourself in the Blackford Oakes novels.
BUCKLEY
Of course, it becomes very easy if one takes the obvious profile. You begin with the fact that we were both born the same year and went to Yale at approximately the same time. Now, I made him a Yale graduate—I think it was the class of 1951—for sheer reasons of personal sloth. I was in the class of 1950, so I knew that I could coast on my knowledge of the scene without having to go and visit a fresh college and see how things happened there. Then, for the same reason, i.e., sloth, I made him an undercover agent of the CIA, so that I could give him the identical training I had received and know that it was absolutely legitimate. So that much was, if you like, autobiographical . . . if you can say it's autobiographical that two different people went to Yale and to the CIA, and spend time describing Yale and the CIA. But beyond that, people who want to sustain the parallel have a tough time. In the first place he's an engineer, a Protestant. He has a sweetheart whom he has yet to marry—I married when I was twenty-four years old. He's a pilot, which I was not. He signed up in the CIA as a profession, which I didn't. I knew I was only going to be temporary and I'd quit after nine months. He's not a writer. There's a little touch of James Bond in his experiences, which there never was in mine, which were very sedentary. To be sure, it is quite true that he's conservative. In fact, for the fun of it I have him read National Review and occasionally read stuff of mine and Whittaker Chambers and so on. And he's also pro-American. And we're both bright, sure.
INTERVIEWER
And you're both admirers of Bill Buckley.
BUCKLEY
Exactly! Though sometimes he kind of lags behind a little bit. Should I tell my favorite story about the reviewer in Kansas City? He reviewed Saving the Queen for The Kansas City Star, and he had obviously spent much of his adult life abominating everything I had ever done, said, or written. But he didn't quite dislike the novel, and this terribly disturbed him. He got over it with his final line. He said, "The protagonist of Saving the Queen is tall, handsome, endearing, engaging, compassionate, amusing—from which at least we have the satisfaction of knowing that the book was not autobiographical." Nice line.
INTERVIEWER
About Blackford Oakes again: there are some disagreements about your style. Just running barefoot through some of these critical notices, I see, "Oakes is as bloodless as well-done English roast beef,"—that's a reviewer in Florida—versus Anatole Broyard in The New York Times, "In every respect he is a welcome relief from the unromantic superiority and disengagement of a James Bond. Beneath this Cold War there beats a warm heart." Then we get from another reviewer: "Blackie has a distinctive personality"—and from another lines like: "A flat character and an annoying name-dropper." You attract lines like: "A Rambo with a Yale degree," and all sorts of things. This character of yours seems to be capable of stirring up a lot of confusing and conflicting opinions. Maybe that's biographical.
BUCKLEY
Well, yes, I have a feeling—I hate to say it—but I have a feeling this is mostly a confusion of things about me. I simply decline to believe that two or three of those things said about Blackford Oakes would have been said if the books had been written by Mary Gordon, say. They just wouldn't have said it, and they wouldn't have thought it. Now, whether they convinced themselves that this was so, or whether they feel the stereotypical compulsion to say it must be so because I wrote it, I don't know. I've never asked anybody. I'd like to think that Anatole Broyard is not easily seduced—at least not by me—and I like to think that Blackford Oakes is an interesting human being. True, in certain of the novels he plays a relatively minor and flat role. But never quite as minor as people have sometimes charged.
INTERVIEWER
You seem to attract reviews that don't have much to do with the book at hand.
BUCKLEY
My son Christopher thinks I suffer from overexposure, and I'm sure he's right. I'd like to think some of my books would have done better if they had been published under an assumed name, so that people wouldn't feel they had to do the Buckley bit before talking about the book. It's especially true in England, by the way, although I'm underexposed in England in the sense that I'm not all over the place. Some aspects of my situation as a novelist are probably unique. Gore Vidal is very public in his experiences, but he's episodic. He goes away for a year and a half—thank God—and then he writes his book and then he comes back and publicizes it. Norman Mailer, during his Village Voice period, and right after, was almost always in the news, not for something he had said or for a position he had taken, about which people ceased caring, but for something he had done. You know, urinated in the Pentagon, or married his seventh wife, or got drunk at his fiftieth birthday, that kind of thing. But I assault the public three times a week in the column and once a week on television, and every fortnight if they elect to read the National Review. So that's kind of a hard battering ram for people disposed to be impatient, either as critics or as consumers, with a novel written by me.
INTERVIEWER
That puts your critics to a particular test, that is, to detach themselves.
BUCKLEY
Anatole Broyard was very attentive and receptive, and so was Lehmann-Haupt. Between them they've reviewed almost everything I've written.
INTERVIEWER
Did you say once that when you decided to write a novel John Braine sent you a book on how to write one?
BUCKLEY
We were friends. John Braine was born again, politically. This was along around 1957 or 1958, when he ceased to be an angry young man and became an early deplorer of the excesses with which we became familiar in the 1960s and 1970s. So he used to write me regularly, and I had lunch with him once or twice in London; he was on my television program, along with Kingsley Amis. But then he . . . he was a little bit moody and he sort of stopped writing his letters. There wasn't any implicit act of hostility, I just had the feeling he wasn't writing his twenty-five people per week, that kind of thing. But when I sent him a letter saying that I was going to write a novel, he said, Well, I wrote a book on how to write a novel, and here it is. So I read it.
INTERVIEWER
Was it helpful?
BUCKLEY
I remember only one thing—which doesn't mean that I wasn't influenced by a hundred things in it—but he said that the reading public expects one coincidence and is cheated if it isn't given one, but scorns two.
INTERVIEWER
Have you written a lot about other authors?
BUCKLEY
Not a lot, some. A lot of authors have been on Firing Line.
INTERVIEWER
I remember Borges especially.
BUCKLEY
He was stupendous. He was living in Buenos Aires. I had lunched with him a few years earlier, in Boston, while he was visiting professor at Harvard. A friend—Herbert Kenny, then the literary editor of The Boston Globe—had brought us together. Borges was already blind. He did not mind it, he said, because now he could "live his dreams with less distraction."
Then we met in Buenos Aires, in 1977, during the military junta days. He seemed astonishingly frail, but he spoke without a pause. I remember thinking of Nabokov, who told me he couldn't come on Firing Line because he would need to memorize everything he would then say. I said, Come on, your extemporaneous talk is absolutely lapidary. He said no, he had never spoken in public in his entire life, including lectures to students, without first memorizing what he would say.
Anyway, Borges was like that. I didn't interrupt him. I remember beginning by asking whether he thought of himself as in the company of other blind poets, Homer and Milton. Here is what he says—I'll give it to you from my book On the Firing Line. He said, "Of course, when you are blind, time flows in a different way. It flows, let's say, on an easy slope. I have sometimes spent sleepless nights—night before last, for example—but I didn't really feel especially unhappy about it, because time was sliding down that—was flowing down."
I asked him how he refreshed himself, as a blind man. "I'm reading all the time. I'm having books reread to me. I do very little contemporary reading. But I'm only going back to certain writers, and among those writers I would like to mention an American writer. I would like to mention Emerson. I think of Emerson not only as a great prose writer—everybody knows that—but as a very fine intellectual poet, as the only intellectual poet who had any ideas. Emerson was brimming over with ideas." We talked about Emerson a bit and then I said, "Who else?" He mentioned Hawthorne but came in with a qualification right away. "What I dislike about Hawthorne is, he was always writing fables. In the case of Poe, well, you get tales; but there is no moral tagged on to them." He didn't linger but went to Melville. "But I think of Melville, one of the great writers of the world, no?"
I agreed. I asked him then—I'm looking at my book, since my memory, on its own, couldn't retrack this way, though Borges' certainly could—why he chose to be unfamiliar with new writers.
"I am afraid that I'd find the new writers more or less like myself." I'm glad I had the wit to comment, "You won't."
But what really got me was his handling of language. Listen: "I have no Greek, but I had Latin. Of course, my Latin is very rusty. But still, as I once wrote, to have forgotten Latin is already, in itself, a gift. To have known Latin and to have forgotten it is something that sticks to you somehow. I have done most of my reading in English. I read very little in Spanish. I was educated practically in my father's library, and that was compounded of English books. So that when I think of the bible, I think of the King James Bible. When I think of the Arabian Nights, I think of Lane's translation, or of Captain Burton's translation. When I think of Persian literature, I think in terms of Browne's Literary History of Persia, and of course of Fitzgerald's. And, frankly, I remember the first book I read on the history of South America was Prescott's The History of the Conquest of Peru."
We contrasted English and Spanish, and why he considered English a far finer language than Spanish—during which, I might add, he did a little cadenza in German, which he taught himself so he could read Schopenhauer in the original. Then I asked him if the fact that the Spanish language is less resourceful than the English language necessarily makes it less complete as poetry. He replied, "No. I think that when poetry is achieved, it can be achieved in any language. It's more that a fine Spanish verse that could hardly be translated to another language would turn to something else. But when beauty happens, well, there it is. No?
"What Whistler said—people were discussing art in Paris, about the influence of heredity, tradition, environment, and so on—was in his lazy way, 'Art happens.' 'Art happens,' he said. And I think that's true. I should say that beauty happens.
"Sometimes I think that beauty is not something rare. I think beauty is happening all the time. Art is happening all the time. At some conversation a man may say a very fine thing, not being aware of it. I am hearing fine sentences all the time from the man in the street, for example. From anybody."
I asked him if he considered himself a transcriber, to a certain extent. He said, "Yes, in a sense I do, and I think that I have written some fine lines, of course. Everybody has written some fine lines. That's not my privilege. If you're a writer you're bound to write something fine, at least now and then, off and on."
I brought up Longfellow. "Longfellow has some very beautiful lines. I'm very old-fashioned, but I like, 'This is the forest primeval. The murmuring pines and the hemlocks.' That's a very fine line. I don't know why people look down on Longfellow."
I asked him if in his experience it was possible to stimulate a love of literature. Was it possible to take twenty people and make them love literature more? He replied, "I'd been a professor of English and American literature during some twenty years, at the University of Buenos Aires. And I tried to teach my students not literature—that can't be taught—but the love of literature. If the course has to be done in four months, I can do very little. But still I know there are many young men in Buenos Aires—maybe they're not so young now—young men and young women, who have their memories full of English verse. And I have been studying Old English and Old Norse for the last twenty years. And I have also taught many people the love of Old English. I find something very stirring about Old English poetry."
I asked, "It has to stand on its own two feet, you mean?" Borges replied, "It has to. Or maybe because I like the sound of it. 'Maeg ic be my sylfum sothgied wrecan, / Sithas secgan'— now, those sounds have a ring to them. They mean, 'I can utter a true song about myself. I can tell of my travels.' That sounds like Walt Whitman, no? That was written in the ninth century in Northumberland. 'Maeg ic be me sylfum sothgied wrecan, / Sithas secgan'—and Ezra translated it as this (I think it's a rather uncouth translation): 'May I for my own self song's truth reckon, / Journey's jargon.' Well, that's too much of a jargon to me, no? Of course, he's translating the sounds. 'Maeg ic be me sylfum sothgied wrecan, / Sithas secgan—'May I for my sake song's truth reckon,'—'sothgied wrecan.' He's translating the sounds more than the sense. And then 'sithas secgan'—'tell of my travels'—he translates 'journey's jargon,' which is rather uncouth, at least to me."
I asked him—after all, he'd said Pound's was uncouth— how he would have translated it. He replied, "I would translate it literally. 'I can utter, I can say a true song about myself. I can tell my travels.' I think that should be enough."
INTERVIEWER
You obviously enjoyed him.
BUCKLEY
I wrote in my book that his was the outstanding show. But I'd better stop here, though he went on, in his magic way.
INTERVIEWER
Is there anyone or anything you would never write about?
BUCKLEY
I wouldn't write anything that I was simply not at home with. I wouldn't write a western novel, for instance. I'm not sure I'd want to write Advise and Consent—the inside-the-Senate type of novel.
INTERVIEWER
Why don't you think about writing a novel like Tom Wolfe's—the novel of manners, of certain strata of society, of the mixture of social and political and business life. You have the keen observer's eye, and maybe not quite the same rapier instinct that Tom has for the false note, and . . .
BUCKLEY
And certainly not his descriptive powers, nor his talent for caricature. Because those are indispensable weapons. For the first few chapters of Bonfire of the Vanities, I underlined just his descriptions of people's clothes, and in a million years I couldn't achieve that.
INTERVIEWER
It's true, there are no caricatures in your novels that I can think of, tempting as it must have been to do so with some of the darker figures.
BUCKLEY
Well, some people thought the queen was. I didn't think so. I thought she was a somewhat Dickensian, original creation. I'm really quite serious. The fact that she's terribly sharp-tongued and terribly sarcastic, terribly aware of the fact that she's nominally sovereign and actually powerless, I think adds to the credibility of her character. I would love to see her on the stage. As done by Bette Davis.
INTERVIEWER
It's amusing to think back on how difficult it was for your agents to find publication in England for Saving the Queen because of your sacrilege in having Blackford Oakes bed down with her, even though a fictional queen.
BUCKLEY
And I have no doubt that not only killed that book in England, but probably inhibited its successors also.
INTERVIEWER
Have the novels been any kind of turning point? What have they meant to you? I have a feeling you took on the first one as a challenge—you wanted to test yourself against the form and have some fun, which you certainly did—and then?
BUCKLEY
I did find that there were reserves of creative energy that I was simply unaware of. Obviously, as a nonfiction analyst, one has to think resourcefully, but if, let's say in the novel I'm depicting a Soviet prison train going from Moscow to Siberia. I've got to create something that can hold the reader's attention during that journey. The answer became: you can do that. And it's kind of nice to figure out that you can do that . . . create a story that carries you from there.