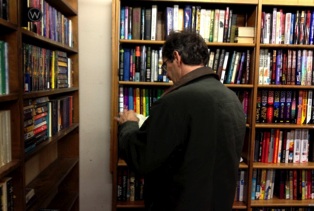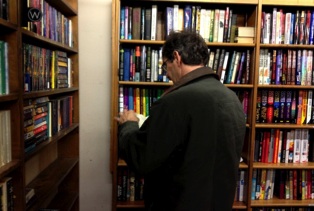 We're out this week, but we're re-posting some of our favorite pieces from 2012 while we're away. We hope you enjoy—and have a happy New Year!
I was dragging my five-year-old daughter through the musty stacks of my favorite used bookstore last spring when a middle-aged man, squatting in the Sci-Fi section next to a brimming cardboard box, caught my eye and reminded me of someone.
"Excuse me," I asked, "are you a writer?"
"I am," he said, standing up and straightening his glasses. His eyes were deep set and hard to read. He was bashful.
"Are you Michael Dirda?" I asked.
"I am."
It was him: the book critic and author, winner of the Pulitzer Prize, known apocryphally as the best-read man in America, whose essays had enticed me to read everything from Little, Big to Three Men in a Boat—and here he was, squinting his way through the lowest shelves in the same crusty bargain dungeon I came to all the time.
"Amazing. Nina, this is the man who wrote that little letter that we have in your George and Martha," I told my daughter. Nina was nonplussed.
"When I was eight, in 1992," I explained, "I wrote a letter to the Washington Post when James Marshall died and you printed it in the Book World section and even wrote a sweet little response. And her grandpa put a photocopy of that letter in The Complete George and Martha for her."