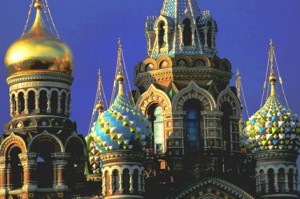 I was in Saint Petersburg, at a restaurant owned by a friend. It was in a strange building, a kind of old mansion. He took me back through several empty ballrooms—you could feel the springs beneath the wooden floors, installed many years ago, for dancing. We sat together in a small room. It had only two tables, and its windows were hung with heavy curtains. It was one of those private dining rooms that you read about in Russian novels, and my friend began to bring me different dishes. I recognized only the blini with black and red caviar; everything else was new to me. At this time, thirteen years ago, I was a wine drinker, but they did not have wine worth drinking in Saint Petersburg then, and he was pouring me glasses of vodka. Then several government officials arrived, important men, and he left me alone.
I noticed my waitress was beautiful. She was taller than me, with high aristocratic cheekbones, pale skin, lips full of blood, big firm tits. Very much the woman you want, if you want a Russian beauty. The type that has since made exported Russian prostitutes famous throughout Europe, the Middle East, and (lately) even large cities in the U.S.
I was determined to have sex with a Russian whom I did not have to pay.