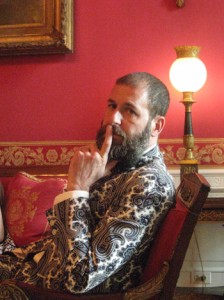 Kenneth Goldsmith's writing has been called "some of the most exhaustive and beautiful collage work yet produced in poetry." Goldsmith is the author of eleven books of poetry, founding editor of the online archive UbuWeb, and the editor of I'll Be Your Mirror: The Selected Andy Warhol Interviews, which was the basis for an opera, Trans-Warhol, that premiered in Geneva in 2007. An hour-long documentary on his work, Sucking on Words, was first shown at the British Library that same year. In 2011, he was invited to read at President Obama's "A Celebration of American Poetry" at the White House, where he also held a poetry workshop with First Lady Michelle Obama. Earlier this year, he began his tenure as the first-ever Poet Laureate of the Museum of Modern Art in New York.
I recently sat down with Goldsmith to discuss his new book, Seven American Deaths and Disasters.
Since your practice emphasizes the value of the selection process over the creation process, how do you choose what to include and exclude from Seven American Deaths and Disasters?
I began with the assassination of JFK, which is arguably the beginning of media spectacle, as defined and framed by Warhol. His portrait of Jackie mourning iconizes that moment forever. Although he made Marilyn'ss, he never memorialized her death, thus it never entered into the realm of media spectacle in the same way. From JFK, I naturally proceeded to RFK, an eyewitness account of his shooting at the Ambassador Hotel in Los Angeles. It's an incredible linguistic document—you really feel the newsman's struggle to find words to describe what is unfolding before his eyes. John Lennon is taken from a cassette tape made by someone scanning the radio the night of and days following his assassination, which feels like an audio document from a lost time. Space Shuttle Challenger is from a TV broadcast of the event and its long, weird, silent aftermath. Columbine is straight transcript of a harrowing 911 call. The World Trade Center, the longest piece in the book, is from several sources—talk radio, news radio, color commentary—stitched together into a multichapter epic, thus mirroring the gargantuan scale of the event. And Michael Jackson is from a catty FM station, where the shock jocks have no problem cracking jokes and making racist comments at his expense. Read More