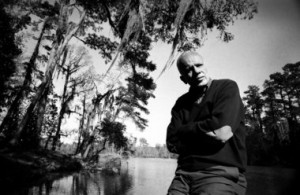 As Sandy lashed my bay windows last week, I, like much of the northeast, spent my days mostly staring outside. Trees nodded and bowed in their ancient submission. Debris sped past. On the radio, the mayor said to stay inside. The outdoors became outer space. My world shrunk to the boxy confines of my living room.
Across my region, houses washed into the ocean, a subway system filled with water. Lives and livelihoods shattered. The hope of coastal urbanization flickered. Thousands of people were thrust into hardships heartbreaking and humbling.
It is with some shame and reluctance, then, that I admit to the ease of my own experience. I read by candlelight. Keeping me company during those days was Walker Percy. I had picked his second book—The Last Gentleman—off my shelf after I recalled its strange depiction of hurricanes as philosophically rich events that visit mass existential relief upon entire populations crushed under modern malaise. For Percy, the transformative power of a hurricane lies not just in the immediate excitement, the break in routine it brings, but more so in a storm's capacity to limit the range of human choice, its ability to deliver a whole city from the chaotic realm of the Possible back the unquestioning mode of the Necessary.
Perhaps I was feeling some of this myself. For the first time in years, I could remain utterly idle in good faith. No pangs of guilt for my laziness, no urgencies of becoming—nothing. It seemed that gusty Sandy had summoned some powerful force from my early youth, a lightheartedness that sent me into a blissful stupor that lasted through the storm.
Which is not to say that everyone in Sandy was lucky enough to be forced into reflection. Many were forced from their homes. There was nothing theoretical about Sandy's destruction. And Percy was, essentially, a philosopher. Read More