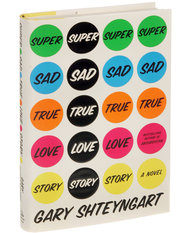 Gary Shteyngart's latest novel, Super Sad True Love Story, signals his move out of Soviet territory and into a near-future New York City, where books have no place in a hyper-technological society. Yet, in our conversation a few weeks ago, many of Shteyngart's expressions (such as "the intertube") reveal an innocence he has maintained in our own heavily digitized world. He reflects that now, after having lived with this book for three years, he needs to "retreat to the countryside and live in a pristine environment where the iTelephone doesn't work."
Super Sad True Love Story switches between letters, diary entries, and dialogues. Why did you choose these formats?
Well, you know, it's sort of hard to read an entire book cover to cover these days. Most people just don't come with the same equipment that we used to have. When they look at a book they think, "Oh my God, it's so many pages! What am I going to do? How will I ever get through this?" So, you'll notice the cover of this book is very flashy—it's almost like you want to press parts of it, hoping that something will pop up. So, the insides of the book—the "text" you would call it—have the same kind of approach to it. Everything is mixed up, and different stuff comes at you at different speeds. Just as the reader is about to fall asleep with one kind of format, all of the sudden it changes.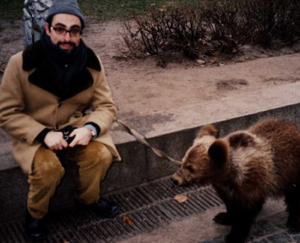 Your new book also features some bizarre clothing trends, especially those Onionskin jeans. What's your assessment of fashion today?
Well, first of all, a couple years ago the pubic bone started making an appearance. I've never seen so many pubic bones! I mean, it's shocking. I know them so well now. Forget the asscrack–that's been around for a while.
After placing two novels in the Soviet Union, why did you move away from that setting for your third novel?
Boy, it's getting tiring! You know? When I was growing up in the Soviet Union, it collapsed. I wrote about that collapse in two books already, but I have an uncanny feeling we're not doing very well here, too. I think I have a sixth sense when it comes to failing empires. That's sort of my specialty. If I were around during the Roman Empire I'd be writing a book a week. I'd be so happy! I love things on the decline because that's really the natural progression of our lives. We're born, we're feisty for the first couple of years, and then the inevitable decline begins. That's what appeals to me—the long slide into oblivion. Read More