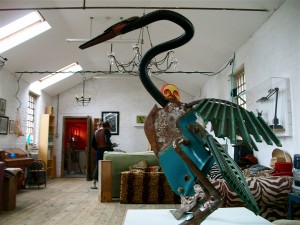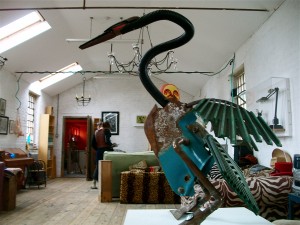 Children are posing near Damien Hirst's large intestine. A young couple is engaged in a shoulder rub, the recipient with a bracing hand on what may be the sigmoid colon. Upstairs, caterers put flowers on round tables, and cameramen survey Tate-goers ignoring For the Love of God encased below in a black box. In the gift shop, The Incomplete Truth anamorphic cup and saucer is on sale for £2.50.
Between the Tate and Emily Mayer's Norfolk studio is a gap of British countryside that from a train car feels like an hour-and-a-half stretch of live cows. I sit down and immediately hear that Emily hates instant coffee and loves rats. The Norfolk Wildlife Trust celebrates the area's presence of weasels and more unusual species, but Emily prefers dogs to Chinese water deer. She has several dogs, some animate, some either frozen or cast in resin.
"The electricity board are coming at 8 A.M. tomorrow to cut trees," she had written in an e-mail the night before, "and our power will be off all day. I do have a generator in our woodland cabin, so maybe I could drag that in." It turns out that the water is out with the power, and the phones don't work. We still manage to have coffee.