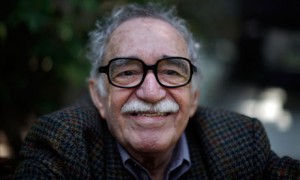 In our Summer 2003 issue, The Paris Review published Silvana Paternostro's oral biography of Gabriel García Márquez, which she has recently expanded into a book. In celebration of García Márquez's life, we're delighted to present the piece online for the first time—read the complete text here.
At the end of 2000, I spent three months traveling around Latin America—Barranquilla, Cartagena, Bogotá, Mexico City— to interview friends and relatives for an oral biography of Gabriel García Márquez. Autobiography is central to García Márquez's fiction, and I was curious how the people (many of whom make appearances in his work) who knew Gabo as a young man would remember him.
People were generous with their memories—everyone, it seemed, had encountered the Nobel Laureate—and I spent afternoons listening to stories. In Barranquilla, I talked with García Márquez's neighbors from Aracataca (the model for Macondo, the town in One Hundred Years of Solitude), where he was born and lived with his grandparents for several years; and with his friends from Sucre (the place where the murder in Chronicle of a Death Foretold took place), where he moved when he was thirteen to live with his parents.
Rafael Ulloa, a distant relative of García Márquez, showed up unexpectedly one afternoon, with a folder full of clipped newspaper stories under his arm, and insisted on giving me his only copy of the special supplement that El Heraldo (the newspaper where García Márquez worked in Barranquilla, writing a column that paid so poorly the only place he could afford to rent was a room in a brothel) had published when Garda Marquez received the Nobel Prize in 1982.
Another afternoon, Juancho Jinete brought along Enrique Scopell, and over the next two hours, and two bottles of scotch, they revived the rowdy group of young writers, artists, and journalists who befriended García Márquez when he arrived in Barranquilla in 1950: Alejandro Obregón; Álvaro Cepeda; Germán Vargas; Alfonso Fuenmayor; and Alfonso's father, José Félix. García Márquez used to show them early drafts of One Hundred Years at Japi, a bar where, as one of them told me, Faulkner, had he lived in Barranquilla, would have gone drinking. García Márquez has said they were the first and last friends he's had. A writer's solitude should always have this kind of company. Read More