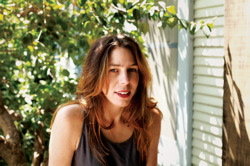 I filled up half a notebook preparing for my interview with Rachel Kushner, whose second novel, The Flamethrowers, arrives this week. [It was excerpted and served as the inspiration for the portfolio in our last issue.] The notes are wide-ranging and imprecise, a record of the experience of reading this intellectually voracious book and trying to keep up with it. There are descriptions of American land art, scraps of World War I history, digressions on Italian counterculture in the late seventies. There are facts about those same years in New York, sometimes appreciating a particularly lovely observation, sometimes just noting what has changed ("on the Manhattan side, the Williamsburg Bridge had steps"). There are names, so many names: Aldo Moro, Virginia Tusi, Grifi and Sarchielli, Robert Smithson, and a hundred more. There are isolated flashes of pop-culture ephemera, like an otherwise blank page with "Jane Fonda wins an Oscar" written in the middle. That these elements, incoherent in my notebook, not only connect in Flamethrowers but create a dense and beautiful and polyphonic Bolaño-esque harmony meant that Ms. Kushner, by the time our interview rolled around, had started to seem somewhat miraculous.
Perhaps appropriately for an author concerned with the self-conscious production of ideas and images, Ms. Kushner spoke to me on Skype from LA, where she lives, as she put it, "incognito." Her disguise on this particular day consisted of a black sweater and a few auburn highlights in her brown hair. When she answers questions, she has a habit of looking down past the camera, and her elaborate, delicate responses—complete with qualifications and footnotes—make it seem that she must be consulting a notebook propped open in the corner of the room. She isn't.
The Flamethrowers spans a hundred years and follows multiple sets of characters across two countries, but I think it can be separated into three strands. Reno moves from Nevada to New York in the late seventies to be an artist, Italy is upended during the Years of Lead, Italian motorcyclists form a gang in World War I. Did you start out looking for a large and polyphonic book?
I like the way you divide up the three strands.
Is that not how you would divide them?
Well, at first there were two spheres—New York in the seventies and Italy in the seventies. And I knew they may have had some kind of en-tissuing or overlap, but I didn't know what it was, and I didn't want to reduce it by linking them in forced or artificial ways. The only viable manner of figuring out how they were connected—and weren't—was to write the novel. Read More