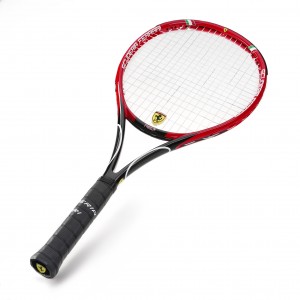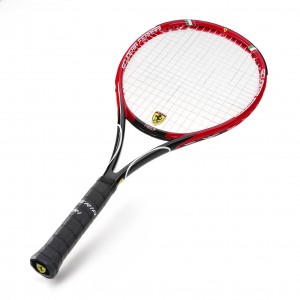 It came in a box. A big box, with two or three others. Sam had finally cleaned house.
It's not every day you get a box of tennis racquets in the mail. I ripped it open and immediately shook hands with each one.
"Now guys, shake hands with the racquet." If I'd said that once I'd said it, I don't know, maybe twenty-five times. Once for each tennis clinic I'd taught for little kids over high school summers. Kids who'd devised a game called Hit the Ball at the Teacher, which they'd passed on to their younger brothers and sisters, the little buggers.
There was a Yonex in the box that felt cold and distant—the shake of a bureaucrat. There was another I've since given away that felt insubstantial—the absent shake of someone scanning the room for more important hands. And then there was the Prince. I swear to you, the Prince's handle still felt warm.
The grip was slightly sticky—as a good grip should be—and worn where my right index finger curled up the beveled edge of the shaft. It filled my palm easily and comfortably: the racquet's way of looking me straight in the eye as our hands met. This was Emma's racquet.
The frame was a little slick for my tastes. Shiny black, with an aqua-blue and pink blaze up both sides of the head that looked like rain blotches on a Doppler weather map. And it was called ThunderStick. There was a lightning bolt through the diagonal slash of the n "Thunder."
"Lord, did Emma know that?" I wondered. Not her style. And there was another message from the manufacturer along the inside rim: "Sweet Spot Suspension." If that were true, I figured it was okay that it looked a little cheesy and was called ThunderStick.
I fingered the strings and saw they were worn, with little bits of neon-yellow fuzz stuck at the junctions where the vertical and horizontal rows overlapped. Evidence that this racquet was not new. Evidence that Emma had hit with it.