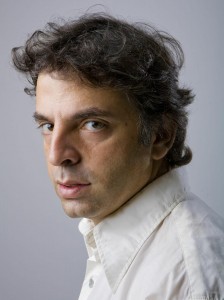 In 2006, the great book-blurber and novelist Gary Shteyngart called Etgar Keret's The Nimrod Flipout "the best work of literature to come out of Israel in the last five thousand years—better than Leviticus and nearly as funny." Keret may indeed be the most loved and widely read Israeli writer working today. He is known for his very short short stories, which are often described as "surreal" and "absurd." It's certainly the case that they do not adhere to the laws of the physical universe.
In his most recent collection, Suddenly, a Knock at the Door (published this month by Farrar, Straus and Giroux), a talking fish grants wishes; a woman unzips her boyfriend to reveal the German gentile inside; a middle-aged man is kidnapped and taken to his childhood. But at the heart of Keret's writing is a deep compassion. His characters may be enmeshed in paradoxes unique to Israel—with its fraught borders, fragmented populations, and newly ancient language—but it's always their humanity that shines through.
Keret is also a filmmaker. With his wife, Shira Geffen, he directed Jellyfish (2009), which won the Camera d'Or at Cannes, and has had his work adapted to film, including Wristcutters: A Love Story (2006). Over the course of two weeks, during which his father passed away from cancer (he has written about his father for Tablet), Keret generously corresponded over e-mail for this interview.