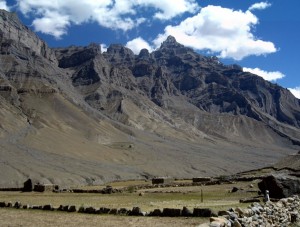 The Pin Valley is near the Tibetan border. In fact it was a part of Tibet. It was given to India in the fifties, to protect it. In winter it is snowbound. In summer, at three miles elevation—above the tree line—it is a stone bowl of dust.
Two years ago, I was following a seventeen-year-old around the world, trying to get permission to write about him. I followed him from Kathmandu to India, and that was when I heard of the Pin Valley for the first time. Westerners living in India were going up for the last ten days of a month-long program for the monks in Pin Valley. There were no guest houses there. People who wanted to attend the program would stay in Kaza, the nearest town. They would ride in and out by car daily, an hour and a half each way.
This year, 2012, was different. An enterprising Westerner had partnered with a Tibetan tour operator—a trekker by trade—to build a camp a kilometer and a half from the monastery, on a piece of unused farmland with a well.