In our spring issue—out now—Joshua Cohen's short story, "Emission," tells of the comic misfortune of a drug dealer turned felon whose lewd past is exposed, against his will, on the Internet.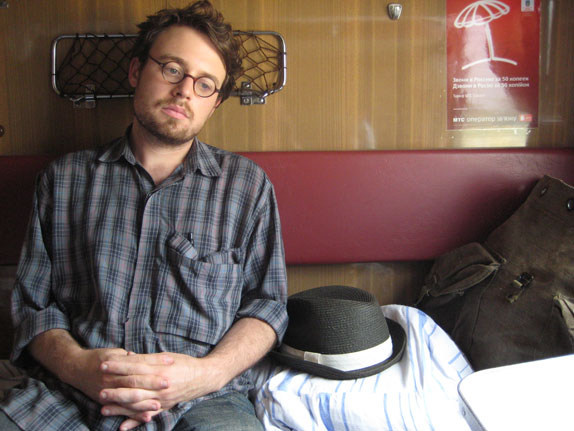 Okay, so: mostly what I loved about this story was a meta-thing, which was that it was not true.
"Meta-thing"—that sounds like a nefarious robot, or a late-night omelet. Anyway, I'm with you; it's not true, it's fiction.
But I am still too traumatized from the daily onslaught of interactions with Internet people and their tsunami of experiences and opinions and consumer preferences to know how to fashion prose from anything other than what I know or feel at any given time actually happened and/or was true. Which is to say, I know for a fact this story, "Emission," about a twenty-something exposed on the Internet as a sexual deviant, is based, partly, on "real-life events," because you admitted in an earlier e-mail to being inspired by a terrible night we spent with that dreadfully boring coke dealer someone inadvertently brought home one night after an n+1 party, a Tunisian I've been condemned to wonder about repeatedly, unimaginatively, since Tunisia spread the Facebook meme of democracy across Arabia.
And yet, what I see as a composite sketch of an unremarkable, ruined evening becomes a vivid fable almost by magic once the characters have been outfitted with better names. There is Richard Monomian-cum-Dick-cum Mono—conjuring up onanistic activities (su mano); dread diseases contracted through insanitary contact with adolescents; the lone son too simpleminded for his father's polynomials, his solitary life and single Google hit, et cetera, et cetera. And Emmanuelle and the unsavory fumes of her Emission blog, collateral damage of the benevolent reign of the omniscient God that is the Internet; fearless, prolific Emmanuelle who is crucified merely for delivering truth. May she rise again in the sequel?
There won't be a sequel, I don't think (unless you decide to write one and post it online without approval). But as for "inspired by": yes, Methyl, the dealer in "Emission" is half based on that "Tunisian" (read: New Jerseyan) coke dealer we brought home that night, who so mercilessly hit on you and, I believe, stayed for breakfast. My man's other half is another dealer who calls himself, seriously, Blo J. When I used that name in the story, Lorin suggested, "Change it. No dealer's called that." Good edit, bad sense of reality. Let that be the slogan for the "new" Paris Review.