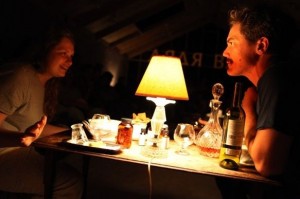 But how I got to thinking about my drunken love affair, years ago in Saint Petersburg, is Sam Gold's new production of Chekhov's Uncle Vanya, playing now at the Soho Rep.
It's ninety-nine-cent Sunday, and the line of sweaty New Yorkers edging for shade outside the eighty-seat theater is long. They are bored and tired. It's a muggy ninety degrees. "We're never going to get in," I hear one complain to another; later, outside the bathroom, where they sell vodka shots for three dollars a piece, I hear an excited woman say to her date: "I can't believe we made it!" Most of the people who stood or sat in line (many since two P.M.) did not see the show. My own guests, who had driven in from the Bronx for the production, were turned away.
"I'm the reviewer," I tried to convince the guy at the door.
"Man, we don't get lines like this, even for the Sunday show. I'll have a revolt. It wouldn't be fair."
My friends went to see a movie, and my date and I went to our corner seats, right by the couch where the Professor would later be shot (and not).