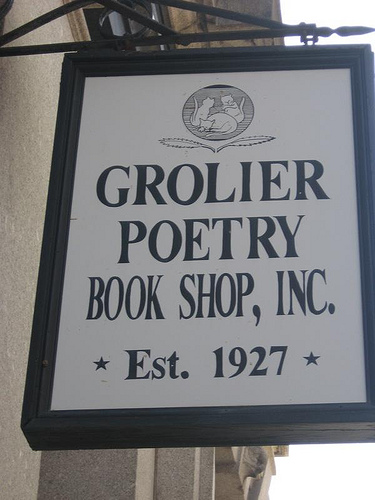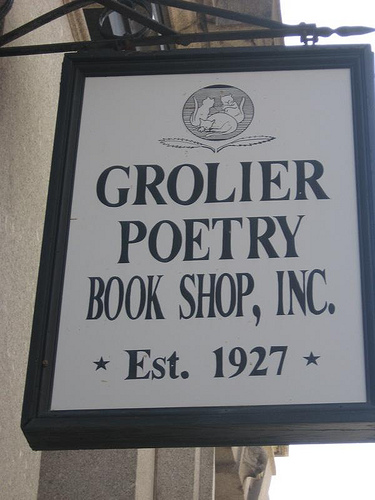 The Grolier Poetry Book Shop in Cambridge, Massachusetts, is both a misnomer and an anomaly. It has long dedicated itself to the task of promoting the reading and writing of poetry and has, for eighty-five years, served as a niche for poets the world over. While its reputation has bloomed over the years, thanks largely to word-of-mouth praise, it has never fared well financially, partly due to competition from larger stores and the Internet, partly because poetry has never been popular with the masses, and partly because its founder seems to have done everything in his power to ensure that his store not be turned into a business.
Located on Plympton Street in Harvard Square, the Grolier occupies just 404 square feet of space and is dwarfed by the neighboring Harvard Book Store. A white square sign with meticulous black lettering juts out near the top of the store entrance. The font size decreases from top to bottom, much like on an eye exam chart, and one can just make out, at the very top, a finely done illustration of three cats (or is it the same cat?) dozing, grooming, and turning their backs on the viewer.
Upon ascending a small flight of steps, one is greeted by the sight of an abundance of colorful spines—approximately fifteen thousand—neatly arranged against nearly every flat surface of the shop. These volumes are neatly balkanized into several categories, including anthologies, used, African-American, early English, Irish, Russian, Chinese, Iranian, Indian, Latin, classical Greek, Japanese, Korean, East European, Spanish, and Catalan.
Above the towering shelves are approximately seventy black and white photos (many courtesy of the photographer Elsa Dorfman) of poets and other members of the literati for whom the Grolier has served as a meeting place for well over half a century. Among the Grolier's most illustrious visitors, most of whom are smiling or gazing sagely and serenely ahead in the photos, are T. S. Eliot, Robert Lowell, Elizabeth Bishop, e. e. cummings, Marianne Moore, James Tate, Donald Hall, and Helen Vendler.
Off to one side at the front of the store sits a lean shelf of chapbooks and a donation jar; a small note says that the chapbooks have been generously donated by the author and that monetary contributions to the shop would be greatly appreciated. Directly across this bookcase is the cash register, propped up on a desk and flanked by sundry items, including bookmarks, promotional literature, pamphlets, business cards, and commemorative pens. On the wall right adjacent to the register hangs a certificate from Boston Magazine honoring the Grolier as the best poetry store of 1994. Read More