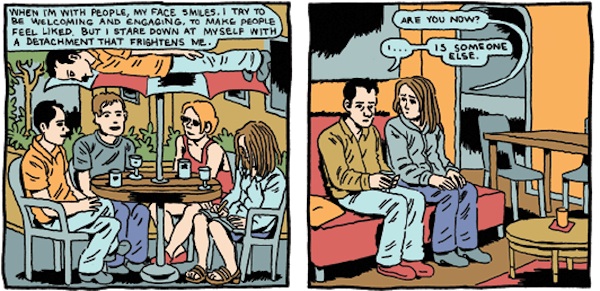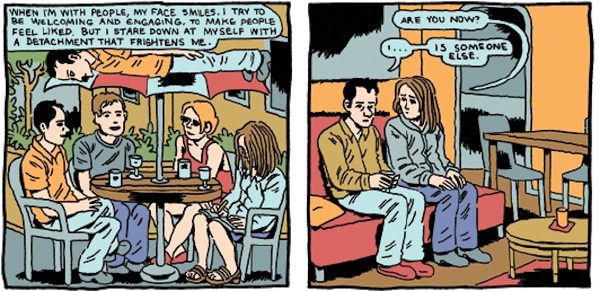 Whether delving into memorable personal stories or exemplifying a sort of nimble surrealism, Gabrielle Bell's comics are harder to classify than one might think. Reading her work chronologically, one can find her range expanding from sharp day-to-day observations to forays into the surreal and magic realist. The title story of the collection Cecil and Jordan in New York follows a young woman who moves to the city and searches for an apartment and a purpose. It's fairly kitchen sink in its realism, right up until the point where the protagonist matter-of-factly decides to become a chair. It's a dose of deadpan absurdism that opens up the storytelling possibilities, and keeps the reader on their toes.
The Voyeurs is Bell's latest book, covering several years in her life, and taking her from promoting a film in Tokyo to finding a space for yoga in her Brooklyn apartment to San Diego for Comic-Con. Its introduction comes courtesy of Aaron Cometbus, whose long-running zine suggests certain parallels to Bell's deftly autobiographical work. We met at a bar near Bell's apartment in Greenpoint, Brooklyn—a neighborhood that has provided the setting for much of her work.
Lucky begins as a kind of slice-of-life documentation of your life. By the end of the first volume, though, it's become less overtly realistic and more expressionistic. When did you make that leap?
It was towards the end of writing Lucky, when I got to the point about Francophilia, when I talked about talking with Gerard Depardieu. That must have been the first time that I did that. Or maybe it was when I had this fantasy about being an art assistant, and the artist taking all my ideas. Read More