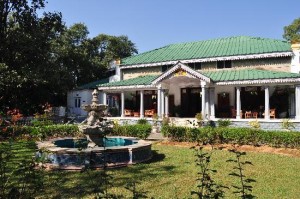 "I think this hotel is haunted," I told my traveling companion, Clancy.
I have never said anything quite like that before. Now, I have unconventional beliefs. I believe when others tell me they have seen a ghost, particularly if they have details—say, a long nose and a tuxedo, or a suggestion from an old lady that we "touch now, dearie." But it still sounds like crazy talk. I am aware of that.
"You're right," he said.
"Really?"
Then we were both afraid to turn out the light. We were in the Rajmata Suite, where the woman who lived in the hotel used to sleep, back when it was a home. Actually, the correct word is palace. When you turned out the light it was pitch black in the room. In that darkness, I felt—briefly—a unique dread. It was not a menace. Just a funny intimation. To put it into words is to coarsen what was fine: an intimation that one day I would die.