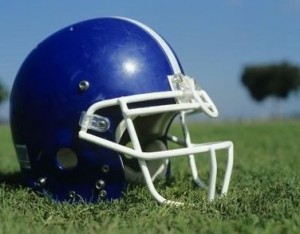 Late in the third quarter of a blowout loss at North Torrance High School my junior year I woke up in a blurry huddle. Grids of stadium lighting were smeared on the South Bay night sky as if they'd been moved before they dried. My teammates stood around me in their away whites, the sateen jerseys looking smudged and shabby in the dark. I shouldn't have been surprised if a star suddenly dilated just to wink at me, such was my loopy state of mind—and my self-regard as a high school quarterback.
A timeout had been called, apparently. There was no apparent rush to get back to the line of scrimmage, run another play. And our coach was in the huddle with us. Oh, thank god, I thought, Coach is playing. I'd never seen him in uniform before, but didn't think to question it—we needed all the help we could get. Though, standing next to the star receiver with whom he'd traded outfits, he did look a lot taller than normal.
Reassuring counsel was given by someone, maybe me, as we gathered ourselves to go back on.
We settled on a simple play: everyone run as far as you can as fast as you can, and I'll throw the ball to one of you, ready, break. I stepped under center in a kind of euphoria, took the snap, dropped back and threw our coach—or, rather, the receiver onto whom I'd transposed Coach's face—a forty-two-yard touchdown, and walked off the field, vindicated and giggling.
A blink and it was two hours later. Read More