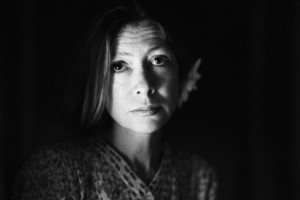 Each Sunday, we would walk down Lexington together, the conversation taking the tempo of our steps: slow, meditative, purposeful. She'd always be in immediate need of a coffee, so we would head for our café. The one on Seventy-something, a fifteen-minute walk from her place. We would never spend too much time in her apartment beforehand. I would go up to get her, maybe sit in her kitchen for five minutes while she got her things together, keys jangling, and we'd leave. I would try to take in the walls of books, visually inhaling the pillows collected over years and continents, and those curtains—thick buttery beige, like icing. Framed photographs from the seventies—the nuclear family—lining the bookcases, soaked in that sunny filter of the era, then sun-soaked again by the morning light.
At the café, we'd speak of her writing, about what she was working on, what movies we'd each recently seen and if they were any good. If we'd spotted any celebrities downtown, we would share what they'd been wearing and she would tell me her dreams. We would sometimes order two scoops of vanilla ice cream to share, and she'd urge me to finish the last bite. If conversation lagged, I might tell her I felt a West Coast phase coming on.
She would read my writing and tell me what was good and what wasn't (she'd never say anything like she "saw great potential" in me—nothing like that, nothing that might threaten eyes to roll). She'd advise me as a professional equal and as a child, which is exactly how I would feel sitting across from her, two times her size and one-third her age, her books overstuffing my backpack.
"You don't think in terms of suddenly making it," she would tell me, remembering when Play It as It Lays first came out. "You think you have some stable talent that will show no matter what you're writing, and if it doesn't seem to be getting across to the audience once, you can't imagine that moment when it suddenly will." I would nod. "Gradually," she'd add, "gradually you gain that confidence."
She wouldn't always be nice to me. She might be in a foul mood and take it out on me a bit, but then she would always be fair. That's how I'd know she was taking me seriously. I would be aware then, I wouldn't have to wait until I was older to recognize, that this acknowledgment, this leveling, was more valuable than anything else.
Her secrets would be my secrets, and mine hers—in so much as people share their secrets. Keepers of private notebooks are a different breed altogether, she'd say knowingly, eyeing the stacks of journals overflowing my lap, lonely and resistant rearrangers of things, anxious malcontents, children afflicted apparently at birth with some presentiment of loss. I would shrug and scribble a note or two.
I'd learn her way of being, how she took up space. How she liked her eggs, where she'd sniff after words and what that meant, which was her favorite linen dress. And I'd learn to sketch maps of her intellectual processes. I suppose she would learn mine as well. She had many friends, of course, so it wouldn't be like I was giving her something to do. She would meet with me for some other reason, one that would never be entirely clear to me. Years later, I would still wonder.