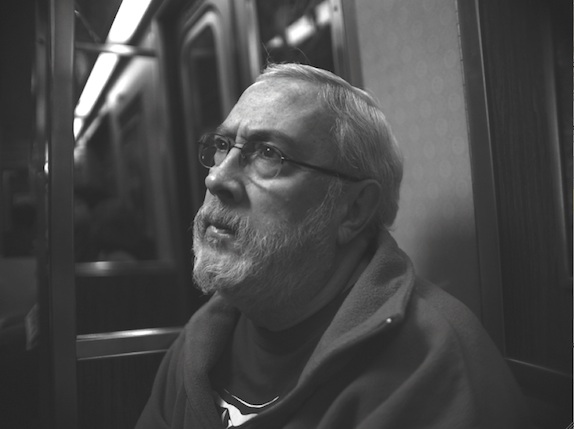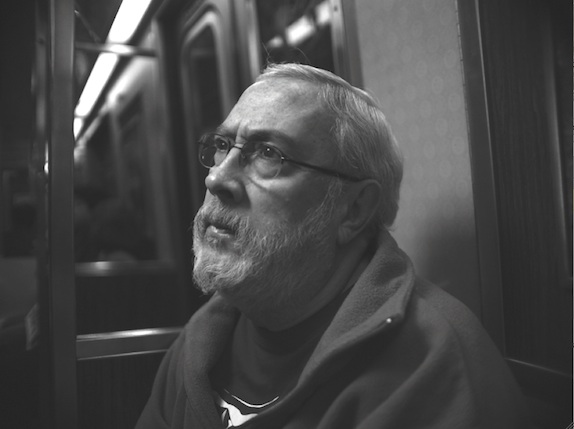 In 2009, artist Josh Melnick used a scientific research camera to film portraits of New York City subway riders in slow motion—very slow motion, about a hundred times slower than normal film speed. The result was a moment viewed as if through a high-powered microscope, revealing a degree of temporal detail inaccessible to the naked eye.
Around that time, Melnick sat down in a hotel lobby in Manhattan for a conversation with Academy Award–winning film editor and sound designer Walter Murch (whose films include The Conversation, Apocalypse Now, The Godfather, THX 1338, and The English Patient, to name a few). Murch is an amateur astronomer, a prolific translator, author of the seminal book on film editing, In the Blink of an Eye, and subject of The Conversations by Michael Ondaatje.
Their conversation, excerpted here, appears in full in Melnick's book, The 8 Train, forthcoming this spring.
You take the subway from the airport?
Yes. It's great because it's an elevated train. You have that early-twentieth-century experience of looking into people's third-floor windows. You can see people's attempts or nonattempts to screen off their lives from the view of disinterested observers. I was watching this, and then I began watching the other people on the train watching this, and then, because of my interest in blinking, I started wondering what their blink rates were.
You've written about blinking.
In high school, I read that every fifteen seconds or so, some kind of windshield wiper needs to clean they eye off, which is the blink. Yet, if that were true—if that was the only thing going on—you'd come into a certain environment like this, and some thermostat would kick in and say, Okay, blink once every 7.2 seconds. But that isn't what happens. People blink at irregular times.
Like most people, I was oblivious to blinking until The Conversation, which was the first feature that I edited. I had the repeated, uncanny experience of watching Gene Hackman's close-ups and deciding where to cut—He put the tape down, and now he's thinking about what he's going to do with the tape and … cut. Very frequently, more frequently than I would have thought, the point that I decided to cut was the point that Hackman blinked. I thought, That's peculiar. Then, after one session that lasted all night, I went out to get some breakfast. It was a Sunday morning, and I passed a Christian Science reading room in San Francisco, down in the SoMA district. They had a copy of the Christian Science Monitor. John Huston had just finished Fat City, and there was an interview with him about the film. The topic of editing came up, and he said to the interviewer, "Look at me. Now look at that lamp. Now look at me. Did you see what you did?" "No." "Well, you blinked. When you changed subject, you blinked. That's what the cut is." And I suddenly thought, Aha! He was doing it along with a change of visual frame, but I realized we also blink with a change in our interior view. Read More