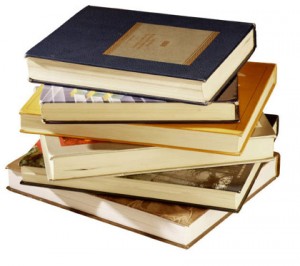 Around Valentine's Day, my gut finally confirmed what my head had long known: I would in fact be graduating from college in just three months, which meant that something would have to be done about the books.
This was in Philadelphia, in a large room on the second floor of a three-story house on Baltimore Avenue. Not wanting the hassle of selling a sofa or armchair at year's end, I had furnished the room with little other than a bed, a salvaged nightstand, and a too-small desk borrowed from a friend's girlfriend's roommate. If it weren't for the books (and the Robert Kennedy campaign poster that passed for decoration), a visitor to my room might surmise that its occupant tended toward a mildly disturbed kind of solitude. But there were books, lots of them. Books lined the mantel of the bricked-up fireplace. Books were stacked at the foot of the bed; they were strewn on the floor around the desk like a blast radius. Piles of books that frequently collapsed into small landslides annexed the nightstand. A stray book or two often lay on the floor in the middle of the room, the aftermath of hasty between-class transitions. For the first time in my life, I felt I had too many books.
You have to understand that like many bibliophiles, this was a Rubicon I never imagined crossing. In my experience, the adage "all things in moderation" carries much wisdom; until last winter, I thought books were an exception to this rule, occupying a higher moral plane than other things one might collect, like bottles of fine scotch or European football jerseys. In my reverence for the printed word, I subscribed to all the humanistic pieties: books as worlds between two covers, as food for the mind and soul, as a link between living and dead. Walking into Penn's library every day for the last two years, I passed beneath a window bearing a breathless quotation from Samuel Daniel: "O blessed letters! That combine in one all ages past, and make one live with all!" The pane's religiosity was apt; my faith in books had never been higher than in college. There, they protected me from the terrifying emptiness of Sunday afternoons, distracted me from one girl or another's failure to return my call, and transported me from the campuses where I often felt I was merely playing at life, swept away from my old comfortable St. Louis existence because I needed a college degree. Books were the tributaries that returned me to the main current, if only for a few hours.