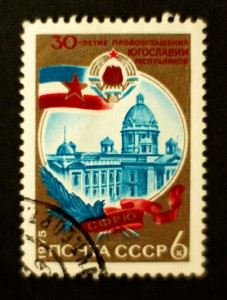 In March 1975, a couple of weeks after my twenty-fifth birthday, I accompanied my girlfriend Tina on a trip to Russia. At the time Tina was a graduate student at the University of Essex pursuing a thesis on "Dostoyevsky and the Russian Orthodox Church," under the benign supervision of the eminent scholar and translator Angela Livingstone. Londoners both, we had been living together for almost four years in the village of Wivenhoe near its estuary, close to the college campus, far from the big city and the disapproving glare of our respective widowed mothers.
My mother, a conscientious objector to interfaith relationships, had long ago banned Tina from visits to her home. "It's bad enough you have to go out with someone who isn't Jewish," she said, "but why did you have to pick a girl with Christ in her name?"
"Her name's Tina," I had replied.
"And what do you think that's short for, idiot?"
For her own part, Tina's mother, dressed always in Greek Orthodox widow's black, was opposed to our living together on moral grounds, which had, I could see, a superior logic.
Our workman's cottage in Wivenhoe featured no bathroom, a decidedly unpoetic outside toilet, and walls so thin that the neighbors' voices came through no softer than our own. The wife could be harsh. "Pick, pick pick," we heard her yell at her husband as we sat down to eat. "You stick your finger so far up your nose that you're gonna pick your bloody guts out one of these days." Our kitchen table doubled as a work desk, and was covered with books by obscure (to me) Russian saints and philosophers, Tikhon of Zadonsk and Vladimir Solovyov among them.
Angela Livingstone was already in Russia working on a translation project, and she invited Tina to come and visit her. I tagged along for the ride. We booked onto a group tour through Intourist, the Russian travel agency: it was not easy in those days to move without an official guide in the Soviet Union. We planned a few days in Leningrad, to be followed by a train journey to Moscow, where Angela would meet us at our hotel and, we hoped, spirit us away from our minders. Read More