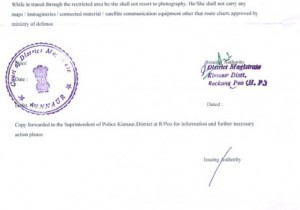 The story so far: Amie and Clancy find themselves stranded in a remote area, in need of a permit before they will be allowed to stay anywhere.
The next day, as we were heading out to get a car, Tenzin, the proprietor of the guesthouse, stopped us and explained that it might take us two or three days to get the permit. He suggested we pack our room, offering to sell it while we stayed in Dharamsala. He said, also, that we could stay until August 6—we could stay as long as we liked.
"I can shuffle rooms around," he said once, and then later, "We have had a cancellation." Still later he added, "You will have to change rooms, but your new room will be just as nice." We shrugged our shoulders. So long as we had a room.
In Dharamsala, we were directed to "District Commissioner" office 111. We poked our heads into a medium-size room shared by four men. Their desks were piled high with manila folders tied together with tennis-shoe laces. We said, "Protected area pass?" in a tone that suggested we might be arrested for asking the question.
The administrators reacted as any American in her office might, should an Indian couple poke its head in and say three words in Hindi.