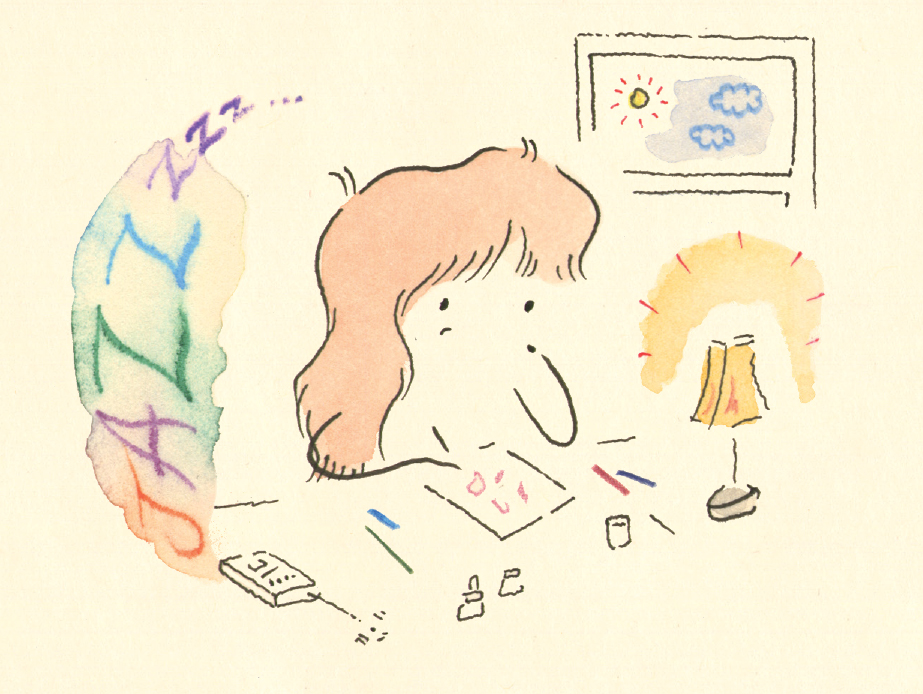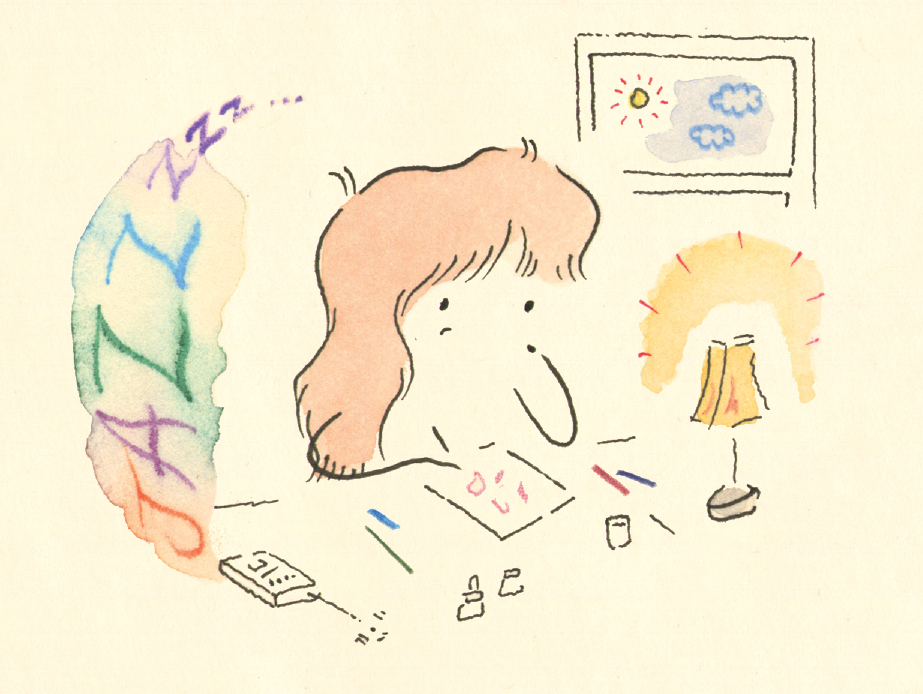 "Life is nonlinear and that takes a lot of courage to cope with," writes Leslie Stein in her new book, Bright-Eyed at Midnight. Stein coped, in part, by sitting down at a blank page each night for a year to draw comics. Fueled by insomnia and prompted by characters she encountered while tending bar or traveling the city or by bittersweet childhood memories (her insomnia stretches back to juvenile night terrors), she produced twelve months' worth of microstories that build a larger narrative through accumulation. In addition to diaristic recollections of everyday events, she meditates on collaged aphorisms and observations snipped from Jules Renard's Journal, offers up doodled portraits of teen crushes, and returns again and again to the moment just before dawn, when she is alone, awake, and contemplating her art and her existential questions.
In Bright-Eyed, Stein has foregone traditional comics panels, leaving her dreamlike watercolor scenes surrounded by white space. Dialogue between the book's impish figures is handwritten in colored pencil and linked to its speakers not by conventional word balloons but by small, unobtrusive squiggles. Some nights seem to get the best of her: a handful of pages are dense, wildly rendered paintings with anxiously scratched self-portraits and recriminations peering out from between brush marks. The Globe and Mail described these as "Kandinsky illustrating Virginia Woolf."
Seasonal headers are the only organizing devices in the book, which has been edited down to 224 drawings. According to Stein, her publisher wanted page numbers, but she resisted, not wanting to interrupt Bright-Eyed at Midnight's magical quality. "How does this book even exist?" she told me. "It's unique—it's a comic book and an art book, it's a diary. You could open it to any page to begin."
Stein and I met at a bar in Brooklyn early one evening in late August to discuss her nightlife. It was hot, so we sat under a tree to talk.
When you decided to draw every day for a year, were you making the work for yourself instead of readers?
I didn't actually anticipate having any readers. I started drawing the series on New Year's Eve—it sounds so gimmicky, but it really wasn't on purpose. I had had a difficult year. I was either bartending or alone all night. I wanted something new and different to play with, to get color in my life. New Year's is symbolic. I wanted to think about what a new year meant in my own life rather than people's expectations of it. I didn't want to go out to a party. I did a bunch of terrible drawings that evening and then went out drinking anyway, because I felt discouraged. When I got back to my apartment, I did a scratchy comic about my night and threw it up on Tumblr. The next day I woke up and there it was. I took it down, because posting it was kind of an accident, but then started the next in the series right away. Since I was playing around with materials, the style changed often but turned into something concrete. By the end of the year, I was laying down my lines in a specific way before coloring, and the spatial relationships between images and the design of the characters had solidified. Read More