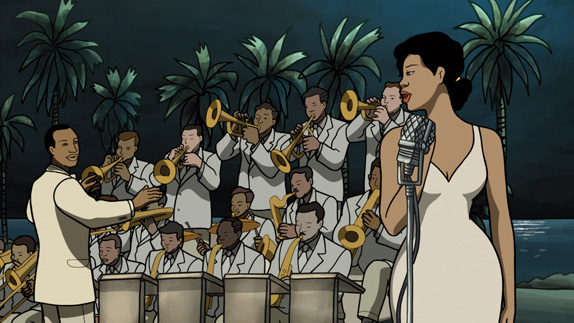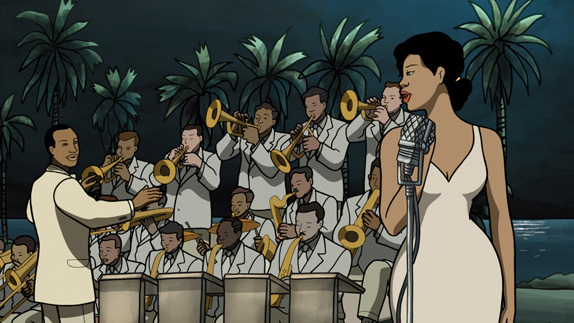 Few contemporary cineastes have enjoyed so estimably varied a career as Fernando Trueba. A onetime book editor whose film oeuvre has garnered no fewer than twenty-eight Goyas, he won an Oscar for Belle Epoque (1993), his sexy tale of a young deserter from Spain's Civil War landing up at the farm of an aging artist whose comely daughters—one craven, one queer, one a young Penélope Cruz—impart a barnful of lessons about women and love. Since the 2000 release of Calle 54, his warm, exacting documentary on Latin jazz, Trueba has also devoted much energy to the music he loves. His work as a music producer has perhaps been highlighted by his association with Bebo Valdés, the supreme Cuban pianist whose sound was key to the evolution of both Cuban dance music and American jazz a half-century ago and who has spent his ninth decade making impeccable records with his Spanish friend. Trueba's latest project, a gorgeous animated feature built from Valdés's music and moments, marks a culmination of his work not only with the ninety-two-year-old pianist but with another long-term collaborator, the celebrated Spanish designer and artist Javier Mariscal. I caught up with Trueba a few days after Chico and Rita opened the Miami International Film Festival to a rousing ovation.
Where did you get the idea to do an animated film about Cuban music in the forties and fifties?
One day I was in Mariscal's studio in Barcelona, and I saw some drawings he'd done of Habana Vieja. That's when the lightbulb came on: we should make a movie in these streets, in a Havana created by Mariscal. We agreed that it should be a story about musicians. And then I suggested that if we have a story of a pianist, we could have Bebo play. And I thought, well, what Bebo represents is the style of the forties and fifties, so let's do a story set in that period. How beautiful—the Havana nightlife of that time, which I knew only from books, or the stories of friends like [Guillermo] Cabrera Infante, the great Cuban writer of Tres Triste Tigres. And it also seemed like a time that was great visually, for Mariscal this era was when modern design started. We started developing the idea, and Mariscal said he felt the work should be very dramatic, like a bolero. And so we had that reference for the story—not a cinematographic reference, or a literary reference, but a song reference. Not a song-style reference, but a song itself. We wanted to build the story like a song, like a bolero.
The tone of a bolero is melodrama, and a lot of those elements are in the story: lost love, longing, nostalgia for that breezy room over the Malecon where Chico and Rita first make love. But how did the music come into it as you were actually writing the script?
When I was writing, I was trying to imagine how Mariscal's drawings would move, and I had Bebo's music in mind all the time. We used music to tell the story, to build the characters, the tension. When I work on live-action films, I leave a lot of room for last-minute decisions. Not in terms of the screenplay—I like to have the best possible screenplay in hand—but in terms of directing. I don't like to work with a close storyboard, like Hitchcock. I've done a lot of comedy, a lot of work with actors, and I often like to find the shot on the set, to improvise the line. But with animation, you have to think of every single shot. Absolutely everything is storyboard, and that's a big difference. To have to imagine one hundred percent of the movie, before it's actually done—it's a really strange mental exercise. But it's great, I love it.