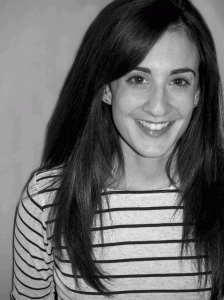 In October, Marie-Helene Bertino published her debut collection of short stories, Safe as Houses. Her writing often involves fantastical elements—an embodied idea of an ex-boyfriend, an alien who faxes observations about human beings to her home planet, a woman who brings Bob Dylan home for Thanksgiving dinner—that advance painful story lines. Her language is spare, direct, and hilarious, which makes the characters' losses that much more deeply felt. Bertino is now at work on a novel centering on a jazz club in Philadelphia called the Cat's Pajamas.
We spoke for two hours in a Brooklyn coffee shop, which was flooded with girls on their lunch break from school.
Reading Safe as Houses, I was struck by the number of characters who aren't really seen by others. By the last few stories, the characters start to become more visible. Does that theme ring true to you?
I would totally agree with that, though I was not conscious of it. I was aware that a lot of characters were on the outskirts of something—of their towns, their groups of friends, their families, their societies. And at the risk of sounding cliché, I think that's a metaphor for being a writer. I mean literally and figuratively—you have to stand on the outside to watch a group of people and then be able to write about them, but in practice, it's also a solitary art, as they say. And I think that those characters definitely are a reflection of that kind of observer quality in me.