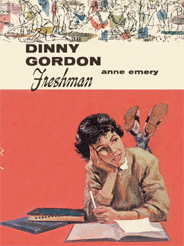 People who make it their business to classify such things call them "malt shop books"—the numerous young-adult series written in the 1950s and 1960s. I inherited a few of my mother's Betty Cavannas in elementary school, and by age twelve I was hooked, scanning library sales and thrift stores for the tiny patch of tartan that denoted a vintage Scholastic paperback or the telltale words that suggested a title targeted at the teenage reader.
I learned how varied the genre was: the serious and introspective Betty Cavanna books; Janet Lambert's series, which take place in military families; the more frivolous Rosamond du Jardins; the slightly odd Lenora Mattingly Webers, which center around the independent-minded Malone family.
Many of these books deal with "issues"—teen drinking, peer pressure, fast crowds. But the overall picture of teen life is wholesome and comforting. Parents tend to be supportive and families functional; the occasional sibling rivalry generally gives way to mutual understanding.
I was an awkward teenager. And my New York City school—full of sophisticated teenagers whom I found terrifying—was a far cry from the suburban utopia of the malt shop books. A late bloomer, painfully shy and painfully aware of not looking right in the clothes my mom bought me, I dreamed of a world in which virtue was rewarded; boys fell for the smart, quiet girls and were happy with wholesome dates; and everyone knew exactly how to dress for every occasion. I recognized that the books were idealized, but my interest was more than ironic or curious: I found the fictional universe of my collection a true refuge. (More contemporary YA titles took on drugs and sex; frankly, these weren't my concerns.)
I enjoyed all the series, from Candy Kane (a precocious singer on an Army base) to Marty Smith (a gutsy journalism undergrad), but one became my favorite: Anne Emery's Dinny Gordon books. Emery (not to be confused with the mystery writer of the same name) is perhaps better known for other series—the Sally and Jean Burnaby books, the 4-H centric Jane Ellisons, the Pat Marlowe stories, the Sue Morgan series. But Dinny Gordon was, and remains, my favorite.