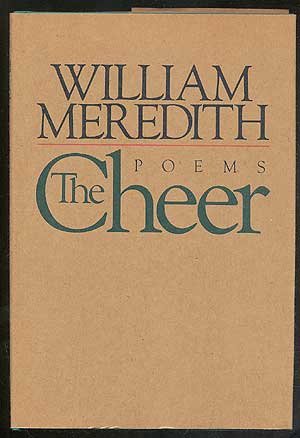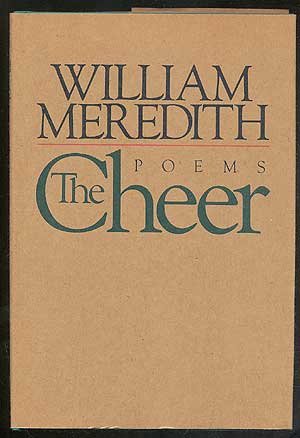 When the poet William Meredith passed away seven years ago today, Poetry published the third and final stanza from his "Accidents of Birth" in memoriam:
                     But it's not this random
life only, throwing its sensual
astonishments upside down on
the bloody membranes behind my eyeballs,
not just me being here again, old
needer, looking for someone to need,
but you, up from the clay yourself,
as luck would have it, and inching
over the same little segment of earth-
ball, in the same little eon, to
meet in a room, alive in our skins,
and the whole galaxy gaping there
and the centuries whining like gnats—
you, to teach me to see it, to see
it with you, and to offer somebody
uncomprehending, impudent thanks.
It was a beautiful move on the magazine's part, taking Meredith's wonder and gratitude for his beloved and letting those words refer to the poet himself. When the verse is turned to epitaph, it becomes Meredith who teaches us to see; his lucky appearance in the room of our lives demands that we bow our heads, or else lift up our eyes, and stammer what thanks we are able to articulate.
I met Meredith nine months before he passed away, at Bread Loaf's annual writers' conference, to which he'd been invited as a special guest and at which I was a student. He'd taught on the mountainside campus in the late fifties and sixties, first in the English program and then at the conference, and now he'd returned to read for us in their Little Theater, a long, skinny rectangle of a room, the walls white, the chairs wooden, the light—admitted through banks of mullioned glass doors to either side of the audience—everywhere. It was more like a chapel than a theater.
Meredith read only a few poems, supported at the podium by his partner, Richard Harteis. For the remainder of the event, he sat in the front row, audience to a tribute whose meaning no one could have missed, while Harteis, Michael Collier, and Thomas Sayers Ellis offered up anecdotes and praise and read their own selections of Meredith's work. Here was a dying man, a man who was loved. Read More