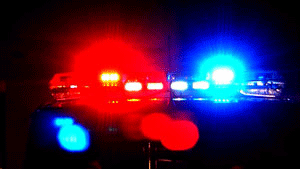 It was October, and I was alone. I lived in Greenpoint with a close friend from college, but we were rarely home, and never home together. We floated in and out of each other's lives. We left ourselves reminders that we had both been there: wet towels tossed over the shower curtain, mugs face down in the sink.
I was reading or writing or worrying; I can't remember, but it hardly matters. The curtains were open, and the head of the plastic owl strapped to the ledge outside of the living room window was swirling. In retrospect, I should say "swirling ominously," but this was not unusual: it was loose and spun wildly in light breeze. What I mean to say is I didn't think twice about anything, certainly not about the lights flashing blue-red-blue-red-blue-red-blue against the wall, until I did.
I went downstairs to take a look.
Around the corner, an intersection was cordoned off with orange police tape. Two cruisers blocked traffic. A small van had stopped in the middle, and as I approached I saw that it was empty and the hood was crushed against the windshield. Read More