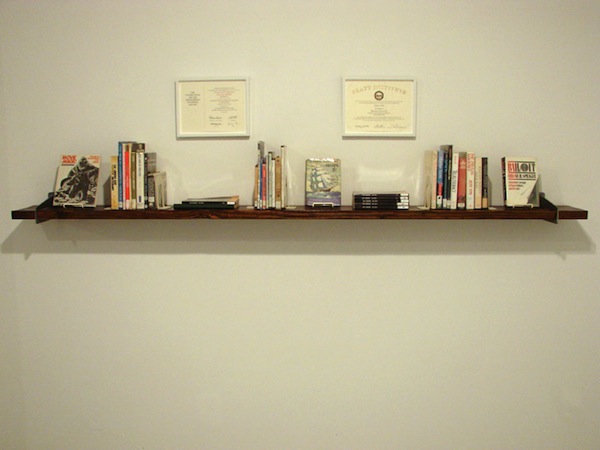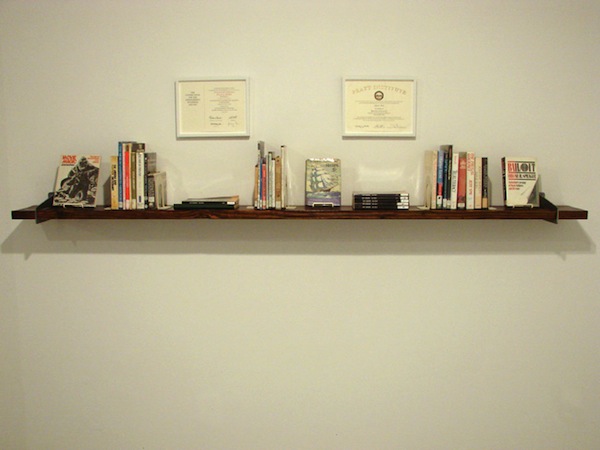 Part I: "The Book Lovers"
On a Sunday afternoon in March, when the rest of New York's art world was swarming through the Armory's annual art fair, I found myself lurking among the stacks at St. Mark's Bookstore, thumbing through literary reviews and scanning the crowd for a familiar face. I was waiting to meet with David Maroto, a Spanish artist who recently cocurated an exhibition of artist novels—"The Book Lovers"—at the Elizabeth Foundation. Once I found him, nose deep in a book, we meandered to an empty bar and talked about art, novels, experimentation, and engaging the public.
David is an artist with strong, creative convictions and a healthy distrust for art institutions. We met five or so years ago at an artist residency, and it is serendipitous that he should be one of the curators of this show. Or perhaps it is just a demonstration of how small our circle is—a tribe within a tribe, the small overlapping area of the Venn diagram where visual art and writing intersect. David thinks this is a growing field, that the novel has run its historical course and is an empty vessel for artists to pick up. I disagree that the novel is defunct, but it does seem that the book form is full of potential for artists and becoming an increasingly popular choice of medium.
"Artist novels" is a vague genre, so David and his cocurator, Joanna Zielińska, define it as any work 20,000 words or longer in which the narrative is moved primarily by text rather than images, and written by someone with an active visual art practice. Some of the results could simply be novels with art-world insider lines such as Sexy Librarian's "he could make her more emotional than a Félix Gonzáles-Torres retrospective," but David and I are both most intrigued by the books that are a critique of the form or an active expansion of the artist's studio practice. It can provide a path into the art for the uninitiated and build additional layers of insight and complexity. Read More