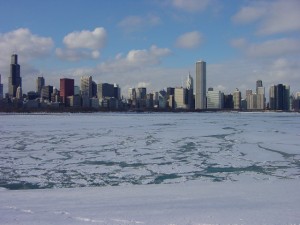 Just a few years ago, I had no idea what cold felt like, and no way to know how to prepare for it. I didn't know my limit.
Zero degrees. No degrees. None of them. Personally, that's when I start to lose it. In this range, anyone's capacity to describe what they are feeling—already a pretty fraught prospect—collapses into mutterings about "hanging in there."
And then the wind comes off the lake.
February in Chicago: four weeks when it's acceptable to shower in a hoodie and sleep in a balaclava, wool turtleneck sweater, and thermal socks. Anyone who says they're not wearing long underwear is either lying or an idiot. I'm wearing one of my three pairs right now, and I'm sitting in my apartment. If I lean forward over the keyboard, I can feel the sun through my bay window on my face.
It's colder elsewhere, sure. Mostly in the settings of nineteenth-century Russian novels. And as we get toward March, I keep the weather for Duluth in my iPhone rotation, just to stay humble.
But—as anyone around here will remind you over a Schlitz, or eight—Chicago is the largest American city that deals with negative-twenty-degree wind chills on a regular basis.
The wind chill last week got down to negative twenty. In this range, we all become characters in a Jack London story, fighting to keep the blood in extremities we didn't know we had. And I start to wonder: If I needed to build a fire and all I had was an iPhone, how long would it take for me to freeze to death? Read More