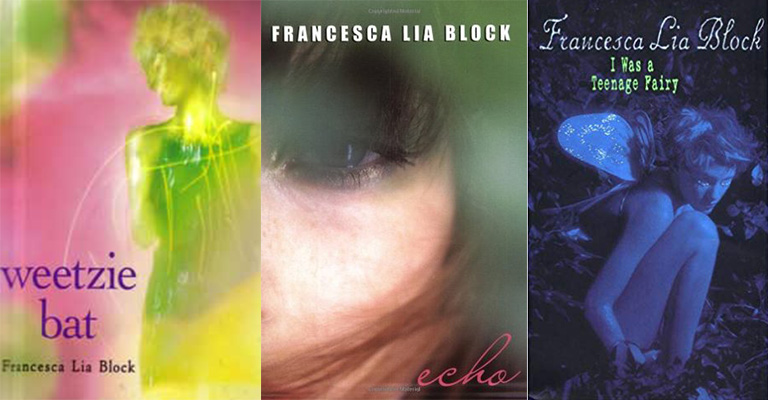 Has there ever been a novel with a more misleading opening sentence than Weetzie Bat? Francesca Lia Block's 1989 debut begins:
The reason Weetzie Bat hated high school was because no one understood.
Based on that sentence alone—its stale familiarity, its clunky syntax ("the reason was because"), its pandering parents-just-don't-understand gloss on adolescent alienation—you'd expect the most formulaic of young adult fiction. Based on that sentence alone, you probably wouldn't keep reading. Certainly you would never guess what follows:
They didn't even realize where they were living. They didn't care that Marilyn's prints were practically in their backyard at Graumann's; that you could buy tomahawks and plastic palm tree wallets at Farmer's Market, and the wildest, cheapest cheese and bean and hot dog and pastrami burritos at Oki Dogs; that the waitresses wore skates at the Jetson-style Tiny Naylor's; that there was a fountain that turned tropical soda-pop colors, and a canyon where Jim Morrison and Houdini used to live, and all-night potato knishes at Canter's, and not too far away was Venice, with columns, and canals, even, like the real Venice but maybe cooler because of the surfers.
Surprise! Weetzie Bat is not a novel of teen angst, but a novel of teen delight. It's a novel whose heroine wishes on a magic genie to meet "my secret agent lover man" and pages later meets the love of her life—whose actual name, with no explanation, is My Secret Agent Lover Man. It's a novel that, halfway through, contains the sentence "And so Weetzie and My Secret Agent Lover Man and Dirk and Duck and Slinkster Dog and Fifi's canaries lived happily ever after in their silly-sand-topped house in the land of skating hamburgers and flying toupees and Jah-Love blonde Indians." Weetzie isn't too cool for school, nor too deep or too smart, but simply too happy. She's bursting with joy to be alive, right here, right now. Even the English language can hardly contain her exuberance.