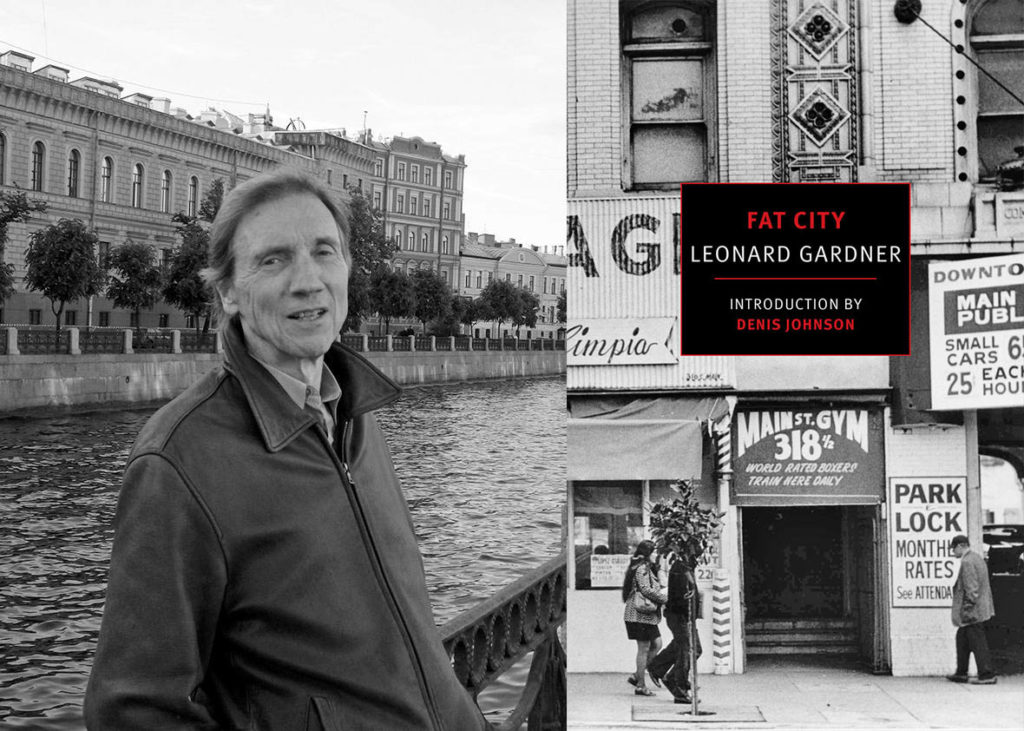 Fifty years ago, in 1969, a boxing novel unlike any other that has seen the light of day, before or since, was published. Fat City, by Leonard Gardner, upends the triumphalist clichés of boxing stories, in which a palooka from nowhere overcomes all obstacles through fierce dedication and hard work and wins the title.
To say that Fat City is about boxing would be like saying that In Search of Lost Time is about parties in Paris or Moby-Dick is about whaling. Boxing is the setting, and it's one that Gardner knows firsthand. But the novel is about hope, illusion, and love, and the corruption and self-deception that destroy those things. It's a lean and sinewy novel, without a single surplus sentence. Considered a masterpiece—by Joan Didion, Denis Johnson, and Raymond Carver, among others—the book is still in print at New York Review Books.
Fat City follows two would-be boxers—one, eighteen-year-old Ernie Munger, is on his way up, while the other, twenty-nine-year-old Billy Tully, is in a downward slide. No matter how hard they train, no matter how much they believe in themselves, no matter who they have in their corners, neither will ever get anywhere near a championship belt.
The book is set in the city of Stockton, in California's Central Valley, where Gardner grew up. Stockton is noted for its high crime rate and its low literacy level. It is the second-largest U.S. city to have ever filed for bankruptcy. Ernie and Billy frequent greasy, fleabag hotels; sweaty gymnasiums with flooded, blocked drains; blistering fields where boxers earn a day's pay picking onions or tomatoes; and violent skid row bars where patrons nurse their cut-rate shots and beers. In 1972, Gardner wrote the screenplay to adapt Fat City into one of the saddest movies ever filmed, directed by John Huston.
Gardner lives in Marin County, California, about a hundred miles from Stockton. He is now eighty-five, tall, lanky, and cordial, with a full head of hair more brown than gray. He is under contract for a second novel. I caught up with him in Berkeley to talk about the book, its film adaptation, and his life as a writer.
INTERVIEWER
Fat City exposes a reality about the lives of most boxers. I wonder whether you had that in mind when you wrote the book—knowing that you had a truth to tell that was unlike anything that had been published before.
GARDNER
I got into amateur boxing as a teenager in Stockton, and had some amateur bouts, but I never boxed professionally. Still, I felt like I had a story. The opening of the book is based on experience. There was a boxer, he's dead now, his name was Johnny Miller and he was a ten-round main-event fighter. I'd seen him fight in Stockton, then he just went a little overboard and became kind of a drunk and had to drop out of boxing for a while. One day, I was in a gym punching on a bag—I had a bag in my garage, and I learned how to punch that bag like a wizard. He came in there and asked me whether I would spar with him. And I felt, Jesus, I've been acting like I'm a boxer, but I had been boxing only with kids in the backyard. I'd seen him box, but I couldn't say, No, you're a professional. He was in really bad shape, but I was still spooked. I was thinking this guy will kill me.
I had dreamed about being a boxer. Out in the garage I punched about ten rounds on the bag every day. You use your imagination and you're like, I'm knocking the shit out of Sugar Ray Robinson! So I felt, This guy is calling my bluff and I have to box with him. Maybe he had a horrible hangover or something—I don't know. I was a tall, long-legged kid, and I had footwork. I ran rings around this guy, popping in little jabs. I actually did a good job of surviving. I could pop him with my jab and he'd swing and he'd miss and I'd be out of the way. And so naturally he had to save some self-esteem by thinking, I've discovered a great talent here! He said, "You gotta box, kid."
INTERVIEWER
Books and movies about boxing tend to be about contenders or champion fighters. Even the seedier stories are sort of glamorized. But Fat City is about people who will never in their wildest dreams be contenders.
GARDNER
When I was a kid, Stockton had a population of eighty thousand. It was a hot boxing town, and we never turned out a champion. There was nobody remotely like a champion.
INTERVIEWER
In the book, in the climactic fight, Billy is punched so hard in the ring that he literally sees the world divided into a zigzag. I read somewhere that this was based on your own experience?
GARDNER
I wasn't trying to be a professional boxer anymore, but I had a friend in Santa Barbara who lived near my ex-wife. A real tough guy, an ex-marine. He asked me to spar with him. And I thought, Well, I don't have to demean myself. I just assumed we were friends. I'm a little guy compared to him. He has shoulders like this and a little waist. He would run fifteen miles just for the hell of it. He had a heavy bag hanging from the tree and he worked on that every day. He wasn't actively boxing anymore, but he was one hell of an athlete. So we sparred and I can't remember whether I went one round or two before he hit me with this shot. I've never had a reaction quite like that to a punch. And I told him, "I got to stop for a minute." There was this crack in reality where I looked at him and there was a crack in his face. I looked out to the trees in his yard. The trees had this crack in them. And that crack in reality was the last straw for me. I'd never read about that anywhere and I'd never heard of it, either. Ever. I always read The Ring magazine, I still read it and never once have I heard a guy say, After he nailed me, I saw a big crack in reality.
INTERVIEWER
Outside of Steinbeck, I haven't read anything else about day-labor farmwork in such detail as in Fat City. Did you know boxers who did that?
GARDNER
Oh yeah. A lot of those boxers worked on the farms. When I worked out in the Lido Gym, where the professionals were working out, they'd come right from the fields in their overalls, with peat dust all over everything. After a hard day's labor, they're beating the hell out of the bag and they're sparring. Most of them were minorities. When you're in a place like Stockton, you need a job, and nobody wants to hire you. So you go out and work in the fields.
INTERVIEWER
Did you ever do that kind of work yourself?
GARDNER
Yeah. And it wasn't research, either. I first worked when I was fourteen years old. The postmaster of Lodi was a friend of my father's. He had a ten-acre walnut orchard and I just wanted to make money. I worked a couple of days. My job was to run in front of a tractor. It was pulling what they called a tower, where a guy had this long pole and was knocking walnuts out of the trees. It wasn't safe work for a kid. I ran up and pulled the walnuts that had been knocked down from the tractor's track. My hands were six or eight inches from the tractor coming in. I was motivated to save every nut. I could've easily gotten my hand run over and maybe amputated.
INTERVIEWER
In the book, you paint the skid row of Stockton as a place of ratty hotels and dive bars. On the first page, we find Billy living in a place called the Hotel Coma. Was there really a hotel with that name, or did you make that up? Because it's such a beautiful metaphor.
GARDNER
I was afraid to use it. There was a Hotel Coma in Stockton, but I felt that if I put it in the first line of my book, everybody was going to say, What heavy-handed symbolism. And the other voice in my head said, if there's really a place like that in Stockton, I'm chickenshit for not using it.
INTERVIEWER
That world you describe barely exists now.
GARDNER
It's in the paper a lot in San Francisco. There're hundreds of people sleeping on the sidewalk. A lot of them have tents. They sort of set up almost like a permanent home. Everything is so goddamn expensive now that it makes sense that there would be that many people that have to sleep on the street.
INTERVIEWER
In Los Angeles there is also a huge homeless encampment.
GARDNER
I was not interested in a beautiful tourist spot. I never wanted to write about society people or something like that. I was interested in the rougher side of life. There's something about struggling people, poor people, that's dramatic. Struggle is dramatic. I've had friends who wrote pretty good novels about college boys and college professors. I didn't dislike them. But it's a matter of drama. For a lot of people, real life is a struggle. Maybe wealthy people suffer, but if you read a book about their suffering—a multimillionaire's wife is divorcing him or something—it's just different to me. It's not as desperate as drama set in poverty. A boxer can get killed any time he enters a ring. And also, I grew up with an ex-boxer father who talked about boxing all the time. It was a world I got very interested in.
INTERVIEWER
Your father became an inspector for the U.S. Postal Service, but you mentioned that he had no education.
GARDNER
No, he had an education. He went through the sixth grade. He was smart, and then he learned to type. He should've been a writer. I have a pile of stories he wrote. He was kind of a natural writer. He would write three- or four-page letters to family whom he hadn't seen in years, and he'd take trips and make up stories about people traveling where he traveled.
INTERVIEWER
You studied writing.
GARDNER
I started writing fiction in the fifth grade, after I recovered from rheumatic fever. I had been in bed for eighteen months without seeing anyone but my parents and my sister. And then I went back to school. I would write stories and the teacher would read them to the class. He thought they were really good. And so I started saying I wanted to be a writer when I grew up. I started writing a novel when I was about fifteen. Did you ever read Thorne Smith?
INTERVIEWER
The guy who wrote Topper?
GARDNER
Yeah, he wrote sexy comic novels. I was reading him and I thought, That's the way to go. So I tried to write one of those novels. I was fifteen and I would come home from school and the other kids would want me to come out and play. And I'd say, "I can't, I'm working on my novel." I never finished it, but it was good. I put in everything I knew about sex.
INTERVIEWER
Then you went on to study creative writing at San Francisco State University.
GARDNER
That's where I did my last two years of college. I got my B.A. there. I was what was called a humanities major. I was interested in art, too, and took painting courses and sculpture and pottery. I did take quite a few writing courses.
INTERVIEWER
Was there anything valuable that you remember from those courses?
GARDNER
We didn't get instruction on how to write. It was understood that you wrote and turned things in. Sometimes you didn't have class at all, and just gave stories to your teacher. You were just supposed to write, which is the best way to learn how, I think. I had a really good teacher out there named Herbert Wilner, who believed in the direction I was taking. He didn't want to teach me. He said, "Just keep going. What you're doing is good. Just keep working on it." I also had an asshole teacher who accused me of being a plagiarist for some essay I wrote about this French writer, Robbe-Grillet, whom the teacher had never heard of. He had some friend in the French department in the University of California, and he ran my essay to him to find out where I'd plagiarized it from. He was going to keep me from graduating, because he was positive he was going to bust me. I told him, This is my work, why would I plagiarize? He said, Because this is a publishable essay. I said, I'm in college, I'm taking writing courses. When he saw that I could write something publishable, he assumed I was a cheat. It was as if they never expected to turn out any talented writers in this goddamn college. I couldn't believe it. It was a long time ago, and I'll never forget that.
INTERVIEWER
The movie version of Fat City is a classic, and very faithful to the novel. How closely did you work with John Huston on the script?
GARDNER
Before I started to write it, he invited me to come over to his place in Ireland for a couple of weeks for a discussion about how it was going to go. He was a funny guy. He trusted me, I think, because we didn't talk all day about the script. We talked maybe a half an hour. Then he wanted to paint. He was always painting.
INTERVIEWER
Most of his best films—Fat City, The Maltese Falcon, The Treasure of the Sierra Madre, The Asphalt Jungle—were adapted from novels.
GARDNER
He followed those novels quite well. He'd been an amateur boxer. It was lucky because my objection to boxing movies back then was that they were all the same. It's a fixed fight and the hero won't take a dive and maybe they break his hands afterward. I thought there needed to be a boxing film done another way. He was all for it.
INTERVIEWER
Were you around while they shot the film?
GARDNER
Every day. I watched every scene.
INTERVIEWER
One of the most extraordinary things about the movie is the casting. Stacy Keach, who played Billy, was a Shakespearean actor who hadn't done many films at that point. Jeff Bridges, who played Ernie, wasn't a movie star yet.
GARDNER
I think it was his second film.
INTERVIEWER
And Susan Tyrrell doesn't even seem to be an actress—she really appears to be Oma, the character she plays, a lost drunk. How did you feel about those actors embodying your creations?
GARDNER
I felt lucky. They all had a very different approach to it. Jeff Bridges was naturally an underplayer and Susan Tyrrell was an over-the-top actress. She actually had to be brought down. She'd been a stage actress. I don't know whether she'd ever been in a movie before. I think Huston saw her in some stage play, and when you're on stage in a good-sized theater, you can really project your voice. She sort of started that role over the top and I kept waiting for Huston to quiet her down. I finally said something to John. That maybe she was overplaying some of the scenes. Maybe he thought so, too, I'm not saying it was my idea. Maybe I just corroborated what he was thinking.
Later, I saw her walking on the hotel grounds one day and she said, Oh! They want me to bring it down a little bit. And I said, You know, that would be okay. And she said, I don't care what they want! I'll play Oma if I have to grow a cock! She never really brought it down all that much. I look at it now and think that it's a brilliant performance. She had the guts to play women that went over the top very frequently. And there are certainly people like that. It took me a while to learn to live with what she was doing. But she was sensational.
INTERVIEWER
After Fat City, how did you get by?
GARDNER
Well, I made a living somehow. I wrote the movie of Fat City and I wrote another movie called Valentino Returns. I made pretty good money on that. I wrote another movie called The Milagro Beanfield War. I never got the writing credit on that. It was based on a novel and the writer kept squawking. He would object to everything I did. In letters. And finally the producers let me go and hired him to write the screenplay. Anyway, that's how I made a living.
INTERVIEWER
In the nineties, you worked on a television show called NYPD Blue. I read on the internet that you were a producer and wrote episodes. I remember you once told me that when you got hired for that, you didn't even have a TV.
GARDNER
I still don't have a TV. I've never had a TV.
INTERVIEWER
So how do you get hired to write for TV without having a TV?
GARDNER
The guy who hired me was David Milch. He was what they call the showrunner—the producer who was responsible for getting all these episodes made. He had been an English professor at Yale before he got hired for this show. Milch, it had turned out, taught Fat City in his English course. So that's how I got the call. Milch asked whether I would write an episode. This is the truth: I had ten dollars in the bank that I kept in there just so they wouldn't close my account. He phoned up, and I said yeah. He even gave me the freedom to make up my story. I just pulled a story out of a daily newspaper, out of the Chronicle. Maybe a six-inch news story and I developed characters and the crime and all the pathos and everything. So I sent Milch this thing and he went for it big. He said, We'll run this show and now I want to hire you as a full-time writer. I asked whether I could do it up here, in the Bay Area. And he said, No. We need you down in the office where we can talk every day and you can concentrate on writing. Which is good, because if I were writing at home, I'd be wondering what's for dinner and would have to go out to shop or something.
INTERVIEWER
Love is depicted tragically in Fat City. Billy pines for his long-gone ex-wife. He cannot stand Oma when they're together but is obsessed with her after they've broken up. Ernie marries Fay out of obligation, because she becomes pregnant. What brought you to that view of love?
GARDNER
Guys older than me seemed to have their own love problems. I had young love problems. I got married when I was twenty years old and was very romantic in my attitudes. My wife kept packing up and leaving. I was talking to my sister about it years later and said, You know she left about six or seven times. And my sister said, You're not remembering right. She left you twenty times. She probably did. And each time was heartbreaking because she would say, That's it! It's over forever, I can't live with you. And then, maybe a month later, she wanted to come back.
She wasn't like Oma. She wasn't a drunk. I worked at a skid row gas station and that's where I saw a lot of women like Oma. I was nineteen or twenty when I got that job and after my shift was over I would hang out at a bar and get drunk and nobody ever asked me for an ID. And there were some of the most god-awful women in there. One woman sat a couple of stools away from me, and all of a sudden piss started running all down the side of her stool. And the bartender started yelling, "Get out of here!" and she had no reaction. She wasn't going to leave. I don't know why I didn't have the guts to put that in the book.
I tended bar, too, and I remember a quarrel this couple had. I couldn't have put their quarrel in the novel because it would've seemed like goofy comedy that I made up. They were opening a package from the butcher shop. There was a whole chicken with the head and feet in the bag. And they're planning their dinner—he says, I could have that with sweet potatoes, and she says, I'm gonna rub it with garlic and all this stuff. And then they got in some kind of argument and she picked up that chicken by the feet and started smacking him, and he ran out of the bar and she's following him smacking him with this chicken. Sometimes I wish I had put it in the book, it would've been a great scene in the movie.
INTERVIEWER
How long did the marriage last with the woman who left you twenty times?
GARDNER
Seven years.
INTERVIEWER
 Is that the only time you've been married?
GARDNER
I'm trying to remember. I had a couple of long-term living-together arrangements, like marriages, but that was the only time I was legally married. The whole experience made me wonder, What's it all about? What's marriage all about, if the whim to leave keeps coming over someone and they leave and come back? What does it mean? Then I lived with this writer, Gina Berriault, for I can't remember how many years. Maybe fifteen years. It seemed much more like a marriage than when I was married.
INTERVIEWER
As an amateur boxer you were a welterweight, and you still are. What is your secret, after all these years, to maintaining your fighting weight?
GARDNER
Haha! Well, I had to give up jogging a few years ago. But I did jog for thirty or forty years. I used to even go to the gym once in a while and punch the bag. I got into health food when I was about eighteen or nineteen. My sister and I became followers of a dietitian named Adelle Davis. She was into protein and vitamins. I still take maybe eight different vitamins every day. Some of them I take two of, so I probably will take about a dozen vitamins a day.
INTERVIEWER
I want to read aloud to you my favorite sentence from the book.
GARDNER
Oh good!
INTERVIEWER
Okay, here goes:
In the midst of a phantasmagoria of worn-out mangled faces, scarred cheeks and necks, twisted, pocked, crushed and bloated noses, missing teeth, brown snags, empty gums, stubble beards, pitcher lips, floppy ears, scores, scabs, dribbled tobacco juice, stooped shoulders, split brows, weary, desperate, stupefied eyes, under the lights of Center Street, Tully saw a familiar young man with a broken nose.
GARDNER
Oh boy!
INTERVIEWER
Here's what I want to ask you. There are a lot of lists in the book, but they're not precisely lists. They're an accumulation of details that paint a vivid scene for the reader. Was this a conscious effort?
GARDNER
Okay. A lot of writers wouldn't have seen all these details in their lives. But I had the gas station job at seventeen and it was a very impressionable age. I remember experiences where I just meditated for an hour before I might have written a sentence like that. I would almost translate remembering things. In the skid row bars, I saw these faces, and all their scars and mangles and everything. I don't know why I decided I wanted to put all that in one sentence. It's an aesthetic sense that would lead a writer to cram all that in.
A lot of people couldn't become a writer the way I did. When I was sick with rheumatic fever, I was stuck in bed for eighteen months. I was just barely able to read. And what do you do? I must have daydreamed and daydreamed. I must've been making up all kinds of stories in my head. What I don't understand is why I wasn't the kind of writer that would have written a dozen books by now, because it seemed like fate was turning me that way.
INTERVIEWER
You wrote a book that many people think is a masterpiece. That's one more masterpiece than most people have written in the history of the universe.
GARDNER
That sounds good.
INTERVIEWER
Does it matter to you that you haven't written another book?
GARDNER
Oh yeah, I feel it mattering to me. There's the wife of one of my friends, she's a poet and he's a novelist. She has a tendency to kind of scoff at me. She said, Only one book? I'm sensitive to that kind of stuff. I resent it and it still troubles me.
INTERVIEWER
Not everyone is meant to write a dozen books.
GARDNER
I agree with you. Writing a novel is, as you know, a demanding job. I guess everyone does the best they can. Maybe. It makes me uncomfortable. You're not supposed to write just one book and then hang it up.
INTERVIEWER
Even though we, as readers, know that Billy and Ernie will never be contenders, they're still sustained by their hope and illusion. At an advanced age, do you think you are still sustained by illusions?
GARDNER
Oh yeah. I'm working on a novel, yeah—that's sustained by illusion. I have days go by where I don't do anything. I think I could just do things like cooking, buying food, washing dishes, and it could take a whole day, you know. I don't know what it is. It could be anything, like lack of confidence that I could do it again. But I haven't lost everything mentally that I used to have. I'm too early in this book to want to be tied down to what it is—I had a different book in mind for a long time. But then it also seems to me that I've let so much time go by. I'm reaching an advanced age where I can't just sit around and wait until I can shake this up into something wonderful. I have to do the best I can. And you know, it's like rising to the occasion. If you planned to do something terrific, maybe the whole thing is intimidating and you don't do it at all. Maybe a more modest ambition opens the door. Maybe you just do a good job.
David Lida is the author, most recently, of the novel One Life.