Billy Bragg's new book, Roots, Radicals and Rockers, is a history of skiffle—an art form that was looked down upon when Bragg himself began to play music, in the 1970s. But as Bragg explained a few days ago, in a fascinating talk at the Library of Congress, skiffle was England's first teenage subculture—a working-class, DIY youth cult that set the stage not only for the British Invasion but for punk. It's ironic, if not especially odd, that Bragg, a member of the first generation of British rockers who owed little or nothing to the skiffle craze, should end up writing about its influence.
"As pop became profound in the 60s, artists who had learned their chops playing skiffle tended to leave it out of their biographies," Bragg writes in the book's introduction. "If you wanted to be taken seriously, better to claim you were initially inspired by Chuck Berry and Buddy Holly rather than Chas McDevitt and Nancy Whiskey. Thus skiffle became a bit of an embarrassment for Britain's sixties rock royalty, like an awkward photo from a school yearbook, a reminder of shabby realities of postwar, pre-rock Britain. Even when credit was given, skiffle often found itself edited out in the search for a snappier sound bite. Take George Harrison's famous quote about how his band was influenced by the blues: 'No Lead Belly, no Beatles.' What Harrison actually said was: 'If there were no Lead Belly there would have been no Lonnie Donegan; no Lonnie Donegan, no Beatles. Therefore, no Lead Belly, no Beatles.' "
Among musicians who grew up with the music, Van Morrison has been one of the very few to give it its due. 
I watched Bragg's talk the other night, then hopped over to Bragg's website and saw that he was playing in New York City on Tuesday. Naturally, the show was sold out. But just before sound check, I walked over to Bragg's hotel for a pot of tea (Earl Grey for me, mint for the author) and a chat about the book. This was a treat: I've been listening to Bragg's music since I was a teenager, and spent much of the money I had then seeing him live. (I'm not the only one. The Paris Review's editor, Lorin Stein, saw Bragg play the 9:30 Club, in Washington, D.C., on the Back to Basics tour. It was Lorin's first rock show.) 
Bragg touched on a few of the stories he'd told at the Library of Congress. (The remarkable story of Ken Colyer, an English trumpeter who joined the Merchant Marine just to make it to New Orleans, only to find himself sailing around the Cape of Good Hope, on his way to Australia, was new to me.) But the conversation itself weaved in and out, going—as the best conversations tend to go—in any number of other directions. 
BRAGG
Skiffle songs are railroad songs, from "Rock Island Line" on down. While researching the book, I kept thinking, why are there so many American railroad songs? In my culture, we don't have many. The only one I remember from school is "Casey Jones," which is American. Last year, Joe Henry and I got on a train in Los Angeles, rode to Chicago, via San Antonio. When the train stopped, we recorded railroad songs on the platform, in the waiting room, wherever we could find a good acoustic space. Joe and I have been touring this record for eighteen months, playing acoustic guitars, singing these railroad songs. But on a night like last night, where I'm solo and all I've got is an electric guitar and my own repertoire, instead of having a defined set where I know what I'm going to play and what the bullet points are—I was all over the place. I played for two and a quarter hours, maybe two and a half hours. Loads more stuff than I thought I was going to play. I'm not sure if I was indulging the audience or they were indulging me.
INTERVIEWER
A friend who saw you last night said it was beautiful.
BRAGG
I had a great time. There was a storm and the power went out. I told jokes for five or six minutes. A run of duck jokes. I told a lot of jokes about ducks. I don't know where they came from, but they filled the gap till the power came back. It was one of those gigs that people remember, but not for the right reasons.
INTERVIEWER
Let's talk about Skiffle.
BRAGG
Most books that refer to skiffle tend to be biographies of sixties rock stars. They might have a couple of pages where they explain what skiffle is in layman's terms, but they treat Lonnie Donegan's 1956 hit "Rock Island Line" as a singularity. What I'm trying to do is put this period into its proper context by looking at things that came together to bring the guitar to the fore in British music. That's what this is about. The transformation of British pop music from a jazz-influenced confection for adults into a guitar-led music for teens. That's the significance of it, because the guitar wasn't a big instrument in British music. It was an outsider's instrument.
INTERVIEWER
In your talk the other day, you mentioned cheap guitars from Czechoslovakia.
BRAGG
When skiffle happened, you could get archtop guitars from Europe. They were pretty basic. Some people tried to make their own. Weirdly, those same archtop guitars were in junk shops again at the beginning of punk, twenty years later. I saw a lot of them. In fact, I got a 1930s archtop, for fifteen or sixteen quid. I've still got it knocking around. It's a bit buzzy, but it works as a guitar, if you're learning.
INTERVIEWER
In the 1970s, when you came up, skiffle was seen as schmaltzy.
BRAGG
Because so many of the people who participated in skiffle were very young, it was dismissed as juvenilia by the time I came along. Van Morrison's twelve when he first hears Donegan. His life is transformed. George Harrison's thirteen, Paul McCartney is fourteen, when they see Donegan play in Liverpool in '56. Jimmy Page is fourteen when he's filmed playing guitar on TV on the BBC, singing "Mama Don't Allow No Skiffle Playing Round Here." But by the sixties, pop is turning into rock and becoming more serious, and as a result, many of those guys would rather cite Elvis Presley, Chuck Berry, or Buddy Holly, as the person who inspired them to pick up a guitar. The truth is much more basic than that, because British teenagers could imagine themselves doing what Donegan was doing. None of those guys could be Elvis Presley. I quote Van Morrison in the book, saying so. They just couldn't. But you could be Lonnie Donegan, and everybody needs that moment when you look at someone doing something and think, I could do that. I had that moment with the Clash in 1977, at the Rainbow in London. They were doing all the things I liked that the Rolling Stones and the Faces did. But they were my age.
Conversely, I would occasionally have conversations with people like John Peel that led me to realize that skiffle had a huge effect on these people—Morrison, McCartney. Perhaps bigger than the effect punk had on me. The significant thing about the skiffle generation is that they're our first teenagers. Our first generation to define themselves through their own culture. Previously, there were adults and there were children. Adults listened to crooners, children listened to novelty records, there was no intermediate space until Bill Haley and Lonnie Donegan came along in '55. And that's just a year after food rationing ends in the UK. I think it's significant that this happens when the skiffle kids are twelve, thirteen, fourteen years old. John Lennon is fourteen when rationing ends. He's had his entire childhood without being able to go into a sweet shop to buy whatever he wants. There's that pent-up desire to escape having to wear hand-me-downs—because clothing was rationed as well—to get away from the rubble of the war, to make the future happen. And for that generation, the guitar was a symbol of the future arriving. The members of that generation were trying to escape their drab world, their past, by taking up the guitar and playing American roots music—which is paradoxically the opposite of what folk fans were doing in the U.S. In the U.S., they were trying to hark back. Groups like the New Lost City Ramblers were looking to reconnect with the past. The British kids were trying to escape the past as quickly as they could and the guitar offered them the best means to do that.
INTERVIEWER
Skiffle seems much less political than the American folk revival.
BRAGG
The closest equivalent to Pete Seeger that we have in the UK is Ewan MacColl. He's already making what we would call "agit-prop," writing plays, and writing songs for the plays. Alan Lomax is also in London, involved in recording roots music. He's trying to escape the Red Scare in the U.S. And the two of them team up together and realize that skiffle offers them the opportunity to put forward, in Lomax's case, African American culture, which he's always been a champion of, and in MacColl's case, working-class culture, which he's been a champion of. They get together and form a band called the Ramblers, which also includes Peggy Seeger and Shirley Collins, who become two big figures on the folk scene. They are trying to do something like the Weavers did in the U.S. Other bands in the UK had also tried to use the Weavers as a reference point, but they hadn't succeeded. People like John Hasted and Karl Dallas, who were playing folk music like the Weavers, had been getting absolutely no traction. Suddenly, skiffle opens the door for those guys, although they're much older. It's similar to punk in the way that someone like Ian Dury, who's the same age as Paul McCartney, was able to get noticed during the late seventies. Punk rock suddenly opened the door, and made what he was doing viable. Elvis Costello's another one. He had been on the pub rock circuit for three or four years, getting nowhere. Punk rock opened a lot of doors. And skiffle opened a lot of doors, too. Although political music in the strict sense didn't happen, there were strong connections between the skifflers and the political movements of the day—the first of which would be the Campaign for Nuclear Disarmament. That begins in 1958, in protest at the British government developing a hydrogen bomb. They're building one at a place called Aldermaston, which is about forty miles west of London. In Easter of 1958, the Campaign for Nuclear Disarmament organized the first mass march to Aldermaston from London, over the course of the long holiday weekend. Skifflers are there in Trafalgar Square at the beginning. They're on the road as well, performing at night in the church halls where the people sleep. They're going ahead to welcome people in to the next town. There's a radical angle to that. And a number of the skiffle performers in bands like the City Ramblers had been a part of the Young Communist League. They'd been to World Youth Festivals that the Communist Party organized in Eastern Europe, so there's that radical thread as well. And in '58 also, there were race riots in West London. That's where Oswald Mosley, the Blackshirt leader from the 1930s, was trying to regroup his fascists. He's going to stand for Parliament in Notting Hill—and that area was not like it is now. At the time, it's a big slum. Landlords are throwing out white residents, dividing the big houses into small flats, putting in West Indian immigrants and exploiting them. This boils over. There's a lot of violence in the streets. And the skifflers and the trad jazz people get together to form an initiative called the Stars Committee for Interracial Friendship. They organize gigs to raise money to print leaflets, which they distribute in white areas, calling for racial harmony. They organize a black-and-white club in Notting Hill, which also includes Claudia Jones. Born in the Caribbean, she's been a member of the American Communist Party, been exiled from America, she can't go back to the West Indies, and so the British take her in. She's involved in this Stars Committee for Interracial Friendship, but much more significantly than that, in the wake of the race riots, she goes on to found the Notting Hill Carnival, which was the premier focus of Afro-Caribbean culture in the UK, and still is. The skifflers played an important role in that. There was an open letter to the Melody Maker. The musicians were the only group to really stand up and say, This is wrong. The Church of England didn't really say anything, officially. The government was quiet about it. Individuals spoke out, of course. But the skiffle campaign was quite significant as a precursor for Rock Against Racism.
INTERVIEWER
Ken Colyer. No one knows his story, but it's amazing.
BRAGG
Ken Colyer would be such a good subject for a biopic. Colyer is the music lover in all of us. His determination to find real New Orleans jazz against all the odds—all the odds. It makes him a key figure in the development of British rock 'n' roll. Nobody gives him that credit. He's one of the great unsung heroes.
INTERVIEWER
How hard would it have been for someone like him—someone without money—to get from England to New Orleans?
BRAGG
Oh, almost impossible. There were restrictions on how much money you could take out of the country as a tourist. It was really low, like ten pounds per person. Most working-class people had only ever gone as far as France. Then you've got to find a way to get into America. You've got to get across the Atlantic. That's why his letters from New Orleans were so popular, when they were printed in the English press. Nobody could imagine themselves getting there. Think of the determination of that man—he took three trips in the Merchant Marine that went nowhere near America until he was able to secure a job on a ship that went to the Gulf of Mexico. One man, out on his own, no iPhone, no money, just his wits, his love of music, and his trumpet. His determination to play that music and bring it back to the UK—like a jazz Moses—made a whole lot of difference. And, of course, he's the guy who came up with the break-down sessions that evolved into skiffle. He and his brother, Bill and Ken. They laid for the foundation stone for the whole thing.
INTERVIEWER
The stock rock-n-roll narratives set up an opposition between trad jazz and blues and rhythm and blues bands. But it's much more complicated than that, partly because of skiffle …
BRAGG
Firstly, skiffle is complicated. Secondly, there's Chris Barber, who brings Muddy Waters over, brings African American electric blues to the country, lets people experience that music firsthand. But by the time British rock goes electric, in the early sixties, the trad jazz clubs are established and won't have any electric music. That's where the problem starts. Places like the Marquee—and the Cavern as well—are trad jazz clubs. They're trying to hold the line against electric music. It's because they're purists. They're the same with modern jazz. They wouldn't have modern jazz. And for my generation, trad was Mom and Dad's music. It's funny for me because I shared that disdain, and to write that book I had to find a way in. Ultimately, it was realizing that what Ken Colyer did, by going back to basics with trad jazz, was the same as what the Ramones and Dr. Feelgood did years later.
INTERVIEWER
Did this reinforce, or make you change your thinking about, cycles of musical development?
BRAGG
In my country, skiffle marks the beginning of music as the vanguard culture for youth. In some ways, that has come to an end now. Music has lost that role. There are other ways now—if you are angry, or if you want to identify yourself as being in favor of something—you don't have to buy an album, dress like your hero, be a mod or a Ted or a rocker or punk. Now you can do that with your social-media profile. People out there are still making music with an edge. They're still using music as the main way of communicating. But they're marginalized people, like Leadbelly was. In my country, it's grime artists—black urban youth—who are making a music that mixes hip-hop and Jamaican dancehall. Significantly, they were the only people to come out in favor of Jeremy Corbyn during the election. There are one or two exceptions—people like myself, the usual suspects, you know—who do that anyway.
INTERVIEWER
Like the Sleaford Mods.
BRAGG
The Sleaford Mods are a bit sort of "Fuck you," you know? Also, no disrespect to them, but they're twentieth-century people. They're in their forties. I like them. I just wish they were twenty. Whereas the grime people are twenty. They're not making it political like I do, and the Sleafords do, because they remember it's supposed to be like that from the twentieth century. They're doing it because it's the only way they've got to have their voice heard, and get on your timeline and my timeline. There's no other medium they can get into. No one's asking them to write an article for the Spectator. Where is political music? The trouble is, people who ask that question are looking for white boys with guitars. Well Ed Sheeran's over there. Help yourself, much as you like. There's interesting music, but you've got to step outside of what we did in the twentieth century to find it and think about it.
INTERVIEWER
Dr. Feelgood is a band no one here seems to care about, much as you try to convince people that it's where the Gang of Four comes from.
BRAGG
Dr. Feedgood is where punk comes from. It is. The first time I saw Wilko Johnson, the band was playing live in the studio for a kind of kids pop program. Here's this band at a time when the image of a pop star is Peter Frampton—curly hair, "I want you to show me the way," all friendly, all cuddly, shampooed—and there's Lee Brilleaux looking at you like he'd fucking kill you if you looked at him. Like he'd start a fight in a nunnery. Wilko, even worse, looks like the kind of person who, at my school, would've got the shit beat out of him every day. He's got a fucking pudding-bowl haircut and—what my mom would say is, he's looking like he's funny, right? And yet, he's the coolest guitar player you have ever seen. What happens is, once the Feelgoods make it cool to be like that, a series of unprepossessing blokes—Costello, Strummer, Rotten, Weller, Dury—suddenly have a kudos that they never had before. And that curly haired, long-haired, Fleetwood Mac shit can fuck right off. Wilko's staccato guitar playing, it's a classic back-to-basics. The Ramones and the Feelgoods, like Elvis and Donegan, had the same impulse at the same time in different places.
INTERVIEWER
It makes sense that Donegan wouldn't cross over to America. Why didn't the Feelgoods?
BRAGG
I don't think punk ever really crossed over into America. The more rock-y end of it—"Rock the Casbah"—crossed over. But I don't think Americans really ever got punk in the way that we did. Punk in America goes sideways into Blondie, Talking Heads, Television. Nothing wrong with those bands, I'm a fan. But that's not punk rock. Punk rock is something else. And it never takes hold, like a national craze, the way it did in the UK. It's strong on the coasts, but elsewhere, people are wearing flares into the 1980s. In my country, flares are gone by '79.
INTERVIEWER
If music's lost its privileged place, in youth culture, has youth culture itself lost its privileged place as an agent for change?
BRAGG
I don't think so. When I go on stage in Glastonbury, the young people I see who have something to say—who are using music to define themselves against the rest of us—are playing with gender. I wouldn't say it to them, because they'd laugh at me, but what I see in their deliberate blurring of the gender line is a refusal to accept an imposed, fixed position. A way of saying, We're not like you, we're a completely new thing. Now, I wouldn't want to put that weight on them—that's their deal, and I respect it. But they look to me, they sound to me, and they act to me like a youth cult defining itself on its own terms. That's what punk was, that's what skiffle was, too.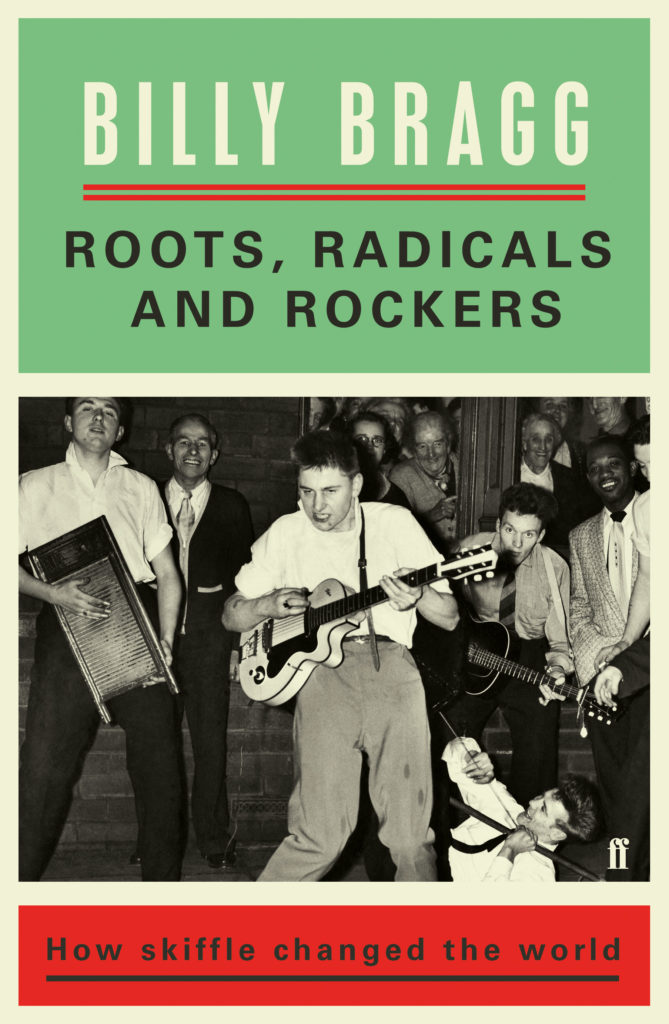 INTERVIEWER
And it can change the world?
BRAGG
It can change their world, and their perspective on the world. The way they look at gender as a spectrum, rather than a fixed position. The best thing about it is that it really pisses off grown-ups. That seems to be where that spirit is now. It may not lead to great guitar music, but who cares. It's not our culture anymore, it's their culture. I'm gonna be sixty this year. You think I'm going to stand there and tell some twenty-year-old how they have to make music? How they have to do politics? Fuck off, old man! I don't want to be that bloke, some old fart sitting around saying how great the Clash were. He might have that conversation with you if you're interested. Talk about why and how he was moved by the Clash. But I recognize your inalienable right to fuck me off. And good luck to you!
INTERVIEWER
What's the best duck joke you told last night?
BRAGG
A duck is just about to cross the road when a chicken runs up and grabs him and says, Don't do that, you'll never hear the last of it. That's it, I'm afraid. It's a bit existential, but there you go. That's my favorite one, I don't know if it's the best one, but it's certainly my favorite.
Alex Abramovich is the author of Bullies: A Friendship.