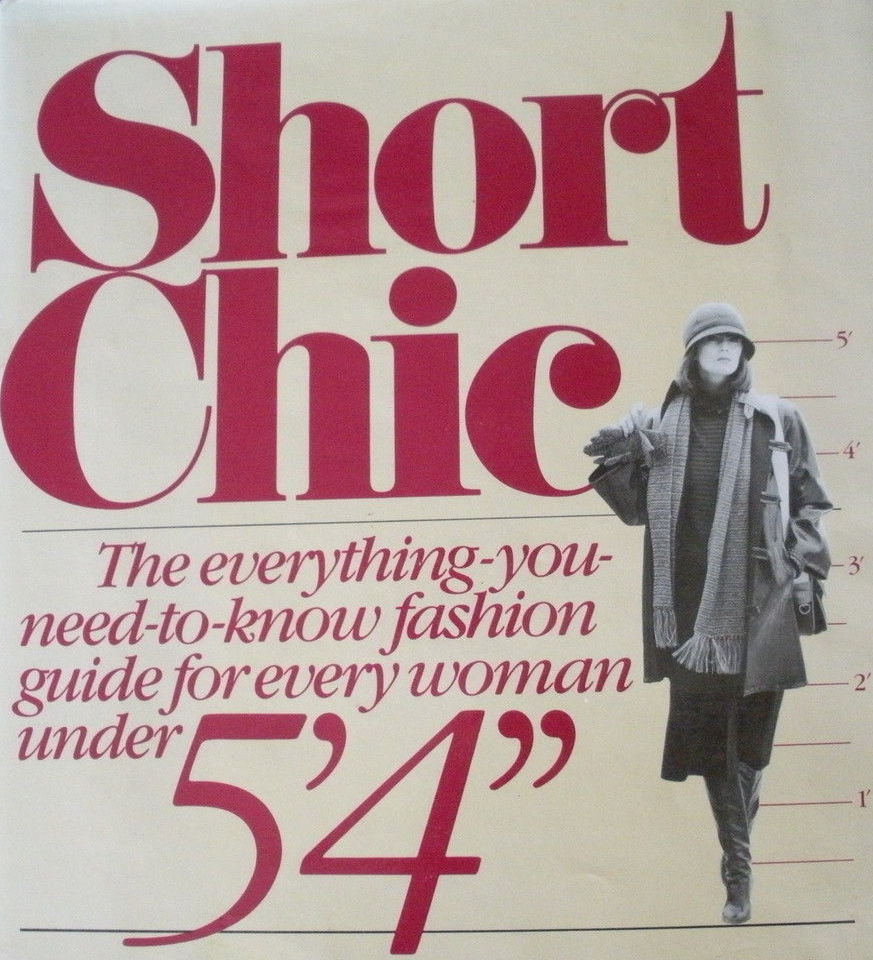 "Bond always mistrusted short men. They grew up from childhood with an inferiority complex. All their lives they would strive to be big—bigger than the others who had teased them as a child. Napoleon had been short, and Hitler. It was the short men that caused all the trouble in the world." ―Ian Fleming
Every class has one, or maybe two: a child so improbably small that this becomes his or her identity. There he is, on the end of your class picture year after year, forced to play a pawn in the fifth grade human-chess game (wearing a teacher's old velour shirt as a tunic), any child role in a play, and later the deadweight in a freshman year trust exercise. He humbly takes this as his due. He does not need James Bond proto-Godwin-ing to make him feel the sting of his lowly position.
I have come across many treasures on the giveaway table of my building's lobby, but my most recent acquisition is perhaps the greatest. Short Chic: The everything-you-need-to-know fashion guide for every woman under 5'4″ could have come from the apartments of literally half my neighbors, but now it is mine. The cover features a petite woman dressed in the height of 1981 style: slouchy heeled boots, what looks like a leather duffel coat, a large woolen scarf, and some kind of bulbous cap that (the helpful height chart next to her informs us) brings her to a towering 5'1″. The two authors, according to their back-flap bios, are, respectively, 5'3″ and 5'2″.
Yes, it is something of a time capsule: most of us can only dream of having to choose the right Cossack pajamas or "bell-boy jackets," and figuring out which fur coat "won't dwarf you"—short-haired furs with vertical seaming, FYI—is not a priority for many a modern petite. Then too, there are the various experts, designers (think Bob Mackie), small celebrities (think Morgan Fairchild), and regular working women decisively dating matters to the very early eighties. For instance:
One of the smartest turnouts we saw during Short Chic interviewing was the unmatched suit worn by Monica M., 5'2 1/2″, a whip-smart tax attorney in her early thirties: a gold tweed short jacket, a cinnamon-colored wool jersey dirndl, a challis blouse in a cinnamon/gold/green print, with a loosely tied black silk scarf under the collar. Proof positive that success dressing takes many forms and doesn't always mean "suited and starched."
But it is a useful handbook for many things: various questions of proportion, discussion of fabrics, and a still-handy guide to alteration. Lord knows I had never considered the sliding scale of wide-leg pant width (I should apparently be sporting an 18″ cuff) or where to get a petite-scaled veil (Priscilla of Boston). And more to the point, it touches on very real issues of psychological worth, and the necessity of accepting who you are in a tall world.
For much of my life, I was the class runt. I was a particularly gnomish one, tiny as well as short, and did not reach five feet until my later teen years. I am not tall now—I stand 5'3″ in my stocking feet, which I never am—but to have attained a modicum of adult scale, to not have to shop in the children's department, to get to ride roller-coasters (should I ever wish to) still seems to me miraculous. To this day, former classmates of mine are surprised by my relative grandeur.
 As youthful problems go, I know and knew that it is not a serious one. But at the same time, I can't remember those days without a catch of panic in my chest and an almost physical sense of diminishment. Many of us bear the scars of teen years, and in the case of those of us who remained physical children while our peers matured around us, it can be hard even years later to see yourself as adult, let alone sexual. You make the best of your identity—what else can you do?—and to abandon that can feel not only difficult but wrong. Long after it should.
And I'm not even talking about all those bosses-love-tall-people studies. The introduction to Short Chic tackles the question in a particularly demoralizing way.
Despite the growing influx of women into the working world, women in business are still given second-class treatment because of their sex. Old prejudices die hard.

The woman who is short, however, has two strikes against her. Not only is she female, but she's also up against another obstacle: in the business world, there's an acknowledged stigma against those of less-than-average height (something shorter men have been combating for years). … In nearly all fields, short women run up against a credibility gap owing to the stereotype of their size: Their petite looks seem to suggest "young" and "little girlish," decidedly hampering their acceptance both as effective co-workers and managers.
Then they detail a few "exceptions—dynamic women under 5'4″, who, with talent and persistence, have succeeded in all fields of endeavor": a college president, a "retail whiz," and, somewhat lamely, a gymnast.
I was thoroughly depressed after reading it. I hadn't really felt bad about my height for a while, but I was suddenly overwhelmed with the feelings of inadequacy and invisibility that were so constant as a teenager. To distract myself, I decided to do something I never do: go out for a drink alone at the dreary neighborhood watering hole, which had always struck me as being a little Goodbar-esque. (I took Short Chic, as well as, for comfort, my copy of Lee Bailey's City Food.) When I got there, the bouncer made me show ID, and expressed surprise at my age. "I'm little but I'm old," I said, as always, quoting Dill in To Kill a Mockingbird. 
And in that moment, I realized three things. One: it is worth it to be small to be able to quote that line, and it will not become less true as the years go on. Two: I am a grown-up woman. Three: if we all did what James Bond wanted, we'd only wear wide leather belts, unpolished nails, and no makeup. 
And after that, I felt confident enough to tackle the chapter "Maternity Dressing: Looking Tall When You're Dressing for Two." We've come a long way, baby.