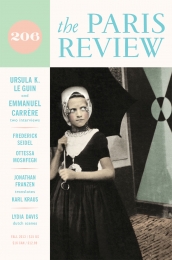 Since 1953, a central mission of The Paris Review has been the discovery of new voices. Why? It's not just a matter of wanting to lead the pack or provide publishers with fresh blood. In "The Poet" Emerson wrote, "the experience of each new age requires a new confession." That's our idea, too.
Even by TPR standards, our Fall issue is full of new confessions. Readers will remember Ottessa Moshfegh, the winner of this year's Plimpton Prize. We think our other fiction contributors—and most of our poets—will be new to you. They certainly caught us off guard.
We also have new kinds of work from writers you do know—a photography portfolio curated by Lydia Davis, and a project more than twenty years in the works: Jonathan Franzen's translation of Karl Kraus, including some of the most passionate footnotes we've encountered since Pale Fire.
Find an interview with groundbreaking writer Ursula K. Le Guin:
A lot of twentieth-century— and twenty-first-century—American readers think that that's all they want. They want nonfiction. They'll say, I don't read fiction because it isn't real. This is incredibly naive. Fiction is something that only human beings do, and only in certain circumstances. We don't know exactly for what purposes. But one of the things it does is lead you to recognize what you did not know before.
The Art of Nonfiction with Emmanuel Carrère:
Your first impulse is to be terribly embarrassed by the other's suffering, and you don't know what to do, and then there's the moment when you stop asking yourself questions and you just do what you have to do.
All this plus new poems by former Paris Review editors Dan Chiasson, Charles Simic, and Frederick Seidel.