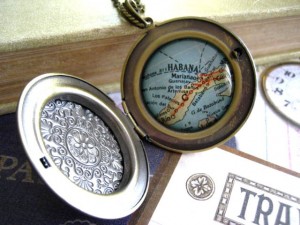 While I'm at Yanet's apartment it begins to pour, packs of chubby raindrops in the tropical afternoon that make the dust in her Havana apartment feel thicker than it actually is. I'm trapped until the storm passes. But every surface in Yanet's home is coated with objects waiting to be lifted, appraised, perused, felt—at least an afternoon's worth. So I browse the waist-high tables and rich wood armoires with rows of cut-crystal wine and port glasses, mod carafes with faded metallic polka dots, kitschy ceramic table lamps painted with bright pastoral scenes, and patterned blown-glass globes that once held water and fish. Technically, it's not legal for any of these objects to be sold. Only the Cuban government can buy and sell goods in Havana. But "Five-cent Yanet," as she's known among the city's connoisseurs of inexpensive antiques, has been operating mostly illegally for more than a decade and, if all goes to plan, will keep at it until she passes the business on to her daughter the way she inherited the trade from her dad.
There's no sign in front of Yanet's, nothing to signal that hers isn't just another apartment. I lived in Havana for a year without visiting Yanet's; the women I knew who shopped there never shared her address with me. Besides, my desire to visit waned once I learned I wouldn't be able to take any furniture or design objects out of the country when I left. In bureaucratese, officials call Cuba's affliction a "scarcity of objects" and limit what leaves the country to two suitcases. Foreigners like me may leave accompanied only by what we brought in and, if we get the right permits, contemporary art. Locals must divest themselves of the accumulation of lifetimes, give to family and neighbors or sell. So Cubans who'll soon head into the Rest of the World arrive at Yanet's door cradling cardboard boxes with their 1950s martini glasses, a grandmother's lamp, the ice-cream dishes that their parents used to serve sundaes in at the Hotel Riviera, all sold to raise money for what waits on the other side of the one-way plane ticket.
Yanet ambles through her apartment as I browse, lifting her flip-flops high off the red and green tile floor as she walks the bare paths through the encroaching cliffs of glasses and lamps on either side of her hallway. She is the duchess in her domain, and based on what you pick out, she can point you toward something else you might like, which is usually buried behind a mountain of mismatched plates. If, that is, she is paying attention, which is infrequent. She opened the door to me and the friend who brought me here and then sat right back down on the stiff sofa just inside the front door, gossiping and smoking cigarette after cigarette with a neighbor who'd stopped by, her short brown ponytail bouncing with every laugh. Then she was in the dining room wrapping just-purchased breakables in scraps of Granma, the Communist Party newspaper. Now that the sale is completed, she's on the phone in the kitchen, leaning into the doorframe and twisting the cord around her pinkie.
Yanet's covert customers are Havana's aesthetes. Owners of upscale paladares, in-home restaurants, pop in for stylish two-dollar daiquiri glasses. Artists and musicians, the cultural elite, pick up birthday gifts for friends. The foreign diplomats who arrive in newish cars, their black license plates marking them as important sorts, park a few blocks away and approach Yanet's on foot—with their specific, easily legible plates, they don't want to call attention to Yanet, who hides behind only a sheen of legality. She has a state license to work as a set designer, for which she pays a monthly tax of about ten dollars. "I just design with old things," she tells me with a shrug. But Yanet hasn't worked on a play in years, and her job, apartment, and everything in it relies on the discretion of her customers. Attachment to the material and the beautiful is fleeting in Havana, breakable.
And here's the thing about nearly everyone who shops at Yanet's: they're all people who've chosen to live in Havana. Her customers are locals who have eked out privilege and chosen to stay, not leave. They're artists who use hotel internet connections to email curators and dealers abroad, or restauranteurs who visit their Spanish friends abroad and then come back home. These people, Cubans and a handful of foreigners who don't want to live anywhere else, who've left European and American homelands for the weightless feeling of Havana, entertain in their apartments and have found peace with the shortcomings and hypocrisies of making a life in Cuba. They'll deal with getting their objects out of the country if and when they decide to leave, or they'll just sell them back to Yanet.
I never found that peace, though at one time I wanted to. I wanted to stay for the beguiling sense that nothing was more important than the moment that wrapped me; for the paradox of a system that's at once collapsed and rigid, that both constrains and looks the other way; and for participation in the communities that lace the apparent monolith of the Cuban government, economy, and civil society like weeds in cracked sidewalks. For the sharpened emotions that come from the risk you breathe in Havana. But the place is not mine. That I never really tried to go to Yanet's while I lived in Havana to look at all of the things I couldn't have was symptomatic. Instead, I moved back to the States, where I vote for my elected officials and go to stores with signs outside of them and feel fairly confident that I can keep anything I buy for as long as I want or can.
The sense of Havana distilled in Yanet's apartment, awash with its faded, contradictory, bewitching glamor, makes it a little hard to breathe. Maybe it's the dust. The ceilings are high and her chandeliers are gritty with salt, the consequence of the clutter here and the ocean nearby. A dozen hutches encircling the enormous dining room display rotund teapots with faded flowers on their bellies, teacups and saucers piled in snowdrifts of delicate porcelain. Two armoires in the hallway hold glasses that could have gotten a party full of champagne drinkers sauced. I lift an art deco martini glass with an opaque, fluorescent yellow stem and imagine it on my coffee table, but I can't imagine getting the pair home intact. I find a book-shaped locket in a snake's nest of costume jewelry. Inside, photos of a woman in a bathing costume and a man in a three-piece suit wink out at me. I'll buy the locket and put it on a chain.
Yanet hangs up the phone and I can hear her sandals smacking as she flits around. She puts on an eggshell wool cape and models it, flipping her hands out like a Barbie doll's. A couple that's just walked in, a portly man and a younger woman, sits down in a pair of chairs around the dining table, lighting cigarettes. Their closed umbrellas spit small puddles on the floor beside them. They admire Yanet's cape and ask after her teenage daughter. The rain has nearly stopped, but the afternoon is just as moist and warm as it was before it fell.
"Isn't it beautiful?" Yanet twirls to show them the circular hem of the jacket, and then she stops. "If only it was colder here." She smooths her hands down the front of the cape, shakes her head as if to press reset, picks up her cigarette, and smiles.
Julia Cooke's writing on Cuba has appeared in The Rumpus, Guernica, and The Atlantic (online). She is a Creative Writing Teaching Fellow at Columbia University.
[tweetbutton]
[facebook_ilike]