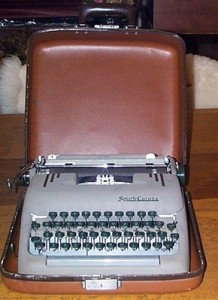 Eight thousand dollars might seem high for a Smith Corona—even a vintage one—but when you consider it belonged to Truman Capote, and during the period in which he wrote In Cold Blood, the surprising thing is that the eBay auction only drew two bidders.
Quoth the seller, an acquaintance of the author's:
All of these personal things were given to me by Mr. Capote. I picked him up from the airport in Kansas City, Missouri, several times and drove him to Holcomb, Kansas. Mr. Capote was getting information on a crime that took place there for a book he was writing.
And compared to his house, this is downright affordable! Of course, as Capote noted in his 1957 Paris Review interview,
No, I don't use a typewriter. Not in the beginning. I write my first version in longhand (pencil). Then I do a complete revision, also in longhand.