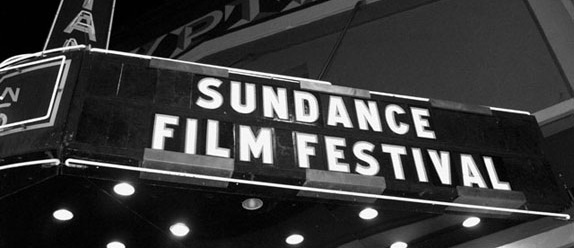 According to festival lore, in 1981, the film director Sydney Pollack suggested to Robert Redford that he move Sundance from Salt Lake City in September to Park City in January, arguing that the lure of fresh powder would attract more Hollywood types to Utah. Redford did exactly that, and now, after touching down in Salt Lake, Sundance-goers must drive almost an hour into the plush Park City, which stands at seven thousand feet above sea level and is home to one of Utah's four Whole Foods and the United States Ski Team.
It's easy to feel like you're sitting in a model train as your bus snakes around the bottom of the mountain to get to a theater. The infrastructure from the 2002 Olympics lingers. The houses are built for renting, as if they were meant to be on reality television: beds and bathrooms galore and, of course, a hot tub. Like many resort towns where the tourists outnumber the locals, there's a weird hybrid of heartland authenticity and city-slicker trendiness. On Main Street, women walk around in fox coats and Sorrel boots, though at night, you might catch one in bare legs and stilettos, trying to avoid the black ice, feeling just as out of place as Pale Male, the Central Park–dwelling Red-Tail Hawk, would if he were ever to venture to the Rockies. In the mornings, you can observe people in ski gear, their feet locked into plastic boots, waiting for buses next to publicists, reporters, and the occasional obnoxious-man-on-his-cell-phone who is, one is made to presume, making a big deal.
The most movies you can watch in a day is four. Maybe five. But even at that rate, it's hard to imagine seeing them all. The selection is overwhelming: more than one hundred films playing over the course of a week. I didn't catch them all but found two I loved. One is Andrew Rossi's documentary Page One: A Year Inside the New York Times. In a decade when papers across the nation are shuttering in bankruptcy, how is the Times surviving? Rossi tries to answer this question by trailing the media reporter and columnist David Carr. Eventually, out of modesty or fatigue, Carr suggested Rossi broaden his lens to include the newly minted media desk, which has editor Bruce Headlam and cub reporters like Brian Stelter and Tim Arango. But Carr is so clearly the lead to whom the story inevitably circles back. He's such a charismatic guy, despite or perhaps because of the barrel chest and the neck ravaged by cancer, the text-to-speech voice that is surely punishment for all those years of smoking crack. He dresses down Vice editors and bloggers alike, defending the Gray Lady in the face of new media. And we need someone—our Clark Kent turned Superman—to make us believe that the paper will survive in the Internet age.
And then there was Another Earth, a dramatic film debut by Mike Cahill (director and cowriter) and Brit Marling (cowriter and lead), two recent Georgetown graduates. The film is spooky, with little dialogue and long, wobbly shots, and dramatized by the droning music of Williamsburg-based group Fall on Your Sword. A copycat of the planet Earth is discovered, due to some unexplained shift in the galaxy. The astronomy doesn't really matter—the twin planet hangs in the background beautifully, drifting over horizons and oceans and peaking out from over a Connecticut roof. Marling plays Rhoda, a seventeen-year-old with a scholarship to MIT, who is driving drunk the night the planet is revealed. She crashes into a car, killing a wife and child and leaving the husband (William Mapother) in a coma. After four years in jail, Rhoda goes to the widower's house to apologize, but when he opens the door, she can't find the courage to speak the truth. "We wanted to start with the idea of an unforgivable act," said Marling after the screening. And that's when I realized that science fiction is often most powerful when it's the human problems that can't be solved.
It's possible to outgrow old favorites, too. I remember loving Me and You and Everyone We Know. I saw it in a Berkeley theater in 2005, and Miranda July was just so weird and hipster, and with that funny name that I couldn't help but think she was … like me. But The Future is some unhappy continuation of this. July plays Sophie, who lives with her boyfriend, Jason (Hamish Linklater). They've decided to adopt a cat named Paw Paw, and the commitment throws their relationship into chaos. They're the kind of couple that sits on the couch, doing jobs that go nowhere, expecting some kind of sign to lead them to their calling. "I'm alert," Jason says. I was reminded of those friends from college, living in a foreign city, teaching English and working on that novel you know you'll never see. The stagnation seeps across the screen, and as I lean back in my seat, I can't help but look at July, and think that she's exactly the same, just older, maybe weirder. Maybe I'm the one who's changed.