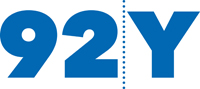 Over the years, 92Y's Unterberg Poetry Center has teamed with The Paris Review to present numerous onstage conversations. These talks—with Chinua Achebe, Norman Mailer, Iris Murdoch, Günter Grass, Tony Kushner, Salman Rushdie, Czesław Miłosz, Arthur Miller, and many others—often led to the Writers-at-Work interviews that appeared in the magazine. In a new collaboration made possible by a generous gift in memory of Christopher Lightfoot Walker, a longtime friend of the Poetry Center and The Paris Review, we are now sharing the recordings of these conversations on each of our websites.
-------------------------------------------------------------------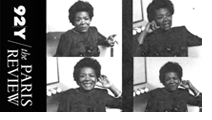 Maya Angelou
January 11, 1988

"I would be a liar, a hypocrite, or a fool—and I'm not any of those—to say that I don't write for the reader. I do. But for the reader who hears, who really will work at it, going behind what I seem to say. So I write for myself and that reader who will pay the dues."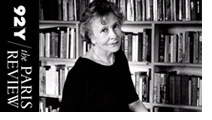 Denise Levertov
April 22, 1991

"Where I live in Seattle, I see a good deal more—more sky, more trees. I can see the lake. And from one upstairs window I can see a bit of Mount Rainier—when it's out ... Who would want a mountain that was out all the time? You'd stop seeing it. It's wonderful when it comes and goes."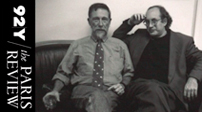 Gary Snyder
October 26, 1992

"There's no question that spending time with your own consciousness is instructive. You learn a lot. You can just watch what goes on in your own mind, and some of the beneficial effects are you get bored with some of your own tapes and quit playing them back to yourself."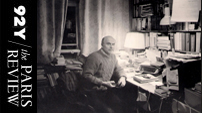 Ryszard Kapuściński
December 9, 1991

"If we write about human beings, in the most humanly way we are able to, I think everybody will understand us. I find humanity as one family. People really are very much the same in their reactions, in their feelings. I know the whole world. I can't find much difference in the way men react to others' unhappiness, disasters, tragedies, happiness. Writing for one man, you write for everybody ... "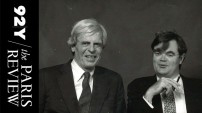 Garrison Keillor
November 28, 1994

"When some people sit down to write humor, they adopt a giddy tone of voice, a whooping or comic warble, so that the reader will know it's funny. It's the writing equivalent of a clown suit. This does not wear well. Humor needs to come in under cover of darkness, in disguise, and surprise people. You don't want to get that gdoing, gdoing, gdoing sound in your writing. It makes the reader feel sorry for you... "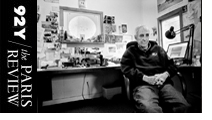 Peter Matthiessen
December 15, 1997

"It's broad daylight, good visibility, yet mountains move. You perceive that the so-called permanence of the mountains is illusory, and that all phenomena are mere wisps of the cosmos, ever changing. It is its very evanescence that makes life beautiful, isn't that true? If we were doomed to live forever, we would scarcely be aware of the beauty around us ... "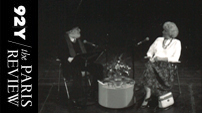 Jan Morris
October 10, 1989

"I resist the idea that travel writing has got to be factual. I believe in its imaginative qualities and its potential as art and literature. I must say that my campaign, which I've been waging for ages now, has borne some fruit because intelligent bookshops nowadays do have a stack called something like travel literature. But what word does one use? ... "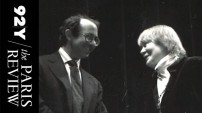 Iris Murdoch
February 22, 1990

"To write a good book you have to have certain qualities. Great art is connected with courage and truthfulness. There is a conception of truth, a lack of illusion, an ability to overcome selfish obsessions, which goes with good art, and the artist has got to have that particular sort of moral stamina. Good art, whatever its style, has qualities of hardness, firmness, realism, clarity, detachment, justice, truth. It is the work of a free, unfettered, uncorrupted imagination. . ."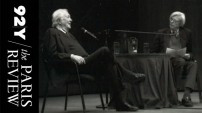 William Styron
December 8, 1997

"Not long ago I received in the mail a doctoral thesis entitled 'Sophie's Choice: A Jungian Perspective,' which I sat down to read. It was quite a long document. In the first paragraph it said, In this thesis my point of reference throughout will be the Alan J. Pakula movie of Sophie's Choice. There was a footnote, which I swear to you said, Where the movie is obscure I will refer to William Styron's novel for clarification. This idiocy laid a pall over my life for a dark brief time because it brought back all these bugaboos we have about the written word. . ."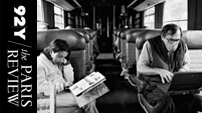 Paul Theroux
December 18, 1989

"I came from a very large family, where I always felt lacking in a sense of privacy. I felt hemmed in by my family. I felt as if I had a certain slough in society. I came from, not a small town, but basically not a very interesting place. I felt that the world was elsewhere and that nothing was every going to happen to me, or that I wouldn't actually see anything, feel anything, any sense of romance or action, or that my imagination wouldn't catch fire until I left home. So it was very important for me not to rebel but simply to get away, to go away, in order to discover whether there was anything within me. . ."
-------------------------------------------------------------------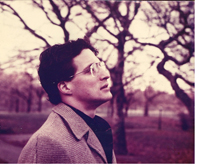 Christopher Lightfoot Walker (1954-2012) served as poster director, prints director and advisory editor of The Paris Review. He also volunteered at the 92nd Street Y's Unterberg Poetry Center, making transcriptions, which were models of their kind, of audio recordings of live literary events. Chris was born in New York City, attended the Buckley School, then went west to Fountain Valley School and back east to Hampshire College. He was engaged in a number of entrepreneurial efforts (some in collaboration with his father, Angus Lightfoot Walker, longtime chairman of the City Investing Company), when, at the age of 31, he suffered a cerebral hemorrhage. He wore his adversity lightly, retaining, in addition to his considerable wits, his sense of humor and sense of fun. Against the odds he remained a person on whom no delightful thing was ever lost. Chris was always grateful for the refuge he was able to find in the work provided by the Y.