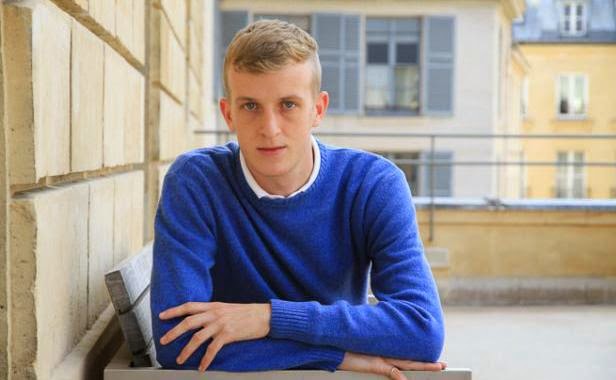 Édouard Louis, born in 1992, grew up in Hallencourt, a village in the north of France where many live below the poverty line. Now his account of life in that village, written when he was nineteen, has ignited a debate on class and inequality, foisting Louis into the center of French literary life.  
En finir avec Eddy Bellegueule (Finishing off Eddy Bellegueule) is unsparing in its descriptions of the homophobia, alcoholism, and racism that animated Louis's youth in Hallencourt. "We thought the book would be as invisible as the people it describes," said Louis, who rejects any romantic views of the "authenticity" of working-class life. His publisher thought the first edition, two thousand copies, would last years. But hundreds of thousands of copies have sold in France, and the book is being translated into more than twenty languages. The novel, which has earned Louis comparisons to Zola, Genet, and de Beauvoir, is set to appear in English later this year.
Eddy Bellegueule can be read as a straightforward coming-of-age story, but beneath its narrative is an almost systematic examination of the norms and habits of the villagers—inspired, Louis has said, by the theories of the French sociologist Pierre Bourdieu. It's as if he's taken the whole place and put it behind glass—like observing the inner workings of an anthill.
Who is Eddy Bellegueule, and why do you want to finish him off?
Eddy Bellegueule is the name my parents gave me when I was born. It sounds dramatic, but yes, I wanted to kill him—he wasn't me, he was the name of a childhood I hated. The book shows how—before I revolted against my childhood, my social class, my family, and, finally, my name—it was my milieu that revolted against me. My father and my brothers wanted to finish off Eddy Bellegueule long before, at a time when I was still trying to save him.  Read More