March 28, 2013 | by Tim Small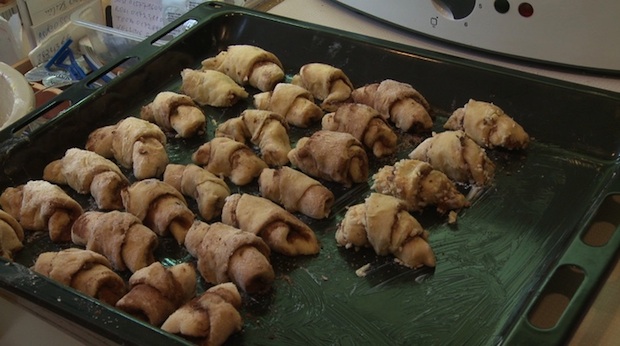 Alexa Karolinski is an old friend. I first met her in 2005, when I was the editor at VICE Italy, in Milan, and she was a particularly bright intern at the VICE Germany office. Alexa quit VICE a few months after I met her; she then moved to Paris for a while, started working in television for ARTE, met her husband, moved back to Berlin, and then moved to New York three years ago, where she studied documentary filmmaking at the School of Visual Arts. And now she is a film director. Oma & Bella, her first feature-length film, began as her thesis, and was then released in German cinemas after being accepted at the Berlin Film Festival last year. If, like me, you have any sort of fascination with World War II, food, and your grandma, it is an absolutely must-see documentary.
Oma & Bella tells the story of best friends Bella Katz and Regina Karolinski (Alexa's grandmother), two octogenarian Holocaust survivors among the oldest surviving members of Berlin's Jewish community, who moved in together when Regina had a hip operation. They spend most of their time cooking traditional Eastern European Jewish food, giving that food to their family, talking about food, organizing dinners, going food shopping, preparing food, washing the utensils they use to prepare food, putting food in Tupperware and freezing it, and occasionally taking a break from the food in the form of an amble to the park or the cemetery. With a delicate grace and a warm sense of humor, Alexa made one of the most touching portraits of an elderly couple―and of Holocaust survivors―I have ever seen on screen.
A few months after the movie was released, we collaborated on The Oma & Bella Cookbook. That is to say: when Alexa told me she wanted to make a cookbook that would collect the movie's recipes, I begged her to let the Milan Review design it.
I recently got on Skype with Alexa to talk about her movie, grandparents, and food.
So, tell me—exactly when did you decide to make this movie?
It began about three years ago, when I was living in Berlin and decided that I wanted to learn how to cook. At the time I couldn't cook anything more complicated than scrambled eggs and I decided that one day, my children—the children I don't have yet—should be able to eat the food I grew up with. Therefore, I needed to learn that from my grandmother, and from her best friend, Bella, who she lives with. So I started cooking with them and then I kind of decided very quickly that it wasn't enough to just cook with them, that I would have needed to write down the recipes and make a cookbook out of it.
It must have been daunting.
Yes. And they don't cook with measurements—they go by eye—so I had to learn how to cook with them and invent the measurements just by watching them cook. So basically I started this cookbook project, and within that cookbook project I was looking for a visual landscape. And one day I kind of decided, knowing that I was going to go back to film school, to rent a camera and, just for fun, film them. Then I cut a two-minute teaser out of that, just to teach myself how to use Final Cut. And then, when I moved to New York, I showed this around, mostly just to show some friends how much I love my grandmother and how amazing she is. And people were like, This is gonna be your thesis film, and I kind of thought, Yeah, I guess it is. Read More »
May 21, 2012 | by Simon Mawer
They ranged from girls barely out of high school to mature mothers, from working-class women to aristocrats, from the plain to the beautiful, from the prim and proper to wild high-lifers. The only women from the Western Allies to bear arms in action during the Second World War, they suffered torture, the misery of the concentration camps, and death at the hands of Nazi butchers. They were a band of sisters such as has not been seen before or since, and the only thing they had in common was language—they all spoke French. Now, sixty-seven years after peace broke out in Europe, all but one or two are dead. They are the women agents of the Special Operations Executive, the special force founded in 1940 on the explicit orders of Winston Churchill to "set Europe ablaze." Read More »