Posts Tagged 'Wilhelm Richard Wagner'
December 8, 2011 | by Sam Stephenson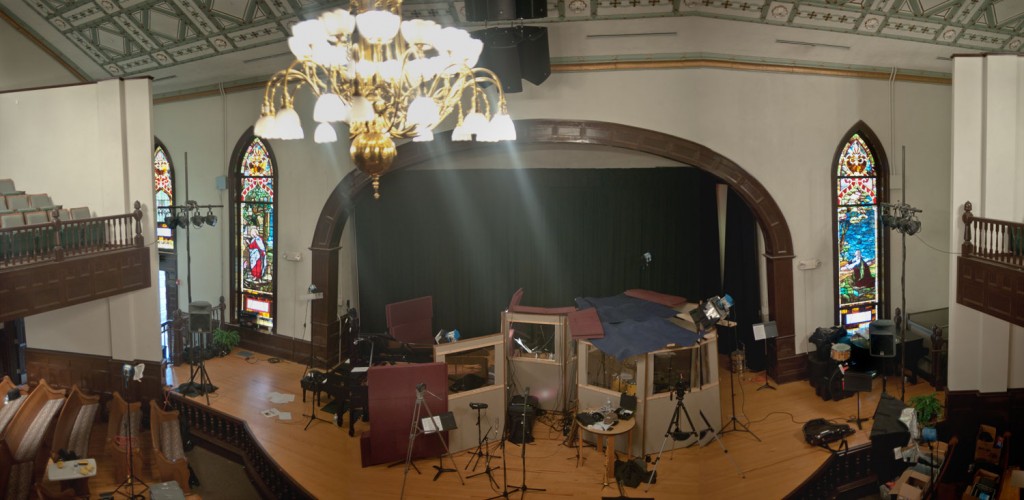 It's sixty-two degrees and raining in downtown Durham, North Carolina, on a Tuesday in mid-October. At noon members of the Branford Marsalis Quartet gather at the former St. Joseph's African Methodist Episcopal church, built in 1891, now converted into the Hayti Heritage Center, an arts-and-community nonprofit. Their goal is to record a new album over the next few days.
When Marsalis moved his family to Durham from New York a decade ago, the local press assumed he was replacing the retiring director of Duke's jazz department, saxophonist Paul Jeffrey. But Marsalis, who'd grown up in Louisiana, simply wanted to return to the South and picked Raleigh-Durham because the area had an airport large enough to get him anywhere he needed to go. Later, he began teaching part-time in the noted jazz program at the historically black North Carolina Central University, which is a mile down the road from Hayti.
The original St. Joseph's sanctuary remains intact: a wood-plank stage, hardwood pews, a balcony, chandeliers, and lots of stained glass. Marsalis began recording albums here in 2006 when he noticed that the room had a unique quality: there is no reverb at low decibel levels; it grows gradually with the sound.
April 28, 2011 | by Catherine Steindler
When Mark Twain spent a week attending performances of Richard Wagner's operas in Bavaria, he complained that "seven hours at five dollars a ticket is almost too much for the money." But by the end of his ordeal, he conceded it to be "one of the most extraordinary experiences of my life." That was in 1891. This year, the Metropolitan Opera is rolling out a new production of Wagner's famed four-opera cycle The Ring of the Nibelung, and I'm here to tell you that whether or not you like opera, this is an experience that is not to be missed. On Friday, I saw Die Walküre, the second of the four operas, and was reminded that the Ring is not only one of the most magnificent achievements of human creativity but also, contrary to reputation, one of the most accessible.
I don't fully understand why the Ring came to be considered impenetrable. It is long, I'll grant that. In 1853, having completed the libretto for the Ring, Wagner wrote to his friend, Franz Liszt, "Mark my poem well, it holds the world's beginning and its destruction." This isn't just Wagner's notorious megalomania speaking. The cycle does tell the story of the origin of human conflict, the destruction of the human world, and everything else in between. Perhaps it's these enormous themes that are responsible for the Ring's reputation. But still, they're nothing you don't find in your standard myth. Perhaps it's the dead seriousness with which Wagner approaches his ambitious enterprise that makes him a little perplexing, even suspicious, in these times—he hasn't a trace of cool irony to protect him against mockery. Thank God.
Whatever the reason, the Ring appears on the horizon like a monumental citadel, but venture just a little closer and you'll see that the points of entry are as plentiful as the structure is immense. Indeed, because the Ring contains multitudes, you can use it to think through whatever's on your mind: the environmental consequences of greed, your ugly competitive streak, why Gadhafi won't just throw in the towel, your latest breakup—it's all there.
Herewith the half-dozen reasons I've been using on my friends to lure them to the Ring …