Posts Tagged 'Widener Library'
February 26, 2013 | by Rhoda Feng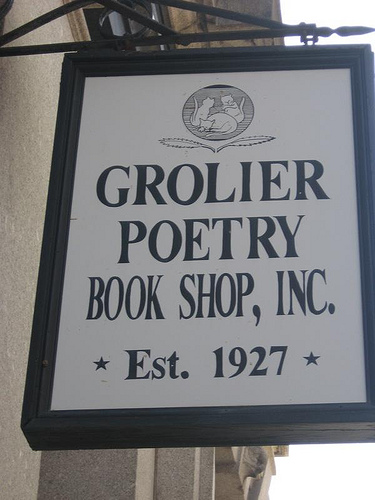 The Grolier Poetry Book Shop in Cambridge, Massachusetts, is both a misnomer and an anomaly. It has long dedicated itself to the task of promoting the reading and writing of poetry and has, for eighty-five years, served as a niche for poets the world over. While its reputation has bloomed over the years, thanks largely to word-of-mouth praise, it has never fared well financially, partly due to competition from larger stores and the Internet, partly because poetry has never been popular with the masses, and partly because its founder seems to have done everything in his power to ensure that his store not be turned into a business.
Located on Plympton Street in Harvard Square, the Grolier occupies just 404 square feet of space and is dwarfed by the neighboring Harvard Book Store. A white square sign with meticulous black lettering juts out near the top of the store entrance. The font size decreases from top to bottom, much like on an eye exam chart, and one can just make out, at the very top, a finely done illustration of three cats (or is it the same cat?) dozing, grooming, and turning their backs on the viewer.
Upon ascending a small flight of steps, one is greeted by the sight of an abundance of colorful spines—approximately fifteen thousand—neatly arranged against nearly every flat surface of the shop. These volumes are neatly balkanized into several categories, including anthologies, used, African-American, early English, Irish, Russian, Chinese, Iranian, Indian, Latin, classical Greek, Japanese, Korean, East European, Spanish, and Catalan.
Above the towering shelves are approximately seventy black and white photos (many courtesy of the photographer Elsa Dorfman) of poets and other members of the literati for whom the Grolier has served as a meeting place for well over half a century. Among the Grolier's most illustrious visitors, most of whom are smiling or gazing sagely and serenely ahead in the photos, are T. S. Eliot, Robert Lowell, Elizabeth Bishop, e. e. cummings, Marianne Moore, James Tate, Donald Hall, and Helen Vendler.
Off to one side at the front of the store sits a lean shelf of chapbooks and a donation jar; a small note says that the chapbooks have been generously donated by the author and that monetary contributions to the shop would be greatly appreciated. Directly across this bookcase is the cash register, propped up on a desk and flanked by sundry items, including bookmarks, promotional literature, pamphlets, business cards, and commemorative pens. On the wall right adjacent to the register hangs a certificate from Boston Magazine honoring the Grolier as the best poetry store of 1994. Read More »
December 26, 2012 | by Avi Steinberg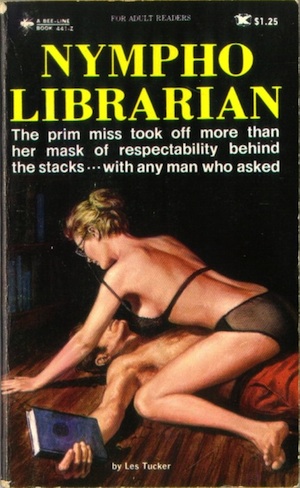 We're out this week, but we're re-posting some of our favorite pieces from 2012 while we're away. We hope you enjoy—and have a happy New Year!
Porn books and librarians have always had a passionate, mutually defining relationship—it was, in fact, a prudish French librarian in the early nineteenth century who coined the word pornography. So it comes as no surprise that the sexy librarian, a fixture of the pornographic imagination, is most at home in books. Each year, new titles are added to the librarian-porn bookshelf. This past season's crop included additions like Hot for Librarian by Anastasia Carrera; Lucy the Librarian—Dewey and His Decimal by John and Shauna Michaels; The Nympho Librarian and Other Stories by Chrissie Bentley and Jenny Swallows; A Librarian's Desire by Ava Delaney, author of the Kinky Club series; and soft-core selections like Sweet Magik by Penny Watson. The conventions of the form—the dimly lit stacks, the librarian's mask of thick glasses and hair tied into a bun, et cetera—are, of course, well known. Unlike video porn, where these conventions are typically used as a wholesale substitute for narrative, porn books still feel the compulsion to tell a story, to make the glasses and bun mean something. I was curious just what story these new books were telling. What does our most current version of the librarian fantasy say about us? To answer this question, I visited the library.
Almost immediately, I hit a snag. It is close to impossible to browse a serious library's collection of porn and porn criticism without getting sucked into big, sexy historical theories. Within an hour of my visit to Harvard's Widener Library, I was beginning to suspect that smut had been behind the rise of … everything. I discovered that pornos caused the French Revolution, and that the Renaissance really got going when images of hard-core, swan-on-guy action began to circulate among the people. Every pornographer of note, it seemed, was a pop philosopher; every philosopher, a closet pornographer. As for the rise of the novel, of literary realism, this, I learned, was linked to a certain eighteenth-century depiction of a ponytailed dude taking it from behind from another ponytailed dude while the first dude gets sucked off by a chick, who is also taking it from behind from yet a third ponytailed dude, all while another chick—who happens to be wearing a lovely Dormeuse-style cap—rides piggyback on the first dude, which positions her perfectly to flog the third dude, while being orally pleasured from behind by the second dude. The caption to this illustration reads, "A Typical Scene." According to the pile of books I'd stacked onto my library desk, our story is nothing but the evolutionary history of the Porno sapiens.
Just as I was letting this thought settle in, I began to hear moaning sounds. At first, I dismissed these as some kind of auditory hallucination, an occupational hazard of reading too much porn. But then I looked around and determined that this particular moaning belonged to a real woman standing a few rows away. To be precise, she was in the process of being properly pinned to the bookshelf by a male companion. After a hasty glance, I retreated to my carrel but can report that the proceedings were, if not quite spirited, certainly forceful—a book fell from the shelf—and that they terminated in muffled resound and a swift escape.
I was alone again in the silence of the stacks. Never before had the questions of the library sex fantasy been so close at hand yet so elusive. What was the relationship between these library fuckers and what I had been reading? And what was the relationship between the library fuckers and what they had been reading? Wasn't library sex all about harmonizing books with experience, about connecting our unruly and our rule-abiding selves? And, if so, why did I find that the stories told in last year's library-porn books consistently painted a grim picture of twenty-first-century library sex? Why did many of the best sex scenes in today's librarian porn take place outside of a library? Read More »