September 18, 2012 | by Pamela Petro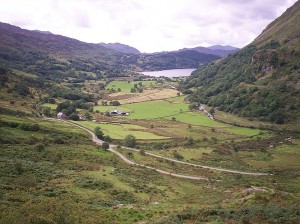 Hiraeth.
It's pronounced "here-eyeth" (roll the "r") and it's a Welsh word. It has no exact cognate in English. The best we can do is "homesickness," but that's like the difference between hardwood and laminate. Homesickness is hiraeth-lite. A quick history lesson is a good idea before a definition: in 1282 Wales became the first colony of the English empire. Because England eventually ruled half the globe, we all know its first colony by the name the colonizers gave it: Wales, which means "Place of the Others," or "Place of the Romanized Foreigners."
So that's how the Welsh—the original Britons—became "foreigners" on their own island. Talk about a semantic insult. To Welsh speakers Wales is Cymru (pronounced Kum-ree): home of the Cymry, or fellow countrymen. But not too many schoolkids outside Llandysul know that. Arthur—the once-breathing chieftain, not Merlin' s once-and-future pal—lived around the time the name "Wales" stuck, in the sixth century. He tried to hold back the English (really the Saxons) and failed. Then in 1282 Llywelyn failed too. He was the last Welsh-born Prince of Wales, aptly named The Last, and he was killed in battle by soldiers of Edward I. After that Wales became a subject state. Since then time's centrifuge has spun it to the margins of history. Wales is a poor, rural place of mountains and ribboning hills with empty underground pockets where its coal used to be, but which, miraculously, has clung to its birthright language. Twenty years ago Welsh was spoken by eighteen percent of the population, mainly elderly folk in isolated areas. Today twenty-two percent speak it, including a burgeoning segment of young professionals who've helped create things like Gweplyfr (Facebook) and Twitr (Twitter).