Posts Tagged 'Wellesley College'
February 29, 2012 | by Sarah Funke Butler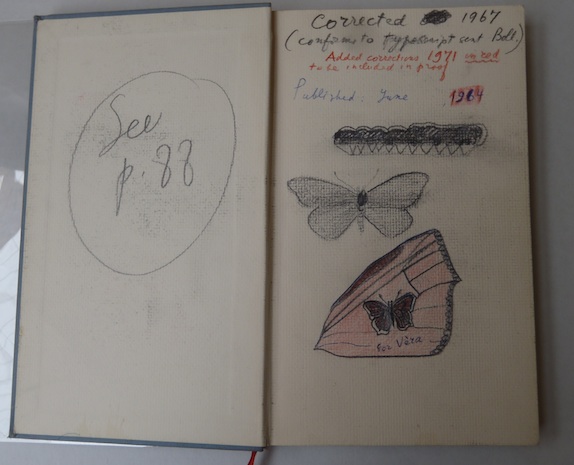 When Vladimir Nabokov started teaching Russian literature at Wellesley College in 1944, he was frustrated by the lack of an adequate literal translation of Eugene Onegin, which he referred to as "the first and fundamental Russian novel." He prepared his own extracts for class use and invited Edmund Wilson to work with him on a full translation.
Wilson had nurtured Nabokov's early career in the States, and Nabokov had reciprocated with many generous hours of patient tutorial—often via letter—on the finer points of Russian literature, history, politics, and scansion. The two had grown to be great friends but never collaborated on a full-length work. The 1964 publication of Nabokov's solo translation of Onegin effectively ended their friendship and sparked one of the best-known intellectual debates of the last century.
The project began promisingly enough for Nabokov, though Wilson had misgivings from the get-go. When Nabokov first decided to prepare a prose translation of Onegin, "with notes giving associations and other explanations for every line," Wilson and Nabokov had been exchanging letters about Russian poetics for a decade, often with barely masked stridency on both sides. In 1950 Wilson expressed fatigue: "I am getting rather tired of all these topics and think we ought to start something new." When he learned that Nabokov has decided to devote his Guggenheim Fellowship—achieved, in part, through Wilson's recommendation—to the Onegin project, he complained: "I wish you had given them some other project—it seems to me a pity for you to spend a lot of time on Onegin when you ought to be writing your own books." Nabokov, however, wasn't worried: in his application he wrote that it would take "a year or so," and told Wilson the work could be "quite smoothly combined with other pleasures."
A year later he wrote how much more arduous a project it had turned out to be: "I was … on the verge of a breakdown and not fit for company. For two months in Cambridge I did nothing (from 9 A.M. to 2 A.M.) but work on my commentaries to EO." Still later, it seemed he had met his whale. He wrote to Katharine White, his friend and New Yorker editor, that the "monster" had "grown far beyond whatever I planned originally." He told Wilson, "I have at last discovered the right way to translate Onegin. This is the fifth or sixth complete version I have made." At the end of the summer of 1957 he admitted more confidentially to his sister, "I hope that I can finally, finally finish my monstrous Pushkin … I am tired of this 'bookish exploit'." Read More »
December 1, 2010 | by Dan Chiasson
6:15 A.M. Our children wake us up. Nobody wants anything read to them this morning. They are involved in some kind of acrimonious negotiation involving Lego heads ("That's my head!" "It's MY head!" "No, mine!" et cetera) so I go into the next room and start thinking about a class I am guest teaching today at BU. I've been reading (and writing) father-son poems, and I think, Why not just tell the students what's on my mind: Sir Walter Raleigh's poem for his son, "Three Things There Be." The poem comes in several variants; I print them out and look at a brief discussion of the variants as well as the provocative "spoiled riddle" poems (poems that act like riddles but give their solutions away) on Slate, by Robert Pinsky.
I go to the Times website, and there is (fortuitously) this article on metaphor and the brain. I skim it for something I can say to the class. Neuroscience is very keen on poets and poetry these days: It turns out that when you call someone a cockroach, you activate the same part of your brain that can recall the picture of an actual cockroach
8:30 A.M. I head into Boston. It's an hour drive this time of day. I get a four-shot latte at Karma Coffee, Route 20 in Sudbury (do yourself a favor). I am listening a lot to the Byrds's Sweetheart of the Rodeo these days, especially "One Hundred Years from Now." I have a problem that technology has solved. When I like a song, I listen to it over and over for weeks at a time. You used to have to keep rewinding the tape, and the tape would snap or come unraveled. Now, with iPods, it's no problem.