Posts Tagged 'Washington Square Park'
August 20, 2014 | by Sadie Stein
James's writings about New York disclose, more than anything, an anger, quite unlike any other anger in James, at what has been lost to him, what has been done, in the name of commerce and material progress, to a place he once knew. It is not an ordinary anger at the destruction of beauty and familiarity; it is much stranger and more complex than that, and it deserves a great deal of attention.
That's from Colm Tóibín's introduction to The New York Stories of Henry James. It's a great primer on the writer's hometown ambivalence—a quite explicable turn of events when one considers that any visit to the Village would have brought James face to face with the death of childhood, with constant overhaul, Mammon, and rampant sexuality on nearly every block. And with bad food, to boot. 
On a constitutional in Washington Square Park today, my thoughts turned to James—they generally do, when I see the intact row houses fronting the park. (Well, James and NYU.) The man titled a novella after it—even if, as a friend recently pointed out, Washington Square gives less sense of the neighborhood than of interiority. (He's said to have modeled the Sloper residence on memories of his grandmother's. And if you want to see that brought to life, take a tour of the Merchant's House Museum, one of the small treasures of the city, listed on any compendium of NYC's haunted spaces.) 
Perhaps my favorite of James's New York stories is "The Jolly Corner." Like The Turn of the Screw, it is a ghost story and more than that. It concerns a man returning to his empty childhood home, which is about to be subdivided into apartments. Read More »
January 23, 2012 | by Will Hunt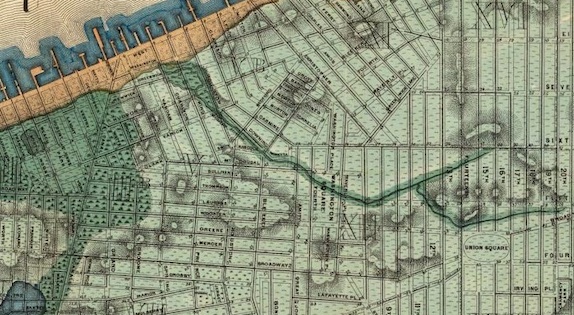 Not long ago, I read an article about archaeologists in Greenland who discovered that plants growing above an ancient Norse ruin possessed slightly different chemistry from plants growing nearby. I was taken with the idea that the energy of a forgotten structure, invisible and buried deep underground, may percolate upwards to leave subtle impressions on the surface. It was this that came to mind recently when I discovered Minetta Brook, a hidden stream that flows beneath the streets of Greenwich Village.
I had learned of the stream from an 1865 map of Manhattan, drawn by an engineer named Egbert Ludovicus Viele, which showed marshlands, rivers, and streams crisscrossing the island beneath an overlay of the city's grid. The map, which is still used today by engineers, showed Minetta Brook beginning as two branches, one originating from a spring at Fifth Avenue and Twentieth Street, the other from a marsh near Sixth Avenue and Seventeenth Street. They met near Twelfth Street, then flowed south down Fifth Avenue, through Washington Square Park, before emptying into the Hudson River at Charlton Street. According to the historian John Fiske, the brook, in the seventeenth century, had been a favorite fishing spot for the Lenape and the Dutch: "a clear swift brook abounding in trout." By the early nineteenth century, it had disappeared from maps, buried beneath the streets, forgotten. Or perhaps not. There were stories floating around about basements of older buildings in the Village with grates in the floor, through which you could see the stream flowing. I wanted to listen to the stream, smell the water, dip my fingers in, maybe even take a small sip. Wouldn't that be something. And so I decided to retrace the path of Minetta Brook, going door-to-door, asking everyone I met about the stream that flowed beneath their building. Read More »